You have /5 articles left.
Sign up for a free account or log in.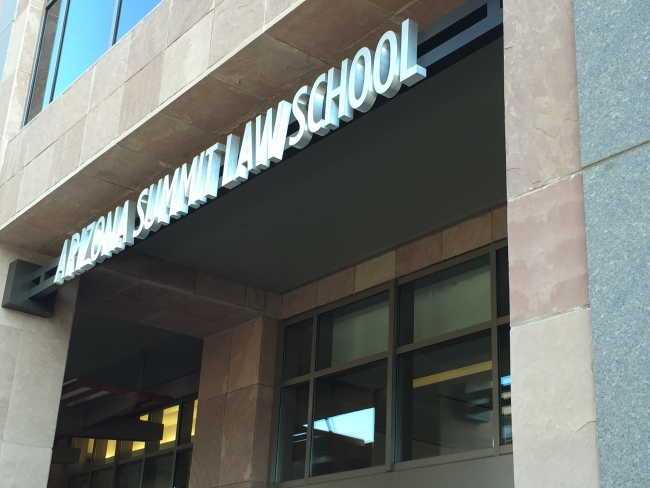 During the last year, the American Bar Association has cracked down on four law schools -- two of which are for-profits.
A tightened job market for law school graduates has helped draw the ABA's attention to some of the lowest-performing institutions it accredits. Less academically prepared students, who are gaining easy access to these law schools, face large student debt loads and slim chances of finding employment, according to experts.
For instance, last week the ABA sanctioned Arizona Summit Law School and placed the institution on probation for its admission policies and low pass rates on the bar exam. The law school is one of three institutions owned by Infilaw System. Another Infilaw institution, the for-profit Charlotte School of Law in North Carolina, was placed on probation in November and lost its federal student aid eligibility in January.
"It's imperative for us to do things we need to do to establish compliance with standards," said Donald Lively, president of Arizona Summit. "But it's equally important that we need to preserve our mission."
Lively said Arizona Summit will work on coming into compliance with ABA standards and already has made steps in that direction by eliminating an alternative admissions program that guaranteed a spot at the school regardless of grades or LSAT scores if students completed a seven-week online law course.
The school has seen bar pass rates decline each year since opening enrollment to riskier students. For instance, its bar passage rate was 69.1 percent in 2013, according to Law School Transparency, a nonprofit group that has been critical of the ABA. The pass rate in 2016 was 25 percent, according to the Arizona Supreme Court's Committee on Examinations.
Lively said Arizona Summit is tightening its curriculum, working to increase rigor and investing in academic support.
But he doesn't want the school to lose sight of its mission -- which is increasing diversity among lawyers. Last month, Arizona Summit announced an affiliation with Bethune-Cookman University, a nonprofit historically black institution in Florida, to guarantee up to 100 scholarships to the university's graduates.
"The legal profession is the least diverse white-collar profession," Lively said. "A law school has a choice. It can pursue rankings, which a lot choose to do, but if you're going to make that your priority, you abandon or dismiss the opportunity to make a contribution to diversify the profession."
Kyle McEntee, the executive director of Law School Transparency, said in many ways Arizona Summit and other institutions that admit riskier students -- those with lower grade point averages and LSAT scores -- are setting up these students to fail.
"It makes what they're doing even worse, and using diversity as a shield is very troubling," he said. "If they were really concerned about diversifying the profession, the schools would be more affordable."
Tuition and fees for a full-time student at Arizona Summit this year total $45,354, while the estimated cost of attendance -- including housing, books, transportation and meals -- is $67,454. The school also had a 17 percent black and 22 percent Hispanic enrollment in 2015, according to federal data.
Lively said Arizona Summit receives extra scrutiny because of its status as a for-profit institution and the perceptions surrounding that model, which he said has become more of a barrier. He said the school will soon make the transition to nonprofit status.
"It's important for us to separate from our for-profit status and transition into a model that invites less suspicion about motive," he said.
But the ABA's recent efforts to hold low-performing schools accountable haven't affected only the for-profit sector. In August the ABA found Ave Maria School of Law in Florida -- a private Roman Catholic institution -- out of compliance with admission standards. And in November the ABA censured Valparaiso University School of Law in Indiana, citing the institution for a lack of compliance with standards requiring that a school only admit applicants who appear likely to succeed in the program and pass the bar. It was the first time since 2013 that the accreditor censured a law school.
Pressure, especially from the National Advisory Committee on Institutional Quality and Integrity, a federal panel that oversees accreditors, has been building on the ABA to hold more of its schools accountable as the post-law school job market worsens and students face mounting loads of debt.
"If you look at past [ABA] accreditation actions, they weren't really taking action against any schools, and now we're starting to see them take action," said Antoinette Flores, a senior policy analyst at the Center for American Progress.
Flores said each of the four institutions the ABA has taken action against since August has been scrutinized for admissions.
"Are they enrolling students who are able to succeed and are their students able to finish the bar?" she said. "It's the same four issues for all four colleges."
But in February the association rejected a proposal to require all law schools it accredits to have 75 percent of students who sit for bar exams pass them within two years of graduation.
Concerns about equity and the effects of raising the pass rate on minority students killed the proposal.
"It's not a good standard, and it's got too many loopholes," McEntee said. "But we lost there because people were shouting down support of the new standard as racist. It was very unfortunate, because people who are trying to stop exploitation are in the business of promoting diversity. They're not getting in the way. The trouble is schools like this are giving a bad reputation to those who are doing it the right way."
Questions remain, however, over whether or not the Education Department will take action to block federal student aid to Arizona Summit, as it did with Charlotte School of Law when the ABA placed it on probation.
"It would be interesting to see, although it's not just the department making these decisions, but NACIQI as well," Flores said. "Will the new administration take action to say they're pulling funding? … We don't have much to go on to say they will, but they are more sympathetic to for-profit colleges."