Where the Faculty Jobs Are
New data from CUPA-HR suggest fields doing the most hiring, but some question its optimistic findings about English. Study also looks at pay by demographics, and for chairs and adjuncts.
Nursing, psychology, English, math and music are the top disciplines for tenure-track faculty hires at four-year institutions, according to a new survey from the College and University Professional Association-Human Resources. These 2016-17 academic year hires were generally new Ph.D.s, and the English finding in particular might -- emphasis on might -- hearten those facing the field's notoriously difficult tenure-track job market.
Here's CUPA-HR's hiring data on a few more disciplines, including median salary.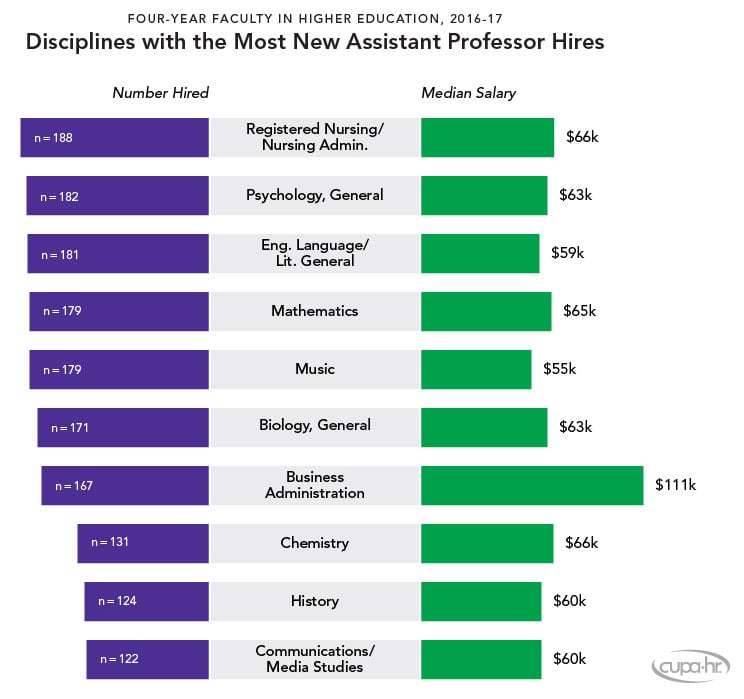 Median salary for full-time instructors across disciplines, whose median time in that position was three years, was $58,200. Median pay for new assistant professors was $68,000. Assistant professors, who spent about three years (median) in that position, earned just slightly more, at $68,300. Associate professors spent about six years (median) at that rank, at $79,400 annually. Full professors made $106,000, with about nine years of service.
Historically CUPA-HR has focused on disciplinary gaps, while the American Association of University Professors has issued an annual report -- due out soon -- on institution-by-institution averages.
Age distribution across faculty ranks was generally unsurprising, with younger faculty members clustered at lower ranks and older faculty members in higher ones. The exception was among associate professors. Although the greatest concentration occurs between the late 30s and mid-40s, many serve as associate professors into their mid-60s and beyond, the report says. "This is important, because older associate professors who don't get promoted to the rank of professor miss out on the incremental salary increases that full professors gain before retirement."
CUPA-HR's annual "Faculty in Higher Education Salary Report" typically includes median full-time faculty pay, but this year's report includes new demographic data, as well as information on adjuncts and department chairs.
Other key findings include that minority tenure-track and tenured faculty members are paid equitably or even more than equitably at all ranks. Unsurprisingly, though, their representation decreases within more senior faculty ranks. That mirrors what is found among academic administrators, according to CUPA-HR. Asian-American faculty members make more than white and black faculty members do.
Jacqueline Bichsel, director of research for CUPA-HR, said in an interview that the salary equity finding, at least, is encouraging, in that it means "there's an effort to attract and retain minority talent" amid all the talk of increasing diversity within the professoriate.
Female tenure-track faculty members, however, are paid less than their male peers at all ranks. Women are also underrepresented in more senior faculty ranks and as department heads, according to CUPA-HR.
While 61 percent of instructors are women, 50 percent of assistant professors are. Women make up 44 percent of associate professors and just 31 percent of full professors. Women earn $0.96 on the dollar compared to men as instructors and $0.89 on the dollar at the full professor rank. The overall pay ratio is 0.87, because women are so underrepresented at the highest-paying ranks.
"This may indicate that more females are currently being hired into new faculty positions, but it may also indicate that fewer females are being promoted within the faculty ranks," the report says.
AAUP's most recent report also found a pay gap between genders, but only at more senior faculty ranks. Still, because higher ranks pay more, women across ranks, disciplines and institution types made $74,681 compared to $83,012 for men.
Full-time faculty members of law have the highest median salaries ($153,000 across ranks), followed by those in medicine ($152,000), finance ($138,000), accounting ($132,000) and small-business operations or entrepreneurism ($131,000), according to CUPA-HR.
The lowest-paying disciplines are multilingual or multicultural education, teacher education, and library science and administration, all $69,000, followed by parks and recreation studies ($68,000) and philosophy ($67,000).
In nearly all disciplines, professors' salaries tend to increase with age, until 70, when they level out or drop. The one major exception is in business, older and younger faculty members earn nearly equivalent salaries. Younger professors in business and law are also making more than faculty members in other disciplines.
More than half of department chairs (55 percent) get a salary supplement for the work ($6,666 was the median amount), and 52 percent get course relief (six credits, median). About 27 percent of chairs get a summer salary (the median amount was $9,060). Public and doctoral institutions are more likely to offer pay increases in the form of either a salary supplement or summer salary, the report says, but they are less likely to offer course relief.
Some 5 percent of tenure-track faculty positions reported were department heads. Some 38 percent of department heads are female, and about 15 percent are racial or ethnic minorities.
Part-time, adjunct faculty members make about $1,000 per credit hour. There are about three adjuncts for every four full-time faculty members over all. At public institutions, there's one adjunct for every two full-timers. At secular private institutions it's five adjuncts for every four full-timers. At private religious institutions it's one to one. The study, by counting only those at four-year institutions, leaves out community colleges, which employ relatively more adjuncts.
CUPA-HR's new survey includes salary information about 237,231 full-time faculty members at more than 700 campuses. About half were master's-level institutions, followed by doctoral and baccalaureate colleges and universities.
Bichsel said it was important to broaden the faculty salary survey's scope to include, among other data, adjunct per-credit pay. Adjuncts "are becoming a dominant part of the work force in higher education, and the fact that nobody collects data on adjuncts' salaries leaves this huge gap in terms of benchmarking what we should pay them."
Indeed, there is a dearth of data on what adjuncts make. A major 2012 study from the Coalition on the Academic Workforce put adjunct per-course (three-credit) pay at $2,700, however, suggesting that their pay hasn't increased much since then.
Bichsel said she hoped that more institutions would supply data on adjuncts in future years, now that they're expecting such questions, making for a more robust data set. The 148 institutions that did supply data on adjuncts employ, again, three adjuncts for every four full-timers. That differs from other often-cited ratios across academe, which put adjuncts at closer to 70 percent of the teaching force. But Bichsel underscored that CUPA-HR's survey did not include community colleges or for-profit institutions, both of which tend to employ more adjuncts than their four-year nonprofit counterparts.
Maria Maisto, president of the New Faculty Majority, a national adjunct advocacy organization, said she was puzzled as to why just 148 institutions had offered information on adjuncts, and said that whether or not the campuses are unionized is an important variable, among others. In any case, she said, "We would certainly love to work with [CUPA-HR] to get some comprehensive, accurate adjunct pay data."
Rosemary Feal, executive director of the Modern Language Association, also had a measured response to the CUPA-HR data, namely its findings about the English job market. While it might be a "top" field for tenure-track hires, the actual number of jobs filled, 181, is "not a large number compared with the number of new English Ph.D.s doctoral programs have been graduating in recent years," she said. The Survey of Earned Doctorates, for example, shows between 1,000 and 1,286 a year the last decade or so, she added, cautioning that the 708 institutions responding to CUPA-HR make up a fraction of the Education Department's database.
If hiring patterns were the same across all 2,481 federally tracked institutions as for the 708 in the CUPA-HR respondent group, she added, "that extrapolates to 634 new tenure-track hires" -- about half the 1,200 Ph.D.s awarded each year. "I hate to douse the fire of English hotness with a data dump, yet it would be far more revealing to know how the number of tenure-track hires in each discipline today compares with the number of tenure-track hires in 2008 or 1998 or 1988," Feal said.
You may also be interested in...
Today's News from Inside Higher Ed
Inside Higher Ed's Quick Takes