Health Care vs. Higher Ed
Experts worry drawdown of federal funding for Medicaid expansion puts pressure on public higher ed funding.
When Republicans in the House of Representatives seemed to be nearing a vote on a health care reform bill last month, several prominent Democratic governors spoke out to criticize the proposed changes, arguing they would impose high costs on states.
California Governor Jerry Brown said that the proposed changes would cost California $6 billion per year by 2020. New York Governor Andrew Cuomo said the federal reform bill would create a gap of almost $7 billion in the state's budget because of changes to Medicaid reimbursements.
Republicans did not bring their bill to the floor for a vote after they were unable to drum up enough support amid intense opposition. But even without changes, many states are shouldering a larger share of Medicaid costs than they have been over the last several years.
They're just doing it under existing law, the Patient Protection and Affordable Care Act, which President Obama signed and President Trump sought to repeal. The way the current law was designed, states' share of Medicaid costs is rising as the federal government pulls back on incentives it used to encourage them to expand the program. And when federal spending requirements for states grow, public funding for colleges and universities -- one of the largest so-called discretionary pots of money most states control -- tends to be the target. Consequently, the current law has drawn attention from higher education experts, because more spending requirements on states translates into more pressure on public funding for colleges and universities.
"Some states are going to be left really holding the bag," said George Pernsteiner, president of the State Higher Education Executive Officers association. "It will put them in a pinch if they don't have a booming economy. That's what I worry about."
The increased costs are connected to the federal funding mechanism underpinning the expansion of Medicaid, which covers many low-income children and adults and people with disabilities. States and the federal government share Medicaid costs under a patchwork of funding mechanisms, including the Federal Medical Assistance Percentage, or FMAP, which guarantees a minimum of $1 in federal matching funds for every $1 states spend on Medicaid. But the Affordable Care Act sought to entice states to expand Medicaid to cover adults with incomes of up to 138 percent of the federal poverty level.
It did so by paying 100 percent of the costs of such Medicaid expansion -- but only for a limited time. The 100 percent federal match started in the 2014 calendar year but ended in January 2017, when it dropped to 95 percent. It is set to phase down to 90 percent in 2020 and remain at that level afterward.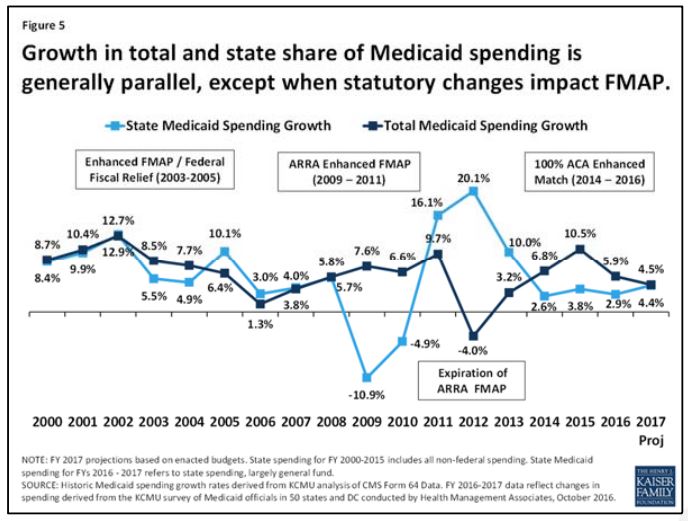 Washington, D.C., and 31 states expanded Medicaid in response to the Affordable Care Act. That means they are now seeing their share of Medicaid costs rising.
When states adopted their budgets for the 2017 fiscal year, their share of Medicaid spending was expected to grow by 4.4 percent on average, according to an April report from the Kaiser Family Foundation. The increase was expected in large part because of the decrease in federal funding for Medicaid expansion.
While 4.4 percent might not sound like an overwhelming increase, Medicaid spending is a massive portion of states' budgets. Medicaid spending across all states totaled $509 billion in the 2015 fiscal year, according to the Kaiser Family Foundation. States paid 38 percent of the costs, with the federal government picking up the rest.
That means states spent about $193.4 billion on Medicaid in 2015. That dwarfs state higher education appropriations, which totaled about $83.6 billion across the country in 2016-17.
State legislators are essentially locked into spending on Medicaid. So when costs in that program rise, lawmakers have to either raise revenue through taxes and fees or find money in their discretionary budgets to reallocate. Higher education represents one of the few big-ticket discretionary items from which they can draw.
"They're going to get the money somewhere," Pernsteiner said. "Where they make the cuts is higher ed."
Within individual states that expanded Medicaid, projections show costs mounting in coming years. Kentucky's expenditures for Medicaid expansion are projected at $77.2 million for the 2016-17 fiscal year -- a year in which the federal match rate only falls below 100 percent for six months. The expenditures under current law are expected to rise to $180.1 million in 2018, $224 million in 2019 and $306.3 million in 2020, according to state projections.
Kentucky is dealing with other budget pressures as well. By some estimates, the state has the worst-funded pension system of any state in the country -- even worse than Illinois and New Jersey. Many believe dealing with that issue will be a major drain on state coffers.
The state's Republican governor, Matt Bevin, has already shown a willingness to take funding that would have gone to higher education and put it toward pensions, said Robert L. King, president of the Kentucky Council on Postsecondary Education. Budget pressures add up, including from Medicaid, King said.
"Because it's a mandated expenditure, it gets paid," King said. "So our universities have been taking cuts consistently for the last decade. I can't tell you that they are directly caused by Medicaid, but it certainly is a contributing factor."
King has been watching trends between Medicaid funding and higher education funding since he was chancellor of the State University of New York System in the early 2000s.
"I remember reading studies at the time that showed that there was a pretty straight-line correlation between the growth in Medicaid costs and the reduction in state support for higher education," he said.
A 2003 Brookings report found every new dollar in state Medicaid spending was related to a decline in higher education appropriations of about 6 cents to 7 cents.
In West Virginia, which also expanded Medicaid eligibility under the Affordable Care Act, health-care costs were wrapped up in a long budget standoff that left leaders worried about higher education funding. State revenue has been declining with energy markets, causing stress on the budget and a possible pinch on higher education funding, according to a spokesman for West Virginia University.
All of the pressures have real ramifications on the ground. West Virginia University's president, E. Gordon Gee, issued a letter April 4 after the state's Senate distributed a budget bill that would cut appropriations to the university by 15 percent. Such a cut would mean staff layoffs, increased tuition for students and major changes to other programs like the West Virginia University Extension Service and academic programs, Gee wrote.
"Our university has already lost nearly $29 million in base reductions compared to 2011," Gee wrote. "This additional reduction will be devastating to West Virginia University and all of the other four-year institutions in this state."
West Virginia lawmakers passed a budget Sunday at the end of their session that would cut higher education. But the budget did not follow a blueprint followed by the state's governor, setting up a potential veto and extra session.
Cutting Medicaid coverage wouldn't necessarily alleviate all funding pressures on universities, either. West Virginia University's health-care arm, WVU Medicine, is the largest health-care provider in the state. Cutting Medicaid coverage would mean fewer patients getting treatment, said Clay Marsh, the vice president for health sciences at West Virginia University. It would also mean more patients putting off care and receiving costly treatment in emergency rooms -- and providers often have to write off the cost of such services when patients can't pay their bills.
Marsh estimated that not covering patients who are currently covered under Medicaid expansion would result in a loss of about $20 million annually for WVU Medicine.
"Some of the money that comes through the health-care delivery system comes back to the academic enterprise and educational enterprise to help train the state's population," Marsh said. "The expansion has been so powerful because we have such a large percentage of our population that has just started to be covered."
In theory, states could raise taxes to generate enough revenue to cover the cost of Medicaid expansion while also keeping funding for higher education stable. Eight governors proposed new or increased provider taxes to help pay for Medicaid spending growth, according to the Kaiser Family Foundation. But it's not that simple, according to Iris Palmer, a senior policy analyst at the liberal-leaning think tank New America.
"People can say you can increase taxes, but there are definitely states where increasing taxes is not a political option," she said. "In places where they have very high tax rates like Illinois or Connecticut or California, they don't have a lot of room to increase taxes to cover their additional spending, I would argue."
Experts believe the states that expanded Medicaid but have not fully recovered from the recession are generally in line for the biggest pinch to higher education budgets in coming years. Kentucky and West Virginia, with their energy-focused economies, are good examples. But they're not the only ones. Oregon, for example, faces a $1.6 billion shortfall in its upcoming two-year budget cycle. About $1 billion of that comes from health-care costs, including reduced federal support for Medicaid expansion.
Meanwhile, Oregon universities are expecting less state funding. Portland State University is proposing a 9 percent tuition hike and potentially $9 million in cuts because of lower state funding and other pressures like rising wage and benefit costs. Six of the state's seven public universities plan to raise tuition by at least 5 percent, according to The Oregonian.
Farther south on the West Coast, the California State University system is facing challenges if expensive changes to federal Medicaid funding proceed, said a spokeswoman, Toni Molle.
"If ACA costs do shift to the state and the state chooses to fund health care over universities, it has that choice," Molle said in an email. "It would not be our choice, but a choice that state lawmakers and the governor would have to make."
Meanwhile, there have been efforts in some states that did not expand Medicaid previously to do so now. Kansas lawmakers, for instance, narrowly missed approving an expansion this month after Governor Sam Brownback rejected a bill that would have expanded Medicaid and they fell a few votes short of overturning his veto.
To some, the costs associated with Medicaid funding changes are just the latest in a long trend of competition for state resources playing out between health care and education. They believe the competition will continue into the future.
"Health care is in a permanent competition with higher education," said Anthony P. Carnevale, research professor and director of the Georgetown University Center on Education and the Workforce. "Higher ed has neither legal protection nor budgetary protection. It is the lone standing discretionary spending, except for prisons."
Carnevale said the future could turn into a grim picture where higher education loses enough resources at the margins that public colleges and universities can no longer expand access to new student populations or provide them with the support they need to graduate. Large public research universities with diverse funding streams will survive, and community colleges will, too.
But other institutions in the middle -- those that depend on state revenue and tuition -- could die. Those institutions educate a large number of students.
That would imperil the American form of higher education, where all students have access to a general education with liberal arts and elective courses, Carnevale said.
"This is going to be a test of the American model," Carnevale said. "It's a test of the model on equity grounds, in particular, because it's about a dual system that's emerging that gives general education plus a major to more affluent and white people and more specific education to black, brown, working-class and low-income people."
You may also be interested in...
Today's News from Inside Higher Ed
Inside Higher Ed's Quick Takes