You have /5 articles left.
Sign up for a free account or log in.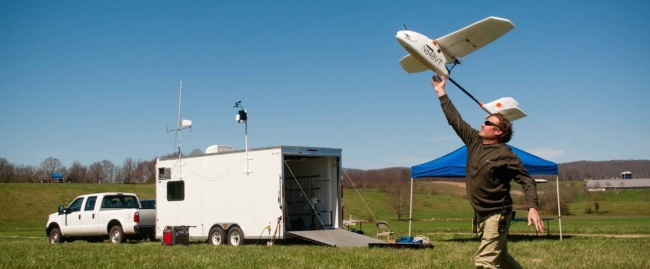 Mid-Atlantic Aviation Partnership/Virginia Tech
Colleges are eager to put drones to use both inside and outside the classroom, but federal agencies and university risk managers are taking a cautious approach before opening the airspace above college campuses.
Drones (also known by the more technical terms unmanned aerial vehicles or systems) are becoming increasingly common sights, both in campus skies and in headlines. There was, for example, the 2014 case of the student at the University of Texas at Austin who was detained after flying a drone over a football game, or the experiments launched last year involving burrito delivery by drone at Virginia Tech. Lake Superior State University even included "selfie drone" on its latest "List of Words Banished From the Queen's English for Misuse, Overuse and General Uselessness."
On the academic side, colleges are using drones to do everything from surveying crops to teaching aerospace engineering. On the administrative side, delivery is emerging as a popular idea. Arizona State University, for example, is imagining a future in which drones zip across the greater Phoenix metropolitan area to bring students library materials from a storage facility.
But where some administrators, faculty members and students see opportunity, others see risk.
"What happens when one of these UAVs fails, and it's got a 30-pound payload of library books while flying down the quad?" said Clinton T. Speegle, an U.S. Army aviation officer turned lawyer.
Speegle is one of the people helping universities write drone policies. Once tasked with "deconflicting" the airspace above Iraq and neighboring countries, Speegle now focuses on aviation law and NCAA compliance at his Birmingham, Ala., practice, Lightfoot, Franklin & White.
Most university drone policies, Speegle said, deal with "the student who has a quadcopter [a helicopter with four rotors] and wants to fly it on the quad or take pictures of the campus." But universities should also consider how their policies can address privacy and safety issues, and how they can enable research and development activities involving drones.
"There's no way we can foresee everything that's going to come from this area," Speegle said. "The key, in my mind, is to make it a broad policy … and then be able to dial it back if you realize later that there is usage that is useful, needed and can be properly mitigated."
Indiana University has had a drone policy on the books since 2015 -- a precautionary measure to protect the university from the potential legal issues raised by emerging technology.
"We saw that drones were going to become a thing of the future," said Larry Stephens, director of the university's Office of Insurance, Loss Control and Claims. "They presented a huge liability exposure for us."
The policy hasn't changed much since 2015. It still contains the same bans on flying a drone in areas "where there is a reasonable expectation of privacy in accordance with accepted social norms" -- spaces such as dorms, locker rooms and treatment rooms -- and directs would-be drone pilots to Stephens's office for approval.
However, Stephens said he has seen a slight change in the popularity of drones: they are simply becoming more common.
Today, there are more requests to fly drones indoors, for example. Using drones to take pictures of campus continues to grow in popularity. And recently, a construction company contacted Stephens's office to use a drone to inspect a building under construction (Stephens also admitted, "I've been trying to find a good excuse for us to buy [a drone] for this department").
The Federal Aviation Administration's own rules add further restrictions on drone use at colleges. Flying a drone for work, as opposed to for fun, in most cases imposes additional rules related to certification and aircraft requirements. So does flying a drone within five miles of an airport.
The FAA also generally prohibits flying a drone directly above people, which means drones won't be following campus footpaths to deliver their payloads -- at least not for the moment. The FAA is working on new regulations, though that work was delayed as part of the Trump administration's regulatory freeze.
"Everybody wants to fly over people, but the real concern is nobody knows how dangerous it is," said Mark Blanks, director of the Mid-Atlantic Aviation Partnership.
The MAAP, which is led by Virginia Tech, conducts drone flights on a near-daily basis with faculty members and students. In addition to testing burrito deliveries, it is also conducting experiments on drone injuries in partnership with Virginia Tech's Institute for Critical Technology and Applied Science. The MAAP doesn't have conclusive results for all types of drones, but Blanks said the results so far show that the FAA has been "overly cautious" and that there is an opportunity to expand drone use.
The university is building a 300-by-120-by-80-foot "drone cage" -- which Blanks described as "like something you'd see at a golf range, except it has a roof on it" -- to create a controlled space for drone test flights.
The cage will help accommodate what Blanks called an "uptick in interest and desire to do more" with drones that what current regulations allow for.
"Before, everybody just wanted to fly," Blanks said. "Now, everybody's able to fly, and they want to do more than they can currently do."