Right-wing national organizations are directly influencing college and university GOP groups, giving them money and supplies to spread their messages, but on many campuses they seem more focused on attracting controversy than converts.
National right-wing organizations often view academe with disdain, seeing it as a place where right-wing values are squelched. Their interests lie more with Republican student groups, which they support with splashy signs and money to help espouse a particular brand of conservatism.
During last year's presidential campaign, many of those GOP campus organizations pointedly declined to endorse Donald Trump, rejecting his statements about women, immigrants and Muslims, among others, as inconsistent with their principles. But these days, the speakers the groups invite to campus spout rhetoric just as harsh (or worse) than Trump's.
Right-leaning campus groups said in interviews they don't attempt to ignite discord, but that in planning certain events -- like the case of Ann Coulter's canceled speech at University of California, Berkeley -- they simply sought to bring an alternate view to their campuses.
Coulter's scheduled talk at Berkeley captured headlines for days in late April after administrators initially canceled, then postponed, her speech amid safety concerns. Though Coulter eventually pulled out, protesters still converged on the public campus. The Berkeley College Republicans, who had invited her, with Young America's Foundation, the national conservative advocacy group that helped fund her appearance, sued the university in federal court, alleging a violation of the First Amendment.
More recently, the Gettysburg College campus chapter of the Young America's Foundation, called the Young Americans for Freedom, invited author Robert Spencer, whom the Southern Poverty Law Center has labeled one of the country's "most prolific and vociferous anti-Muslim propagandists." Another popular choice among the students groups has been Milo Yiannopoulos, the former Breitbart editor who stepped down from the right-wing news outlet after a video was unearthed of him apparently endorsing sex between men and underage boys.
The Berkeley Republicans also tried to bring Yiannopoulos to speak in February, but violent protests against him shut the campus down. The group didn't respond to multiple requests for comment, but its representatives spoke to the San Francisco Chronicle in April, telling the newspaper their provocative picks were deliberate -- only then could they generate a "dialogue," one student said.
GOP-affiliated students often don't craft these events to advance discourse, though -- they're designed to rile people up, said Amy J. Binder, an assistant professor of sociology at the University of California, San Diego. Binder saw Coulter speak at University of California, Irvine, in 2008, as part of research for her book, Becoming Right: How Campuses Shape Young Conservatives (Princeton University Press).
Then, too, Coulter had been requested by the college's Republicans. Far from prompting intellectual debate, Coulter instead stirred the crowd into frenzy, repeatedly referring to President Obama's middle name, Hussein, Binder said. Coulter didn't lend anything to the conversation, but rather served as more of a political entertainer, she said.
"I know this sounds really quite extreme, but I whispered to the person I had come with that I know how fascism works now," Binder said of Coulter's speech.
Students may maintain that the Coulter talk, and common campaigns, like an "affirmative action bake sale" -- in which white students are charged more for goodies than black or Latino students -- are productive, but really, they're meant to poke at those on the other side of the political spectrum and hopefully goad them into responding in an uncivilized way, Binder said.
Such strategies may lose some campus goodwill, but likely among those that Republicans weren't trying to please anyway, Binder said. This also attracts media attention and donors for the groups -- a low-risk, high-reward scenario, she said.
National conservative organizations, like Young America's Foundation, stoke mistrust between students and institutions, using language that evokes a sense of war -- that universities are battlegrounds and professors will indoctrinate you, Binder said.
On the Young America's Foundation website, on a page discussing diversity, it encourages students to print out fliers that ask, who is really dividing campuses -- liberals or conservatives?
"Leftist students, professors and administrators are often the first to intimidate, attack and silence conservatives when they speak out," the website reads. "What is diverse about a campus where people of different races or cultures all share the same point of view? A university monopolized by leftist ideas is the antithesis of diversity."
Campuses are ripe for this type of partisanship, said Arthur Levine, president of the Woodrow Wilson Foundation. His research illustrates that the millennials dominating college campuses -- of all political stripes -- "are unwilling to be made uncomfortable."
Protests aren't necessarily more charged than they were back in the 1960s, however, the danger lies in the perception that leaders have clamped down on free speech, Levine said.
The Arrival of Turning Point USA
Turning Point USA emerged in recent years as a prominent conservative campus group that has railed against college administrators for "targeting" right-wing students.
It has added hundreds of chapters since the national branch launched almost five years ago. In explaining Turning Point's appeal, its founder, Charlie Kirk, said it is not confined to the Republican Party's platform, but rather it follows tenets of small government and a free market. The group doesn't touch social debates, either. Public polling continues to indicate more Americans fall left on issues like same-sex marriage and abortion. This endears the group to libertarians and even some moderates, Kirk said.
"We don't put the Republican name in our brand, because what does even being a Republican mean anymore? Ask and you'll get 10 different answers," Kirk said in an interview.
But Kirk did speak at last year's Republican National Convention, declaring before thousands that the only way to "take back" the country's youth was to storm college campuses.
In 2012, Kirk, then 18, would scout Twitter to identify young conservatives, picking out those who commented on the presidential debate, for instance, as candidates to lead campus chapters of Turning Point. Despite Turning Point's quick expansion, Kirk defines it still as "grassroots" -- its most effective approach being its tabling events, where students can interact face-to-face with representatives.
Turning Point spends between $120,000 and $140,000 a year on materials, including "activism kits" that are mailed to colleges, Kirk said, containing buttons and fliers with "Big Government Sucks" and "Socialism Sucks" in stark, bold text.
It sets aside cash for local chapters, too, for initiatives like recruiting a speaker or paying for a student government campaign.
Campuses have not universally welcomed Turning Point. In March, the student government at Santa Clara University refused to recognize a Turning Point chapter as university affiliated, a decision later reversed by Jeanne Rosenberger, vice provost of student life. At Hagerstown Community College in Maryland, a student attempting to start a Turning Point branch sued the institution in federal court after it didn't approve the chapter, calling it duplicative to other political clubs. Campus police had stopped the student from collecting signatures on a petition to support Turning Point. The college later settled the lawsuit by revising its policies on free speech.
At Ohio State University, Turning Point's influence and money in the student government election roiled campus. Turning Point had apparently funded candidates who later dropped out. The co-presidents of the Young Democratic Socialists at Ohio State, in a biting letter to the student newspaper The Lantern, called Turning Point homophobic and criticized perhaps its most infamous project, Professor Watchlist, a database of faculty from across the country whom the organization has deemed radical and demonstrating a liberal bias.
"How can we continue to allow such a group on campus that tries to secretly fund … campaigns, is outwardly homophobic and is completely fine with a parent organization that targets professors?" the students wrote.
Kirk in an interview waved away the criticism surrounding Ohio State, chalking up the controversy to one of the group's grants that was "terribly misinterpreted." He didn't elaborate further, but many Turning Point followers run for student government offices, he said.
And many misconstrue his group's intentions, Kirk said.
He has been associated with the "alt-right," a far-right movement characterized by its racist views. The group has denounced perhaps the most prominent alt-right leader, Richard Spencer, and told him to "go to hell," Kirk said.
Never would any of the chapters call for the cancellation of lefty speakers, he said, adding that conservatives want to question those liberals.
Turning Point will regularly gather its members for training, in which students will listen to sound bites -- debunking socialism in 30 seconds, or how the U.S. Constitution has stood the test of time, Kirk said.
"Because there is a pattern of behavior from administration toward rejecting conservative ideas, intellectual diversity, because of that, we train our students to effectively fight back," he said.
At East Carolina University, Turning Point's chapter -- which Kirk referred to as one of the top in the country -- brought in Tomi Lahren, the conservative rabble-rouser who was fired from her job as a commentator for The Blaze, a TV network founded by Glenn Beck.
Giovanni Triana, a junior and president of the East Carolina Turning Point branch, said the group intentionally waited until two weeks prior to when Lahren was scheduled to start advertising, recognizing possible reactions.
In less than 48 hours after Lahren was announced, the group's Twitter had exploded with vitriol, with some threatening to "burn" the university, Triana said.
He had expected some controversy, but the first week was "shocking." After all, Triana said, another student group had arranged a campus appearance by black activist Angela Davis, and no one "batted an eye."
Since the chapter's inception two years ago, its membership has tripled, Triana said. At least 90 active students are now involved. He believes the success is rooted in the group's ability to weave together pop culture and politics, a counterculture of East Carolina's traditional College Republicans, whom he called "passive" and lacking Turning Point's "innovative technique."
"I don't want to do this for the 16 seconds of fame," Triana said of the Lahren event, which few people ended up protesting. "I genuinely wanted to show the importance of free speech -- this whole movement of censorship is very dangerous."
He felt his group has the ear of administrators now, and applauded their commitment to a range of speakers.
Beyond East Carolina, other institutions aren't limiting conservatism in the way some groups suggest.
At Truman State University, in Missouri, the College Republicans there booked author Robert Spencer (who is not related to Richard Spencer). The College Republicans at Truman State wanted someone to tackle the topic of radical Islam, said the group's past chairman Benjamin Terrell, a rising senior. After vetting a few names, the group chose Spencer at the suggestion of the Young America's Foundation, which helped pay for the event. The College Republicans chipped in $3,000, and the foundation -- which told the group Spencer was an intellectual who would match Truman's campus well -- covered the rest, Terrell said.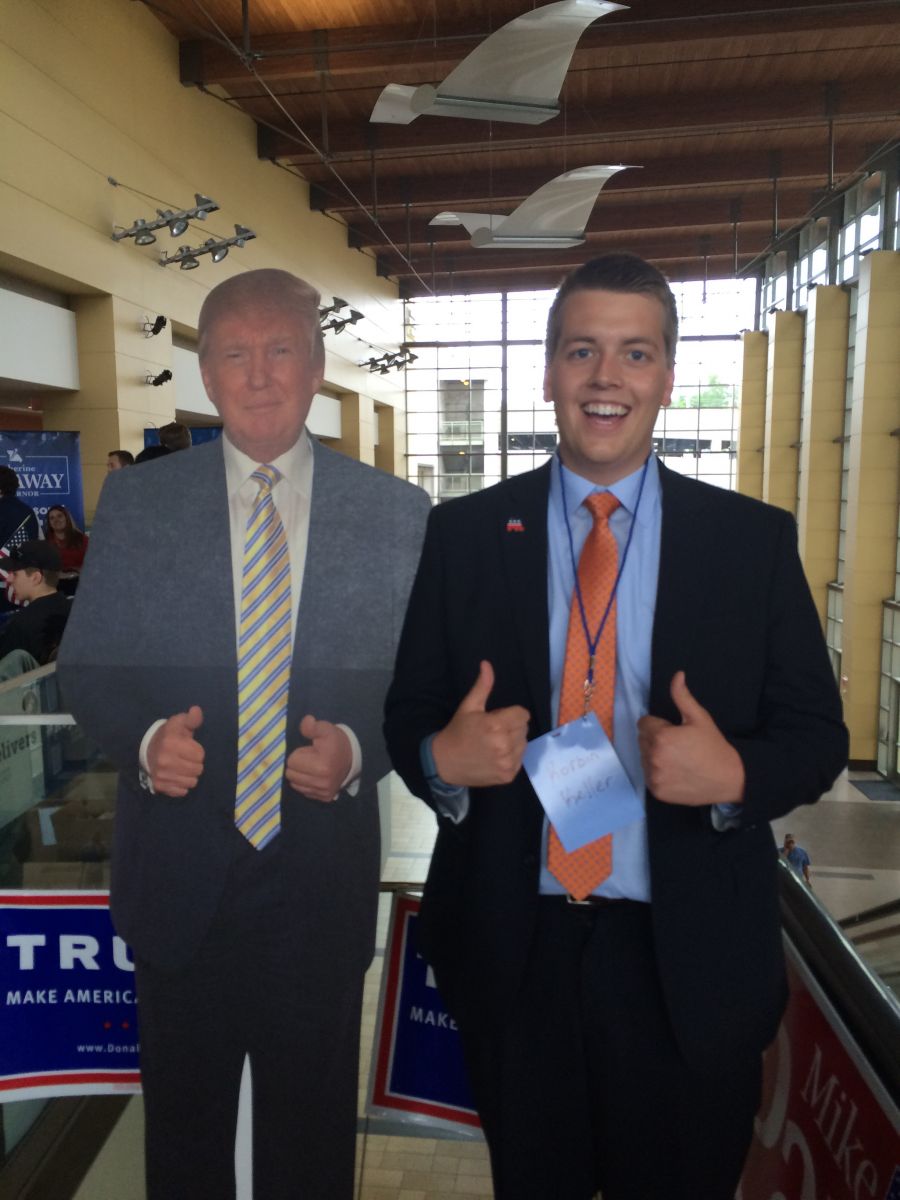 Despite Missouri's conservative leanings, Truman State remains solidly liberal, Terrell said. Because they're a political minority -- and because college students are often absorbed in their studies -- the campus Republicans need to "speak louder to be heard better," he said.
Terrell characterized the group's relationship with Young America's Foundation as positive -- he explained that because conservatism is often silenced on campus, the foundation's language might come across strong.
When Truman State's former president proposed hiring more professors of color, Terrell said his group opposed the idea of employing Latino and black faculty members as "diversity just for the sake of diversity." It supports "diversity of thought," from various political and religious persuasions, Terrell said.
The president's plan was scrapped because of state budget cuts in higher education, he said.
The newly elected chairman of the Truman State Republicans, Korbin Keller, called the Spencer event "a good discussion."
A Muslim student group on campus hired Faizan Syed, the executive director of Missouri's branch of the Council on American-Islamic Relations, to address campus directly prior to Spencer, in the same venue. Protests were minimal, Keller said. A contingent of people attended wearing all white, a show of solidarity, but remained quiet throughout Spencer's talk. Questions to Spencer were a bit heated, but nothing was disrupted, Keller said.
People had called for the cancellation of Spencer's appearance.
"I'm glad our university did not follow that line," Keller said. "They chose intellectual and academic freedom in favor of a cushioned environment. I'm glad that our administration didn't give in to demands."
Though his group won't "shy away" from controversy, Keller said he'd rather show the merits of Republican ideology rather than participate in liberal bashing.
That, too, is the mentality of Christopher Gardner, president of the Hood College Republicans.
Gardner fielded heated criticism after his group last month hung a display in one of the campus buildings, a space used in rotation by other student groups. The Hood College Republicans plastered it with conservative messaging generally detested among liberals, like a quote from Ben Shapiro, a far-right conservative writer: "Transgender people are unfortunately suffering from a significant mental illness that is deeply harmful and it's not a solution to pretend that transgender people are the sex that they think they are in their head. Biology is biology; men can't magically become women and women can't magically become men."
Backlash was swift.
The community complained, and the president of Hood, Andrea Chapdelaine, notified campus that the college would investigate if the Republicans had broken school policy.
Laurie Ward, a spokeswoman for Hood, had declined to discuss that review, but Gardner said the college determined there would be no punishment. Chapdelaine also hosted a forum to discuss the display, an event Gardner called "awkward," as his group had already opened up their meeting to hear the campus' grievances.
Gardner said he hadn't reviewed all the materials before they were posted but said his group's intent was to showcase that these views do exist -- his members don't necessarily take stock in them.
"As an organization we don't have a firm stance," Gardner said. "We're diverse groups, with diverse thoughts and beliefs, and some of these things definitely deserve to be debated. Like the issue of being transgender. I personally do not have a position, but it needs to be discussed more -- there's a lot misunderstood about it, a lot I don't know about it."
He doesn't regret the display, but said "it could have been done better."
Gardner wants the Hood College Republicans to be known as a positive force -- a partner to the college, and recognized for their work, for example, with veterans with post-traumatic stress, rather than being eclipsed by a display.
"I think our mission hasn't changed," he said. "We're more focused. All we want to do is promote conservative ideology and make conservatives feel like they can share their opinions on campus."
You may also be interested in...
Today's News from Inside Higher Ed
Inside Higher Ed's Quick Takes