You have /5 articles left.
Sign up for a free account or log in.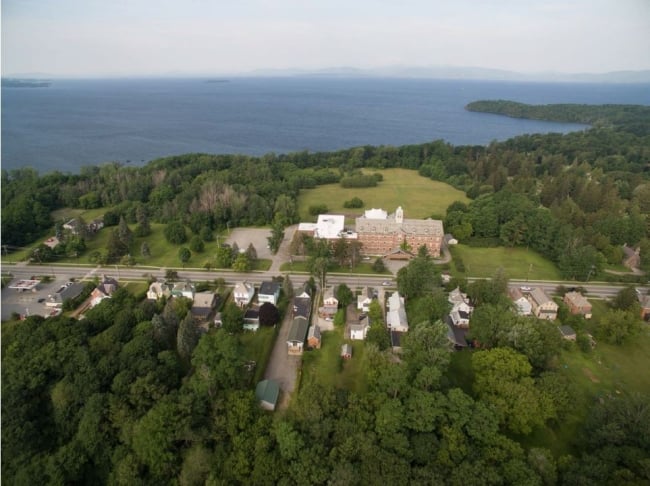 It would be the only college in Vermont with a beach, Jane Sanders said.
It was the beginning of 2011, and Sanders was telling local press about Burlington College's newly closed $10 million purchase of 32 acres of land nestled along a bay on Lake Champlain. Sanders, the college's president since 2004, said the process of signing off on the deal had stretched out for six hours on New Year's Eve. But now the paperwork was done, and she president laid out an ambitious vision for the future.
Burlington College', a small institution started less than four decades earlier with a group of students meeting in its founder's living room, would be able to grow from 200 students to 400 over five years, Sanders said. Inquiries from students interested in attending were already up sharply, she reported.
Sanders went on to praise a towering 77,000-square-foot, four-story building on the campus. Much of the structure was over a century old, but Sanders told The Burlington Free Press it was in good condition.
"The building was incredibly well made in 1881. The bricks were fired in Winooski. We were surprised they have kept it up. Very little has to be done," she told the newspaper.
Sanders and Burlington College never managed to make those sunny predictions come true. She did not last as president through the end of 2011, and Burlington College did not survive as an operating higher education institution through the end of 2016. Many of the college's former leaders blame its closure on what appears in retrospect to be an overly risky and ill-fated campus acquisition.
Even today, the purchase remains a cloud hanging over Sanders, who is married to U.S. Senator Bernie Sanders. The deal has come under new and intense scrutiny after word surfaced that it is the center of a federal investigation. Questions are swirling over whether Jane Sanders falsified loan documents, overstating pledges donors made in order to secure a bank loan needed to buy the campus. An allegation has been added that Bernie Sanders's Senate office pressured the bank to approve the loan.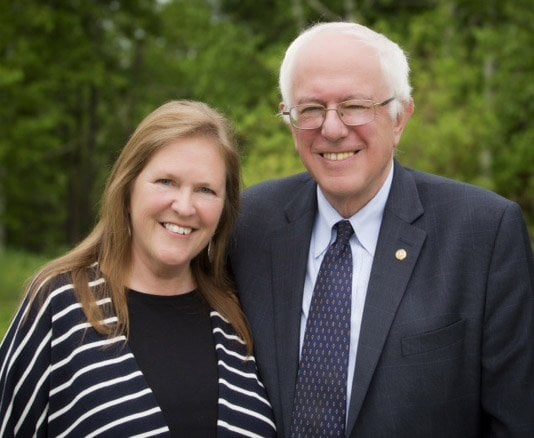 According to the Sanders side of the story, the issue is a politically driven tempest in a teapot. It is an assault on the reputation of an independent U.S. senator who mounted a surprisingly strong push for the Democratic presidential nomination last year -- and has since surfaced as a leading liberal voice speaking out in President Trump's America. Bernie Sanders has called allegations against his office nonsense. And the political element of the story can't be denied, as one of those urging scrutiny of the Burlington College land deal is a prominent Vermont Republican whose family has for years sparred with left-leaning politicians.
Still, the land acquisition was unusual in many ways. So it's time to take another look back at the college's decision to bet its future on a large chunk of waterfront property. It is the story of a piece of land whose full value has repeatedly dangled just out of its owners' reach. It is the story of unrestrained institutional ambition at a tiny college grasping for a future. It is the story of big personalities and harsh realities, the story of small-state politics blowing up into a national proxy war for the presidential campaign that could have been.
It is a still-unfolding story punctuated by a seemingly never-ending series of bizarre events.
The Purchase
About seven months before it closed the campus purchase, Burlington College announced the deal. Burlington was a 174-student college on its way to posting revenue of $4.1 million in the fiscal year ending in June 2010. It would eke out a surplus of $317,181 for the year.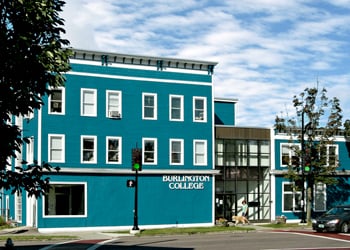 The college listed total assets of $4.6 million, more than half of which were land, buildings and equipment. Most of its classrooms were located in a modest wood-framed building (at left) from the turn of the century that once housed a grocer.
Meanwhile, the Roman Catholic Diocese of Burlington needed to sell land to pay for a $17.65 million settlement covering 26 sexual abuse lawsuits involving priests, as well as settlements covering three other cases before the Vermont Supreme Court. It was selling the complex holding its central administration, made up of a 130-year-old four-story Victorian with a boxy wing grafted on in the 20th century (pictured below). The building sat on a large piece of land sloping down to Lake Champlain. The Adirondack Mountains across the lake were visible from the back of the building.
The facility had once housed an orphanage, although it hadn't served that purpose since 1986. Much of it was unused. It was part of diocesan property assessed at nearly $20 million, but appraisals came in much lower. The diocese first listed the property at nearly $13 million before settling on Burlington College's offer of about $10 million.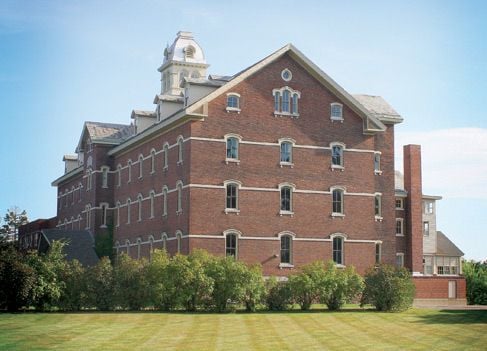 Burlington College financed the deal with loans from several sources. The diocese kicked in $3.5 million in seller financing. Local real estate developer and Bernie Sanders supporter Tony Pomerleau, who helped broker the deal, provided a $500,000 bridge loan. The bulk of the financing was roughly $6.5 million in tax-free revenue bonds issued by the Vermont Educational and Health Buildings Finance Authority and subsequently purchased by People's United Bank.
That loan is the center of the controversy today. Jane Sanders told the bank in 2010 that Burlington College had secured pledges of $2.6 million to support its real estate purchase, according to reporting by the nonprofit news website VTDigger. Such a windfall represented a major jump from the college's previous fund-raising levels. On federal tax forms, college leaders reported just $123,013 in nongovernment contributions, gifts and grants for the year ending in June 2010. They recorded another $127,503 in net pledges and grants receivable.
The deal caught attention around Burlington. Jane Knodell, who was provost at the University of Vermont at the time, remembers seeing the news.
"Everyone was very interested to see who was going to buy this property," Knodell said. "And I think everyone was very surprised when it turned out to be Burlington College. It was like, 'Oh, wow. How are they doing that?'"
Knodell would later become a member of the Burlington College Board of Trustees, and she would be brought in as the college's interim provost during some of its difficult times. She has had a front-row seat as the college struggled under the weight of the acquisition and closed.
"It was all very heartbreaking at the end, honestly," said Knodell, who today is president of the Burlington City Council. "There was lots of finger-pointing, which is inevitable in something like that, but it ultimately doesn't change the outcome."
A Deteriorating Situation
Pressure mounted quickly on Sanders. As the new academic year started in the fall of 2011, local media reported members of Burlington College's Board of Trustees were trying to force the president out because they were unhappy with her fund-raising record. She resigned in September, less than a year after closing the land deal.
Sanders did not personally respond to interview requests for this story. She has said that she left Burlington College because of differences with the college's Board of Trustees.
"Unfortunately, there was a kind of a quick change in leadership and we just didn't -- we had different visions for the future of the college," Vermont Public Radio quoted her as saying later. "I mean, I envisioned it to be a very community-based college, a college that became home to Burlington … [and] when you don't see things in the same way, you should part ways. It's the Board of Trustees who run the college, as it should be."
Sanders left with a buyout package totaling a reported $200,000 and was succeeded in the presidency by her chief financial officer, Christine Plunkett.
Plunkett, who had been CFO since 2007, oversaw a worsening situation as the weight of the land purchase bore down on the college. The highly anticipated student body growth never materialized, despite significant efforts to boost enrollment. In 2012, college officials took a trip to China, where they met with several high schools to try to recruit students. They netted one.
Federal statistics show total enrollment declined from 243 in the fall of 2013 to 224 a year later. That was above the college's enrollment in the fall of 2010 -- an enrollment of 193 -- but it was still not the sharp growth trajectory that had been projected.
College leaders found their financial practices under scrutiny. The college used $50,000 from a restricted scholarship fund to pay operating costs, VTDigger reported. Plunkett said donation terms did not declare the money an endowment. The college used the funding to pay for student scholarships and met the donor's wishes, she said. Nonetheless, she pledged to replenish the funds and proceed to treat the money as an endowment.
The alternative weekly newspaper Seven Days reported that Burlington College failed to meet key terms of loan agreements made when it purchased the campus. The college hadn't kept up $1.5 million in cash reserves as spelled out in an agreement with the diocese. It also hadn't maintained a $400,000 account required for its bank loan -- the account had just $8 in it, according to a 2013 audit.
The diocese declared the college in default. College leaders disagreed, saying the bank hadn't authorized them to make payments to the diocese. The college's debt piled up.
New costs mounted from the large campus and its dated buildings. Burlington College had to pay about $250,000 per year in property taxes, because Vermont tax exemptions did not apply to properties not under use. The facilities also turned out not to be in the reported good shape. In 2014, Plunkett told Inside Higher Ed that the college needed $2 million in repairs. In their state at the time, facilities could only accommodate about 300 students.
"In hindsight one could say, 'Wow, should we have done this?'" Plunkett said at the time. "Was this more than we could chew? The reality is we have it now, it's a stunning property, and there is no doubt that with success in enrollment it's a transformational opportunity."
She also said officials could not hope to raise major gifts given Burlington College's state. Plunkett did not respond to requests for comment for this story.
The college received donations totaling only $676,000 from 2010 to 2014.
College leaders turned to other options to raise money and attempt to chart a path forward. They unveiled a plan in 2013 to sell 16 acres of land for a housing development. Plunkett said the sale would allow the college to pay off half of its debt. The plan also called for privately developed residence halls and other buildings on campus land it retained.
But the sale never materialized, and students, faculty and accreditors soured for various reasons. In the summer of 2014, the New England Association of Schools and Colleges placed the college on probation because of its financial situation, giving it two years to improve. Then that July, 16 of 28 voters on the college's Faculty/Staff Council voted no confidence in Plunkett. Shortly afterward, the college's student union voted no confidence as well. VTDigger reported at least 25 staff members left over a three-year span.
The situation came to a head at the end of August. Plunkett left a Board of Trustees meeting in downtown Burlington and found herself confronted by a group of students demanding her resignation. The students followed Plunkett to her car and stood around it. She could not drive away. After some back-and-forth, she told the students she was done.
"OK, I resign. Happy?" she said, according to The Burlington Free Press.
Shortly afterward, she emailed her resignation to the board. Stunned board members did not accept it at first but eventually put in place an interim leadership team headed by a former deputy state treasurer, Mike Smith.
Smith broke down the college's books and found $300,000 in past-due bills, along with $11.4 million in long-term debt. He determined a larger land sale was necessary, starting the process of selling to a developer, Eric Farrell. Farrell was also the developer named in the college's 2013 plans.
"The idea was to get out from under as much of the debt as we could while still retaining enough real estate to build a future for the college," said Knodell, who started at the college to advise Smith on academic issues. "Then use the savings from the debt write-down to rebuild our essential staff functions."
Smith did not see the end of the sale process, as trustees named former Lyndon State College President Carol Moore Burlington College's new president in December. About two months later, in February 2015, a deal closed. Burlington College sold 27.5 acres of land. The college kept six acres, including the old orphanage building and its boxy addition.
Farrell paid a reported $7.65 million in the deal. College leaders at the time said it put them on better financial footing.
But the college planned to sell the former orphanage to Farrell the following year for $2 million. He wanted to renovate the building and convert it to student housing. The college would keep the addition.
"We were on the verge of having on-site housing that was going to be owned and operated by a third party," Knodell said. "We had some hope that we could make it happen."
But the institution could not survive. NEASC determined it would not renew Burlington College's accreditation. People's United Bank pulled a roughly $1 million line of credit. With nowhere else to go, college officials announced in May 2016 they would be shutting down operations at the end of the month.
About 70 students were in academic programs, college officials said at the time. Another 30 students had submitted deposits for the upcoming academic year. About 30 faculty and staff members worked at the college.
When they announced the college's closure, leaders cited a "crushing weight of debt" from purchasing the campus from the diocese. Farrell, the developer, would purchase the college's remaining property from the bank.
"No one is making money off that deal," Trustee Tom Torti said, according to VTDigger.
To this day, some of those who were running the college still believe success was just around the corner. Knodell acknowledges the challenges. The college had lost many of its employees, she said. Young staff members were stepping into significant roles like registrar.
Still, she remembers those staff and faculty members working hard to keep the college running. Burlington College was founded to teach Vietnam veterans, Knodell said. Its leaders at the end had been planning to find a way to continue serving students who would not thrive at other institutions. The plan was to marry some sort of professional training with liberal arts. Students would know they would have job opportunities when they graduated. The market placement would help both the students and the college in the New England region, where many liberal arts college fight over a shrinking pool of students.
"We still thought we could make it work if we could survive that last summer," Knodell said. "But that requires a bank being willing to carry us through the summer. So our shutdown -- I think it's fair to say we didn't have a full plan for shutdown."
The campus and its facilities continued to be problematic even after the college closed. In July 2016, when a few Burlington College staff members were still working to wind down operations, a break-in occurred on the property. Someone vandalized offices, took a van the college owned, took electronics -- including the college's main computer server -- and took records of students from Israel.
Someone had disabled security cameras, police said. They noted no signs of forced entry, adding a door had likely been left unlocked.
Police later identified a 26-year-old in the incident after he allegedly crashed the college van into a fence in Troy, N.Y. Officials recovered the van, electronics and almost 20 computers, according to VTDigger.
Police do not have an external computer hard drive that was taken from the college's main server, according to a Burlington Police spokesman. He said he could not release further details, adding the police investigation runs parallel to an active FBI investigation. He referred further questions to the FBI.
Prosecutors ultimately declined to charge the 26-year-old because of a lack of evidence. Passengers he was riding with when the van crashed said he picked them up in Albany to take them to Philadelphia. One of the driver's associates told police he had been squatting in an unused college building in the Burlington area, Seven Days reported.
A Political Play?
Even before the college closed, discussion raged over whether Jane Sanders overstated the amount of donations she had in hand so that she could secure the bank loan used to buy the property. Local media reported on the issue in 2015. It was also brought up by Brady C. Toensing, a partner at the Washington law firm diGenova & Toensing.
Toensing's involvement makes it impossible to ignore the story's political nature: he is the vice chairman of the Vermont Republican Party and was chairman of Trump for President in Vermont. Toensing and his family have a history of pursuing allegations against liberal politicians. In recent years he made pay-to-play allegations against former Vermont Attorney General Bill Sorrell, a Democrat.
In January 2016, months before Burlington College closed but long after its financial issues became clear, Toensing wrote to the U.S. Attorney for the District of Vermont and the Federal Deposit Insurance Corporation's acting inspector general. He asked for an investigation into "what appears to be federal loan fraud." Toensing, who said he wrote on behalf of Roman Catholic parishioners in Vermont, argued the diocese lost as much as $2 million and People's United Bank lost an unknown amount in the Burlington College land deal. His letter traced the losses to fund-raising "overstatement and misrepresentation," pointing the finger at Jane Sanders.
Toensing wrote again in May of that year with a new allegation that Bernie Sanders's office "improperly pressured People's United Bank to approve the loan application submitted by the senator's wife, Ms. Sanders." Then he wrote once more in October, saying he was presenting new evidence after Burlington College's last president, Moore, wrote a letter published in The Chronicle of Higher Education.
In the letter, Moore wrote that Burlington College's fate was sealed when it hired Jane Sanders, "an inexperienced president," and proceeded six years later to approve an "imprudent purchase of a $10 million piece of property." It went on to note that People's United Bank is located "in the state of an influential senator" with "bigger ambitions."
The diocese did not want to get involved in any political battles, the bishop overseeing it, Bishop Christopher Coyne, said in 2016. He told VPR the diocese is satisfied with the outcome of its sale to Burlington College.
The letters were compilations of publicly known facts, Toensing said in a recent interview. He was acting as a lawyer on behalf of clients when he sent them, he said, rejecting the idea that they were politically motivated.
"If this was not a substantive filing, the United States attorney's office would have done a memo to the file and closed it," he said. "That's not what they are doing here."
No one has officially confirmed the existence of an investigation. A spokeswoman for the FDIC's inspector general's office, Sharon Tushin, said it was referring all requests for comments to the U.S. attorney's office. A spokesman for the U.S. Attorney's Office for the District of Vermont, Kraig LaPorte, said he could not comment.
But VTDigger has reported on emails it obtained through a public records request that show both the Vermont U.S. attorney and an FBI agent reviewing Burlington College records for an investigation. It has also spoken with a donor, Corinne Bove Maietta, who said a gift she planned to give Burlington College was mischaracterized by Sanders when she was the college's president.
Maietta told the site she was recently interviewed by an FDIC investigator. The site reported that Sanders appeared to have listed a five-year, $1 million pledge from Maietta as a cash gift available as collateral to finance the land acquisition. Maietta said she had only agreed to give an unspecified amount when she died.
Another donor, Ron Leavitt, has also called into question reports on the college's donations.
Leavitt and four other people confirmed being contacted, interviewed or subpoenaed by federal officials, Seven Days reported. Coralee Holm, the college's former dean of operations and advancement, told the publication the FBI subpoenaed the institution last year, that she was interviewed and that she turned over emails and donor files. Holm did not respond to a request for comment for this story.
Jane and Bernie Sanders have not been contacted for an investigation, said Jeff Weaver, a longtime ally of the family who is serving as their spokesman on the issue. Weaver managed Sanders's 2016 presidential campaign.
The questions about the loan go back to Toensing, who has a long history of political mudslinging, Weaver said. He called the allegations against Bernie Sanders's Senate office "completely ridiculous, baseless and false" and part of a "Republican smear."
Jane Sanders had a plan in place to pay for the land acquisition that was apparently never implemented, Weaver said. She was not the only one to sign off on the bank loan, he added.
"The CFO, who became subsequent president, signed off on the loan; the board signed off on the loan," Weaver said. "It's very convenient, now, I think, in the current political climate created by the Republicans and Toensing, to put it all on Jane."
Toensing called questioning his motives a diversionary tactic.
Bernie Sanders recently told WCAX News the idea of him using his influence to win a bank loan for the college is "nonsense." He said it would be inappropriate for him to say more.
After the Closing
The college's Board of Trustees is in the final stage of winding down operations, said its chairman, Yves Bradley. Bradley, it should be noted, said he was aware of a federal investigation but has not been contacted as part of it.
Bradley has asked other trustees to submit their resignations. He will remain as a point of contact for any college-related issues for the foreseeable future.
Bradley is vice president of the commercial brokerage at Pomerleau Real Estate. He was the listing agent for the campus property when it was first sold in 2010. But he didn't join the Board of Trustees until 2013. Simply put, Burlington College was too risky for donors and students at the end, he said.
"I think what it did is it set up a perfect storm of everybody wanting the college to succeed, but nobody was really willing to step up and do what was needed to make it succeed because there was so much risk involved," Bradley said. "If you're asked to write a check for $1 million for the library, you're going to think twice. Likewise, as parents bringing students to look at the college, anybody doing any scratching would have thought, 'Wow, how are they going to do this?'"
Like his fellow trustee Knodell, Bradley thinks the college could have made it with one more year's worth of leeway. It would have lost money for another year and then started running a surplus, he said. Then he admitted he might be too optimistic about the college's chances.
"Maybe I've been drinking the Kool-Aid," he said.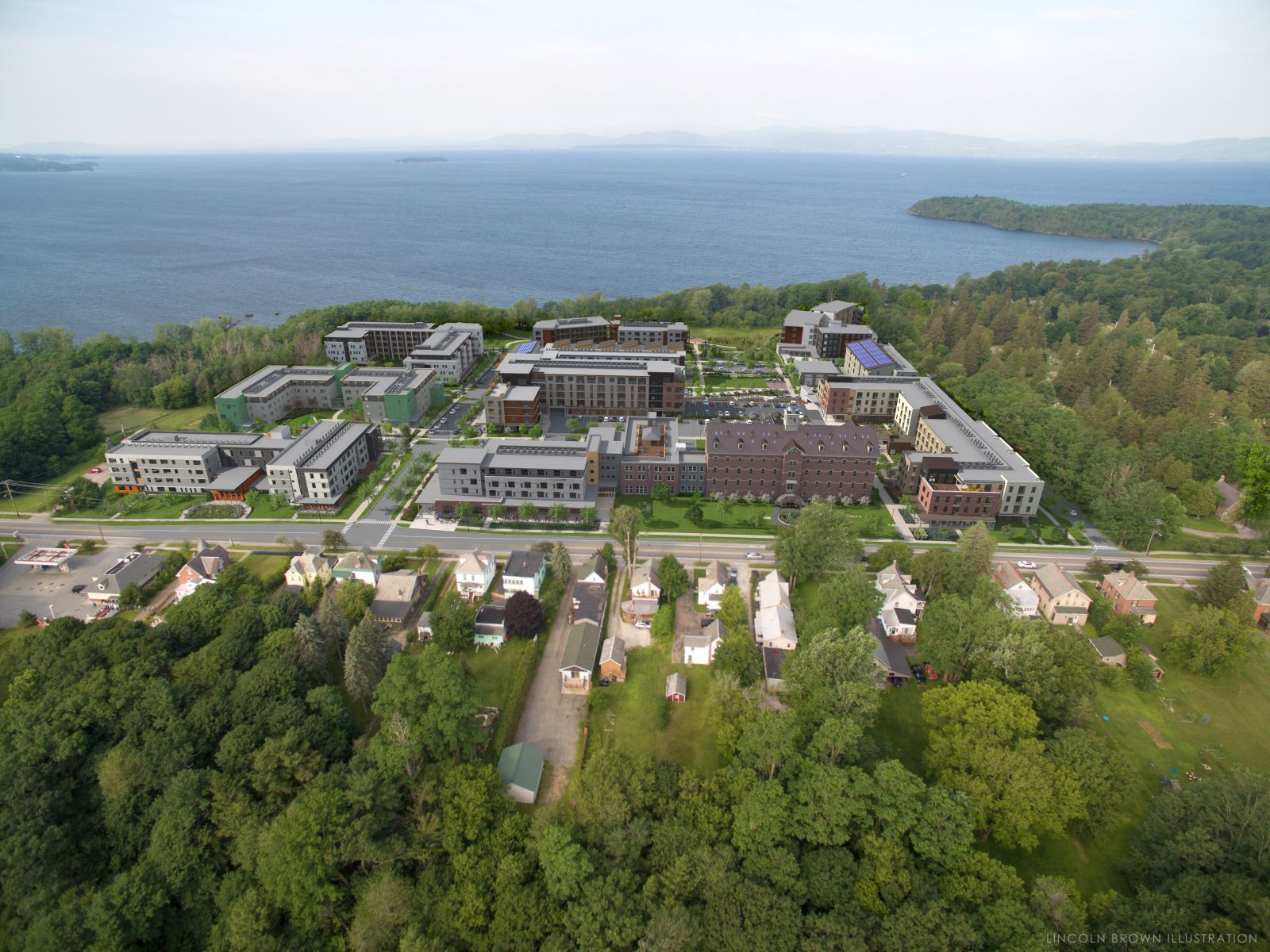 The former college facilities are being repurposed today. Farrell, the developer, is moving forward on an ambitious vision for a 700-plus-unit housing project on the college's former land. It's called Cambrian Rise. Plans submitted to Burlington's Development Review Board call for multiple new buildings and the renovation of the existing complex. (A rendering of those plans is pictured at right.) Leases starting this summer are being advertised.
The site is a construction zone six days a week, Bradley said. Still, Burlington College's old sign continues to hang out front. Bradley can see a piece of ceiling dangling from part of the complex that served as the college's home.
"I live right across the street," Bradley said. "I go to bed looking at the building. Talk about a cruel twist of fate."
The developer has sunny plans to reopen the old orphanage building first. It's been renamed the Liberty House. The project's website notes that from the fifth-floor veranda, residents will be able to take in stunning views of Lake Champlain.
They will be able to walk to a bike path, the site says. Or the beach.