You have /5 articles left.
Sign up for a free account or log in.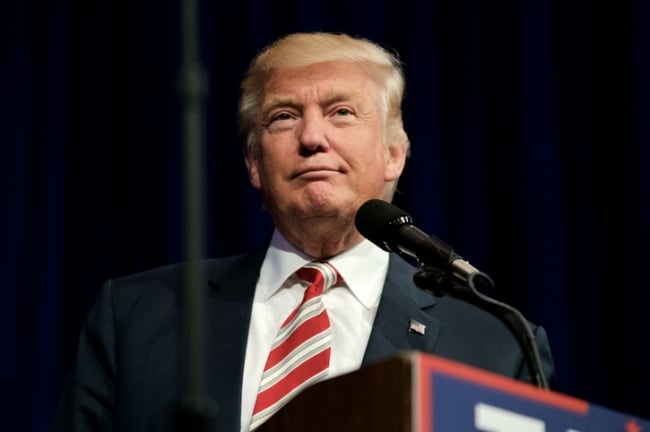 The White House's 2018 budget for education -- expected to be released next week as part of the administration's full spending proposals -- appears to double down on the eye-popping cuts to programs included in the Trump administration's "skinny budget" released in March. According to details leaked to The Washington Post this week, the forthcoming budget calls for eliminating the federal Public Service Loan Forgiveness program, letting the Perkins Loan program expire and ending the subsidy that pays the interest on some undergraduate loans while borrowers are in college.
While the Department of Education's overall budget would take a huge 13.6 percent cut, the details leaked so far suggest that the administration plans to invest hundreds of millions in new school-choice initiatives across the country.
The preliminary budget released in March included deep cuts to the National Institutes of Health and multiple other science programs, especially those focused on environmental research. But that document said nothing about the National Science Foundation. Third Way, a centrist think tank, on Thursday released a leaked version of the entire budget plan coming out next week. That document (which could be revised prior to release and/or face objections in Congress) says that President Trump will propose an 11 percent cut to the NSF. The largest part of the NSF -- research -- would see its budget cut by 11.1 percent, while education programs supported by the NSF in both higher education and K-12 schools would be cut by 13.6 percent.
The full budget document is already drawing reactions like the ones that greeted the release of the administration's skinny, or preliminary, budget. Student advocates and congressional Democrats say the proposals would have devastating effects on access to college and student loan burdens. Republicans on Capitol Hill, meanwhile, say they their appropriations process won't be dictated by White House priorities. Few are treating the budget document as something that will conceivably pass Congress.
Clare McCann, a senior policy analyst with New America's education policy program, said just like the initial outline released in March, the budget is a messaging document.
"A Republican-controlled Congress and a Republican administration theoretically should be on the same page on a lot of this," McCann said of spending priorities. But she said it's highly unlikely that lawmakers would make most of those cuts, if many at all, in their own budget.
The 2017 omnibus funding deal reached this month appeared to confirm that Congress is not eager to pursue the kind of harsh austerity measures sought by the administration in the upcoming appropriations process. That spending package to fund the federal government through the summer preserved current funding levels or provided modest increases to programs for which the White House had recommended major cuts this year. It also reinstated year-round Pell Grants, a longtime priority for many advocates and lawmakers.
Some advocates for student aid worry, though, that they could face a tougher budget fight in the 2018 appropriations process and that the Trump budget could help move the goalposts next time.
When the White House proposed reductions in spending midyear, that was a nonstarter for congressional appropriators, said Justin Draeger, president and CEO of the National Association of Student Financial Aid Administrators. He said he's less confident about the next funding cycle.
"I have a hard time believing lawmakers could pick all of these cuts up," Draeger said. "But it sort of sets the playing field. It provides a menu for potential cuts for Congress if they're so inclined."
The White House skinny budget called for eliminating the campus-based Supplemental Educational Opportunity Grant program entirely, while slashing Federal Work-Study and cutting the college access programs TRIO and GEAR UP. It also called for taking nearly $4 billion from the Pell Grant surplus. The full budget reportedly includes an endorsement of year-round Pell but doesn't increase the maximum value of the grant or index it to inflation.
It would also let the $700 million Perkins Loan program expire, according to the Post report. And it would end the loan forgiveness program as well as subsidized loans. The PSLF program promises that student loan borrowers who work for qualifying government or nonprofit employers and make 120 payments under an income-based repayment program will have their remaining loans wiped out. The program was established in 2007, and the first qualifying borrowers would seek forgiveness this year.
The subsidized Stafford Loan program saves many students thousands of dollars in accrued interest by the time they graduate. There has been bipartisan interest in the past in ending the subsidized loans, although Democrats proposed using those savings to expand aid to low-income students.
A source with knowledge of the budget proposal said current borrowers for both programs would be grandfathered in and only new borrowers would be affected.
As promised in the skinny budget, the full proposal also reportedly preserves dedicated funding for historically black colleges and universities.
A Department of Education spokeswoman, Liz Hill, said the agency won't be commenting on any reported provisions before the budget's official release by the Office of Management and Budget next week.
"The budget process and negotiations are ongoing, and all figures are preliminary until officially released," she said.
The full budget proposal also reportedly includes an additional income-driven repayment program for undergraduate student loans -- a campaign promise by President Trump -- that raises borrowers' maximum monthly payment to 12.5 percent of income but shortens the total payment period to 15 years. But graduate borrowers would see much less generous terms under the proposal -- 12.5 percent over 30 years.
Jason Delisle, a resident fellow at the American Enterprise Institute, said the White House proposal appeared to be mostly "tinkering around the edges," not a fundamental rethinking of student aid programs. And the changes to the financial aid system in the budget reflect ideas, like overhauling Public Service Loan Forgiveness, that were already being discussed by congressional Republicans.
Delisle has frequently criticized income-driven repayment programs for being overly generous to graduate students. He said the shorter payment period for undergraduate borrowers in the Trump proposal should be seen as a good trade-off for the end of subsidized loans and Public Service Loan Forgiveness. But the student aid structure remains overly complex, Delisle said, driven by various repayment options, undergraduate loans with different rates and campus-based aid programs favored by student advocates.
"They create complexity, they're opaque and they create uncertainty for students," he said. "Are they more money? Yes, but it's not 100 percent bad if they disappear."
But critics of the budget say that instead of attempting to streamline student aid or reinvest in the most popular and effective programs, the Trump budget simply makes cuts to reach a target number.
"It's cutting across the board, cutting indiscriminately in every program," said Jon Fansmith, director of government relations at the American Council on Education. "This is not about a policy disagreement. It's not about a change in course."
Fansmith said members of Congress are well aware of the historical funding of aid programs as well as how sensitive constituents would be to any reductions.
A serious re-evaluation of how effectively those programs work, rather than simply cutting programs to meet a budget goal, would typically be part of the reauthorization process for the Higher Education Act. But with major GOP goals like health care reform and tax reform on the legislative docket -- as well as potential hearings on the Trump campaign and Russia -- a reauthorization of the massive law might not happen any time soon.
Draeger of NASFAA said that could mean some additional piecemeal policy changes like year-round Pell Grants happen through the budget process. But more often, policy making through appropriations means additional cuts, he said.
"The question will be. if the administration's top priority isn't a comprehensive higher education policy, but rather constraining federal spending on nondefense discretionary, what is the congressional priority?" he said. "Those two ideologies will come to a head at some point."