You have /5 articles left.
Sign up for a free account or log in.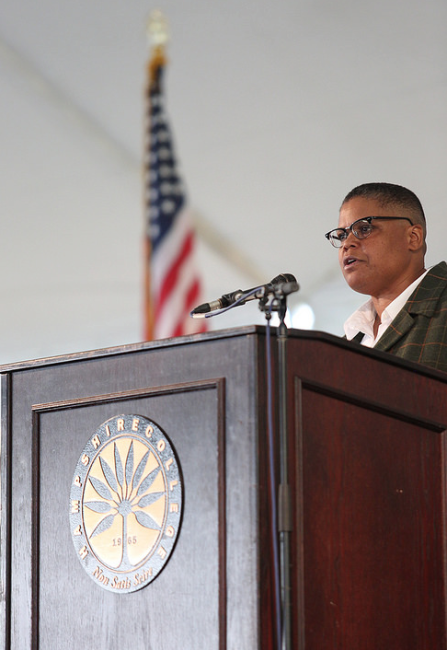 Keeanga-Yamahtta Taylor, an assistant professor of African-American studies at Princeton University, probably isn't the first academic to call President Trump a "racist, sexist megalomaniac." But she's the first to do it in a college commencement speech, earning her some negative publicity in recent days -- publicity Taylor says has led to death threats.
In a statement posted on Facebook Wednesday via her publisher, Haymarket Books, Taylor said she was skipping planned public lectures this week at Seattle's Town Hall and the University of California, San Diego.
"I am canceling my appearances for fear of my safety and my family's safety," Taylor wrote. "Since last Friday, I have received more than 50 hate-filled and threatening emails. Some of these emails have contained specific threats of violence, including murder."
Why? Taylor explained that she delivered the commencement address at Hampshire College last month. In it, she started out with a joke -- admitting she'd applied to Hampshire years ago but didn't get in. She got serious quickly, however, saying that students were graduating into troubling times, embodied by Trump.
"The president of the U.S., the most powerful politician in the world, is a racist, sexist megalomaniac," said Taylor, who helped organize the international women's strike in March. "It is not a benign observation but has meant tragic consequences for many people in this country, from the terror-inducing raids in communities of undocumented immigrants to his disparaging of refugees in search of freedom and respite."
Taylor, author of From #BlackLivesMatter to Black Liberation, said she's always considered herself more of an organizer than an academic, and her ultimate point was to implore graduates to better the failing status quo that may have led to Trump's win. But she pulled no punches on the way.
Trump "empowered an attorney general who embraces and promulgates policies that have already been proven to have a devastating impact on black families and communities," Taylor said in her address. "He thinks that climate science is fake, and his eagerness to take the country into war can only be interpreted as a callous disregard for its steep price in both money and human life."
The speech appeared well received at Hampshire, with Taylor's punchiest lines meeting applause -- even if the college's news service avoided mentions of Trump in its official recap. ("Given this current reality that becomes more surreal with each passing day," Taylor is quoted as saying, "it's easy to be discouraged, but you shouldn't be. Now is the time for defiance. … A life of activism and struggle can be exhilarating, frustrating, challenging, but always interesting.")
Taylor thought it went over well, too, she said in her Facebook post, but "Fox News did not like it." The reference is to a Fox story from last week describing the address as an "anti-POTUS tirade." It was sourced from several other conservative websites, including Glenn Beck's The Blaze, and featured clips of Taylor's comments about Trump.
After the Fox News story, Taylor wrote in her statement, "my work email was inundated with vile and violent statements. I have been repeatedly called 'nigger,' 'bitch,' 'cunt,' 'dyke,' 'she-male,' and 'coon' -- a clear reminder that racial violence is closely aligned with gender and sexual violence. I have been threatened with lynching and having the bullet from a .44 Magnum put in my head. … The threat of violence, whether it is implied or acted on, is intended to intimidate and to silence."
Linking those attacks to apparent hate crimes in recent weeks, such as the murder of Bowie State University student Richard Collins III by a suspected white supremacist sympathizer, Taylor said attempts at silencing critics of the status quo have been in some sense successful. "The cancellation of my speaking events is a concession to the violent intimidation," she said. "But I am releasing this statement to say that I will not be silent."
A spokesperson for Princeton said it was aware of the threats against Taylor, but noted she was currently on sabbatical away from campus. Taylor did not respond to a request for comment.
Taylor's not the only professor to face physical intimidation recently. Tommy Curry, an associate professor of philosophy at Texas A&M University, who is black, received racist messages on social media and via email, along with death threats, after a website ran a story on comments he'd made about violence against whites in a years-old interview about the film Django Unchained. The university initially condemned Curry's comments but later softened its tone, amid complaints from many scholars that his comments were taken out of context.