You have /5 articles left.
Sign up for a free account or log in.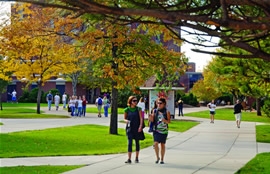 Days after opening the application window for its free public college tuition program, New York received more than 21,000 applications.
It looks like a quick clip for a state that had projected Governor Andrew Cuomo's signature free tuition program would cover about 22,000 students in its first year. But it's not yet clear how many applicants will actually receive awards. The number of applicants is also still small in comparison to the roughly one million New York students who apply for financial aid in a year.
Cuomo's office has said officials are thrilled with the number of applications. However, some policy experts worry that the program's rapid start, short sign-up period and high level of complexity have combined to create an unpredictable period for the state, its budget and its public colleges and universities.
New York had received 21,106 Excelsior Scholarship applications as of 7 a.m. Monday, according to the state's Higher Education Services Corporation. The application period opened June 7 and runs for about six weeks, through July 21.
Few other details were available Tuesday. About a third of the applications came from students who are either already enrolled in the City University of New York system or planning to enroll this fall as freshmen, according to a CUNY spokesman. A large majority of the CUNY applicants were continuing students, he said.
New York residents attending a CUNY or State University of New York institution can apply for the Excelsior Scholarship, a last-dollar award that pays for tuition costs after other sources of financial aid have been applied. Lawmakers approved the scholarship this spring. It will be phased in over three years, covering families with annual incomes of up to $100,000 this year. It will ultimately cover students from families with incomes of up to $125,000 per year -- making an estimated 940,000 families with college-age students eligible.
Some of the state's community colleges and four-year institutions project enrolling a low number of students who qualify for Excelsior Scholarships in the upcoming academic year. They caution that they're still waiting to learn exactly how the program will affect enrollment, though.
"Because the scholarship is across the board, it's a big experiment," said Kevin Drumm, president of the State University of New York Broome Community College outside of Binghamton. "Right now it looks OK for us, but as with all of us, we don't know what our actual enrollment and market mix is going to look like."
SUNY Broome typically enrolls between 4,800 and 5,500 full-time equivalent students annually, Drumm said. It's difficult for the community college to project next year's class for several reasons: its fall application deadline is July 1, and enrollments can vary drastically from week to week over the spring and summer, Drumm said. Three weeks ago, registrations were down year over year. Now they're up about 5.5 percent, measuring full-time equivalent students.
The Excelsior Scholarship is unlikely to go to a vast majority of SUNY Broome's students, however. Since it's a last-dollar scholarship, it will not be awarded to students who already have their tuition costs covered by other programs, like New York's generous Tuition Assistance Program. About 65 percent of SUNY Broome students already have their full tuition costs covered, Drumm said.
SUNY Broome looked at a small test batch of freshman applicants and determined 35 percent would be eligible for the Excelsior Scholarship in the upcoming year based on its income requirements. But after factoring in other likely financial aid awards, only about one-tenth of those students would receive an award.
In other words, an estimated 3.5 percent of the freshman class would receive Excelsior Scholarships. But that estimate may not be in line with final numbers, and it could go up in future years as the program's income ceiling rises and as more potential students become comfortable with attending classes under the free tuition program, Drumm said.
It will take time for students to learn the details of the program, Drumm said. For instance, developmental math and English don't count toward a requirement that students complete 30 credits per year. Some students aren't clear on what charges are guaranteed to be covered, either.
"The one thing is people who call the financial aid office and just think they're going to get a full scholarship," Drumm said. "They're not aware it's just tuition dollars. They're calling to ask, 'Will this cover room and board?'"
Some four-year institutions are also projecting a relatively low percentage of students qualifying for the free tuition program in its first year. SUNY Potsdam in northern New York estimates about 6 percent of its 4,000 undergraduate students will be eligible to receive funding from the scholarship, according to Rick Miller, executive vice president
SUNY Potsdam saw inquiries from prospective undergraduates jump sharply this spring. But applications only rose slightly, and enrollments for the fall freshman class are actually tracking down incrementally from last year.
"Our enrollment management staff believes this may be due to families waiting to find out about eligibility for the Excelsior Scholarship first, before making final decisions," Miller said in an email.
That meshes with the predictions of administrators at SUNY Brockport, west of Rochester.
"I think you're going to see later movement because of the timing of when everything was announced," said Robert Wyant, SUNY Brockport's director of admissions.
The four-year SUNY Brockport enrolls about 7,000 undergraduates. This fall's freshman class looks like it will be about the same size as last fall's, when it hit an all-time high of 1,200.
Wyant was not prepared to release any estimates for how many of his institution's students will receive Excelsior Scholarships.
"It's still so new," he said. "It's hard to gauge it."
The governor's office has hailed the number of applications.
"We're thrilled with the tremendous interest in the Excelsior Scholarship we've seen from New Yorkers and look forward to making tuition-free college a reality for middle-class students starting this fall," a spokeswoman said in a statement.
But outside observers were not so quick with compliments.
From October to December of last year, about 275,000 New Yorkers submitted a Free Application for Federal Student Aid, said Judith Scott-Clayton, an associate professor of economics and education at Teachers College, Columbia University. Over a million filed a FAFSA for the entire 2016-17 academic year.
Those numbers are by no means perfect comparisons to Excelsior Scholarship applications -- they would include, for example, students attending college in other states and students attending New York's many private colleges and universities. But they do show the larger scale of total students applying for financial aid in the state.
"Twenty-one thousand is not a lot, in the grand scheme of the number of people in New York going to college," Scott-Clayton said.
Scott-Clayton also voiced concerns about several other Excelsior Scholarship details, starting with the timing of the application period -- which started very soon after lawmakers reached a deal to create the program. A summer application period is completely out of sync from the typical financial aid cycle, she said. Most students have already decided where they will attend college by the summer.
The short time period between application and the start of classes this fall is hard on institutions, too. The scholarship isn't simply a bucket of state money landing in their laps.
It covers up to $5,500 worth of tuition, but four-year in-state undergraduate tuition at SUNY is typically listed at $6,470 per year. The system is required to provide additional awards to Excelsior Scholarship students in order to cover their entire tuition cost up to $6,470. The 2017-18 state budget included maintenance of effort payments and a repayment to SUNY to cover those costs.
New York appropriated $87 million for the Excelsior Scholarship's first year. If more than the estimated 22,000 students receive awards, the governor's office says it is open to adjusting its budget to support the program.
Rolling out the program so quickly is a risk and an administrative burden, Scott-Clayton said.
"It just seems like the best idea would have been for everybody to have more time to figure out how this is going to work," she said.
Cuomo's office noted that the free tuition program was only approved by lawmakers this spring. The governor made it a top priority this year, and leaders wanted to have it in place as soon as possible.
Critics have questioned numerous other details about the Excelsior Scholarship.
Some have questioned the program's 30-credits-completed-per-year requirement and an after-graduation residency requirement with provisions turning past awards into loans if students do not stay in the state for a certain number of years. Many have also pointed out that the scholarship does not cover mandatory fees, which can add up at public institutions and prevent low-income students from being able to enroll or finish their degrees.
At the end of the day, the program's caveats matter to students and families, Scott-Clayton said.
"I think they absolutely struggle with the complexity," Scott-Clayton said. "It's not nearly as simple as it was marketed."
More from Traditional-Age