You have /5 articles left.
Sign up for a free account or log in.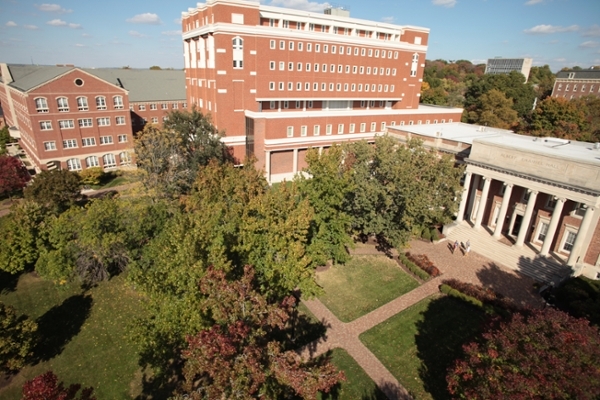 In 2013, the University of Dayton started a new fixed net-price tuition plan, promising most students that their financial aid packages would rise in lockstep with any increases in tuition sticker prices over four years -- keeping steady the effective price students pay.
This spring, when the first class to enroll under the tuition plan was preparing to walk across the stage, the private Roman Catholic university was happy to broadcast the results of the program.
The four-year graduation rate for the class of 2017 jumped eight percentage points, hitting a record 67 percent. Student borrowing plunged, dropping by more than 22 percent overall. The average four-year graduate borrowed less than $18,000 in student loans -- $5,000 less than previous graduates who hadn't been part of the fixed net-price plan.
Those numbers were unveiled at a time when college costs, student borrowing and retention rates are under intense scrutiny. They ask the question of why more colleges and universities are not crafting their own fixed-tuition plans.
Of course it's not so simple. A deeper look shows fixed-tuition plans require a delicate balance between up-front costs to freshmen, future costs to upperclassmen and the amount of uncertainty a college or university is willing to shoulder. Several other institutions have tried fixed-tuition plans over the years, crafting programs with varying details and equally varying results. And while the University of Dayton has made real gains in both word of mouth and metrics under its program, its gains have come with equally real financial trade-offs.
The bottom line is that fixed-tuition plans tend to shift some financial risk from students to a college or university. As a result, they're easier to put in place -- and keep in place -- at wealthy private institutions. Smaller colleges with lower endowments and public universities with more reliance on unpredictable state funding can find it harder to create programs or make them effective.
Dayton falls somewhere in the middle. It's not among the wealthiest universities with billion-dollar endowments, but it is not on the poor end of the spectrum, either.
"It has worked well for some," said Jim Hundrieser, associate managing principal for AGB Institutional Strategies. "The privates are having an easier time to be able to do some five-year projected budgets and understand what are some of the implications of doing this."
Those implications start with marketing and continue into financial projections, Hundrieser said. Universities need to be able to effectively communicate about the fixed-tuition plans and their nuances to students.
The Dayton plan uses the mechanism of financial aid to keep students from seeing increases in the price they pay for their education. The university promises full-time students that their financial aid will grow dollar for dollar with tuition for four years -- although it is technically guaranteed for eight semesters in order to cover students who take semesters off or take part in co-ops. The idea is that their net price will be the same when they are freshmen as it will be when they are seniors.
When Dayton started the program, it also eliminated all fees. Accepted students receive financial aid letters mapping out the full cost of tuition and their projected costs for expenses like housing and meals over four years. The idea is that students won't face any surprise bills and can plan out their spending over the course of their studies.
The mechanisms are very different than some other fixed-tuition plans. In contrast to buying down tuition increases, some institutions have put in place plans that charge students different tuition amounts based on the year they enroll. Other programs come with even greater differences -- public institutions in Texas offer first-time undergraduates fixed tuition over four years, but students opting into plans often must start by paying more in their first year than those paying variable tuition.
Dayton's model of buying down tuition to a steady level through financial aid has significant financial implications. Typically, a college or university will post a high freshman tuition discount rate -- the rate at which the tuition sticker price is discounted by institutional financial aid. The rate normally drops as students progress, because scholarships and other institutional aid don't rise in lockstep with tuition.
Under Dayton's model, the opposite is true. The discount rate will be lowest during a student's first year. The discount rate will rise over time as the sticker price of tuition rises but aid keeps pace to maintain a flat net price.
Figures from the university's Common Data Set make that clear. Dayton is gapping full-time freshmen -- not meeting their fully assessed financial need -- at a higher rate under the fixed net-price plan than it was before the program was put in place. In 2012-13, the year before the plan started, 34 percent of first-time, full-time freshmen who were judged to have financial need had that need fully met. The percentage dropped to 31 percent in 2013-14, and fell farther to just under 20 percent in 2016-17. The overall amount of freshman need met has varied but still shows a downward trend, falling from 80.2 percent the year before the program was put in place to 78 percent in 2016-17.
At the same time, the percentage of all full-time undergraduate students to have their judged financial need fully met has risen, from 34 percent the year before the plan was put in place to 38 percent in 2016-17. The percentage of overall student need met for all students has gone up, from 77.6 percent the year before the plan was implemented to 83.2 percent in 2016-17.
It is also worth noting that some students at the university do not receive financial aid and would not receive the benefits of the university's fixed net-price plan. About 3 or 4 percent of students fall within that range.
The fixed-tuition strategy means institutions have to think differently about rising costs. Any cost spikes would have to be absorbed by incoming freshmen before their tuition is locked in -- or by college and university resources.
It's easier to deal with in an environment of low inflation than in one of high inflation.
"One of my general assumptions would be in this type of strategy, you are not having a 7, 8, 9 percent tuition increase," Hundrieser said.
Another piece of the puzzle is infrastructure. The University of Dayton plan is likely easier to administer and more flexible than other types of plans because it relies on financial aid to keep net price flat instead of locking in differential tuition for students who enrolled in different years, said Bill Hall, the founder and president of Applied Policy Research Inc., an enrollment and pricing advising firm.
"With many of the tuition guarantees, you end up with this very complex cost-accounting mechanism," Hall said. "You end up with different cohorts with different tuition rates."
That back-end complexity was one problem faced by Northwestern College in Iowa after it put a guaranteed payment program in place before the 2007-08 academic year. But by the 2009-10 academic year, the 1,225-student college had decided not to fix tuition for four years after freshman enrollment dropped.
"We pretty much took our average price increase for the previous 10 years, built that into our model and said to families, 'Hey, here's what it's going to be for four years,'" said Mark Bloemendaal, Northwestern College's dean of enrollment and marketing. "What it did was put us in a less competitive situation with our primary competition."
If many of the college's students came from families with salaried positions, the plan might have been easier to sell, Bloemendaal said. But the college is in a rural area and draws from many families with agricultural backgrounds, where income varies year to year.
The college could make the case that families should be willing to pay a higher price versus its competitors during students' first years in exchange for what would likely be a lower price in the future. But families were not making their calculations beyond the first or second year of college, Bloemendaal said. Many asked what would happen if their sons or daughters did not return after their first year. Then they would have paid a tuition premium without the payback from fixed tuition over time.
Another issue was that the college is a small institution with a small endowment -- $47 million in 2015. It was trying a fixed-tuition plan at a time when higher education inflation was high.
"I think if we had done it for five healthy years and established it, I think the word would have spread," Bloemendaal said. "But then this recession started to hit, and people got really anxious about everything."
Some small institutions believe they can compete with fixed tuition. Kettering University in Michigan started to guarantee fixed undergraduate tuition in 2012-13. It also eliminated academically related fees.
Kettering is not your standard university. The institution is a co-op university focused on science, engineering and business. Its typical student will earn $60,000 to $70,000 over the course of co-op work.
The university's endowment, at about $80 million, is not large, said its president, Robert McMahan. But Kettering is financially healthy. So the question was how the university structured itself to improve access.
"Affordability is not just price," McMahan said. "It's consistency. It's a reasonable exercise for the institution, I think, to bear that risk."
McMahan said retention has improved since Kettering started fixing tuition, particularly among upperclassmen. He felt it was too early to talk about trends in detail but said there are no plans to end fixed tuition.
There is no doubt that fixing tuition shifts risk from student to university, said Jason Reinoehl, vice president for strategic enrollment management at the University of Dayton. He also acknowledged that it shifts risk from upperclassmen to freshmen.
For students that risk can be minimized by staying enrolled. For the institution, it can be minimized by retention, low inflation of costs and, to a degree, large scale.
The University of Dayton has several features that give it some protection from temporary fluctuations in tuition revenue. At $473 million as of the end of the 2016 fiscal year, its endowment is considerable. It has a well-known research institute that generates revenue. And it has a high tuition sticker price of $41,750 for the upcoming year.
"I do think there is only a certain segment of institutions who, realistically, from a financial perspective, could take this risk," Reinoehl said. "If we were smaller, I think we'd be more risk averse."
While the fixed net-price plan has shifted the distribution of financial aid, it hasn't prevented the university from spending more on aid. Its aggregate institutional aid directed to undergraduates went from $107 million in 2012-13, the year before the plan was put in place, to $142 million in 2015-16. Full-time undergraduate enrollment rose by more than 800 during that time, to 8,226, but that wasn't enough to account for all of the increased aid. The first-year tuition discount rate also increased, from 43.8 percent in the year before the plan was put in place to 46.2 percent in 2014-15.
Reinoehl went on to argue that the university packages the fixed net-price tuition plan with some important other aid and innovations that make it attractive to students. The university has some other scholarships designed to cover costs. One provides up to $4,000 over four years for textbooks. Another provides $3,000 to cover flights and travel expenses for students studying abroad.
Most notable is the fact that the university eliminated fees when it started the fixed net-price plan, he said. That caused tuition to spike in 2013 in order to cover revenue that previously would have been raised by fees. But officials argue it made the university's price much easier for students to understand.
"In many cases, the flagship publics have frozen tuition because states are mandating it," Reinoehl said. "They're doing all kinds of things with fees. It's really not transparent at all."
Some experts advised caution against drawing a direct line from the university's fixed net-price tuition plan to its positive outcomes in retention and student debt levels. The university made several changes at once, making it hard to prove causation against the backdrop of a changing higher education market, said Sandy Baum, a senior fellow at the Urban Institute. She also noted that annual student borrowing has been dropping across the country recently. That could have contributed to University of Dayton students graduating with less debt this year than they had in previous years.
There are also worries that fixed-tuition plans appeal to upper-income students more than lower-income students. Families with more resources can afford to pay higher up-front costs in exchange for a return in the long run. Poor families often cannot.
"It's good that people are trying things," Baum said. "But I worry about things being gimmicky, as opposed to really making a difference for the right people."
Initial results indicate the University of Dayton may have been able to slightly increase enrollment of low-income students under the new tuition plan's early years. The year before the plan was put in place, 12 percent of the university's full-time first-time undergraduates received federal Pell Grants, which are considered a proxy for low-income student enrollment. In 2014-15, the most recent year for which federal data is available, enrollment of full-time first-time Pell recipients was 14 percent.
The fact remains, however, that a stable tuition price is an extremely attractive feature for many students. And many colleges and universities are considering it.
"There is not a single client institution, particularly at the board level, that is not asking questions about these kinds of experimental programs," said Kathy Dawley, principal at Hardwick Day, the financial aid consulting division of EAB. "Certainly the college-going population, their families and communities, from public policy, politics and all the way down, the cost of college and accessibility to college is an increasingly bigger concern."
EAB late last year published research showing that students are more likely to drop out of college if they lose even small amounts of financial aid. Students who see their financial aid increase were more likely to complete their degrees, though.
Additionally, private colleges are under pressure to find new ways to compete as tuition-free public college spreads. Fixed-tuition plans are a logical strategy to explore.
"This is not going to go away," Dawley said.
Dayton's fixed net-price tuition plan was in place before its current president, Eric F. Spina, took over in July 2016. But he has voiced support for it.
"Investing in a college education is a substantial commitment for families and for students, often with long-term financial implications," he said in a statement in April. "Higher education has a responsibility to be up front and transparent about what those costs will be."