You have /5 articles left.
Sign up for a free account or log in.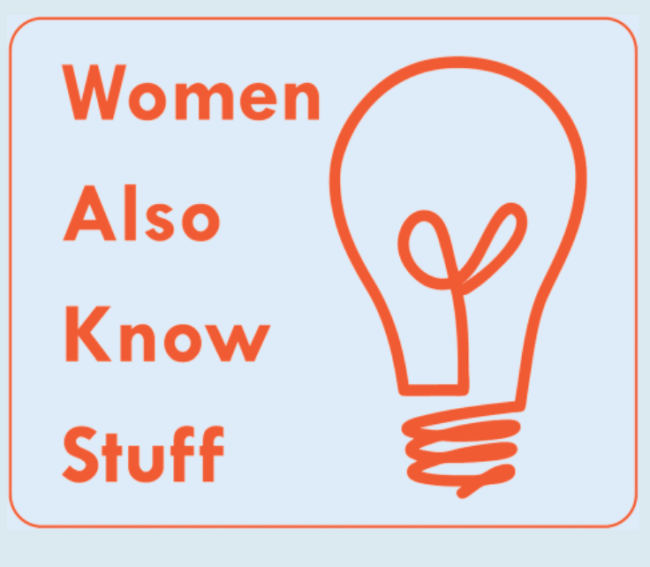 "We are political scientists. We are women. We know stuff. And we are deeply concerned about the implicit bias in our profession that minimizes and marginalizes the voices of women."
So begins a new paper from the female political scientists behind the discipline's Women Also Know Stuff movement. Its seeks increased representation of women and their research in disciplinary discussions, decisions and events.
You might already be familiar with Women Also Know Stuff. Participants at last year's meeting of the American Political Science Association received stickers with a lightbulb logo declaring that, well, women know stuff. Political scientists active on Twitter might be familiar with a popular related feed. There's also a website called (you guessed it) womenalsoknowstuff.com. It lists nearly 1,300 female scholars of politics, policy and government.
So often while planning a conference, "brainstorming a list of speakers or searching for experts to cite or interview, it can be difficult to think of any political science scholars who aren't men," the website reads. "We've all been there … you just know that a woman has got to be studying that topic … but who?"
"Women Also Know Stuff: Meta-Level Mentoring to Battle Gender Bias in Political Science," just published in PS: Political Science and Politics, seeks to contextualize and document the concerns behind the movement. It also suggests key actions for balancing the discipline's scales in terms of gender.
Check your syllabus for gender bias. "We may be inadvertently giving our students -- especially our graduate students -- the impression that women are not making significant contributions to the field by omitting them from assigned readings," the paper says. Today's reading lists become the reference lists of tomorrow's scholars, it adds.
Check the lists of references in your current research projects. "Are you omitting relevant work from women? When we neglect to cite important work by women scholars, it has implications for their career trajectories and also negatively impacts the discipline in that we come to equate the canon with work written by men," the paper reads. "Moreover, these scholars bring important insights to bear that can enhance our work."
Think about your list of invited presenters for events or panels that you are organizing for an upcoming conference or department speaker series. Featuring only or mostly men in colloquia gives the "impression that women are not doing important work," the authors say. "By disproportionately inviting men to give talks, we unnecessarily diminish the profiles of our women colleagues."
Recommend that your women colleagues join the website. Use it when putting together syllabi, bibliographies, conferences and speaking events.
"In every instance in which you can make a difference, take personal responsibility to be inclusive and fight back against implicit gender bias," the authors conclude. "Remember, women also know stuff. You should ask them about it."
The paper includes an interesting anecdote involving David A. Lake, now president of the political science association and the Jerri-Ann and Gary E. Jacobs Professor of Social Sciences and a Distinguished Professor of political science at the University of California, San Diego. He wrote an email to the authors after they launched their website last year thanking them for their efforts and explaining how it helped him finish a paper.
"I just happily spent the afternoon going through your expert lists," he wrote, according to the new article. "On the penultimate draft of a paper where I needed to make sure I cited all the relevant materials, I just worked my way down your list of experts on civil conflict. Slapping my forehead numerous times, I kept repeating, 'Of course I need to cite that.' By the end, my reference list changed from two-thirds male to 50-50 male/female.
"I may have slighted my male colleagues in this process," he added, "but I take this to be fair retribution for years of past negligence. Fantastic resource, for which we are all in your debt."
The authors note the political science association highlighted the underrepresentation of women in the professoriate in a major 2004 paper. The association at the time attributed the problem to a leaking academic pipeline; a "chronological crunch," in which in which intense tenure-track career demands overlap with heavy family responsibilities; a hostile institutional climate; and insufficient support and opportunities for research. Yet even taking all that into account, the paper says, men disproportionately outpace women in reaching prominence in the field, and women political scientists are disproportionately less likely to have their research cited, appear on conference panels or speak at university colloquia, be invited to edit volumes, and be included in teams of co-authors.
Why? Asserting that women's underrepresentation is not a "men-versus-women" problem, the authors say that men and women alike "hold implicit biases about gender that shape their attitudes and behavior, including the tendency to think of -- and reference -- men rather than women as experts." And when that happens, they say, "the profession loses out on the expertise and perspective they have to offer -- some of it directly related to women's different experiences in life and some of it simply because roughly one-third of the available expertise is missing. The absence of women also reinforces stereotypes about who is an expert. If we could increase the volume of voices of women in our discipline, we could diversify and strengthen our science."
Women Also Know Stuff's creators felt that their experience and witnessing of that implicit bias had reached a "tipping point" in 2016, when they launched the initiative. Founding board member Samara Klar, an assistant professor of political science at the University of Arizona, launched the first version of the website after seeing both a conference program with a nearly all-male lineup and a news article asking six white, male political scientists about the then-upcoming presidential election.
Klar and those who became her nine fellow board members -- the authors of the article -- hope their website will be of use to scholars as well as journalists. The editorial board in its diversity also embodies "the fact that women have a range of skills and identities that further the production of knowledge in the discipline and the larger public discourse," they say.
Women in the database contribute to that, with their expertise in more than 80 topical areas. The list thus far has been viewed 80,000 times by more than 15,000 unique visitors, and the Twitter account @womenalsoknow has more than 10,000 followers. It's faced its share of trolls, the authors say, and work on the initiative is the kind of "stereotypical" service that institutions are likely to ignore in their reward structures. Yet "we remain convinced that the work is both necessary and worthwhile," the authors say, noting that bringing women together in solidarity and strength is yet another aim.
The editorial board has been approached to expand its scope, such as to those in other disciplines and even those outside academe. More focus on other underrepresented groups, such as people of color and LGBTQ scholars, has been requested. While they "wholeheartedly concur that implicit bias also negatively impacts members of these groups," the authors say, "we decided to retain our narrow focus on women in political science."
At the same time, they hope someday to produce a how-to manual for others wishing to raise visibility of underrepresented groups elsewhere. They praise the existing Twitter feed focused on scholars of color, @POCalsoknow, for example. Within the next year, the authors also plan to hold a series of focus groups with female political scientists to better understand their challenges and how Women Also Know Stuff can help. They also plan to "keep an eye on the profession," measuring gender bias at conferences and in lists of references and syllabi.
Over all, the authors say, "We are changing the profession into one in which we want to and feel like we belong: one that is inclusive and committed to diversity. This work reminds us that the state of our discipline is not static; with collective effort, it is changing for the better. It allows us to give back to those who paved the way and made our own careers possible (both men and women) and to pay it forward to the next generation of women political scientists."
Amber Boydstun, an associate professor of political science at the University of California, Davis, and paper co-author, said via email this week, "We think we've made a big impact, as illustrated by countless examples of colleagues updating their syllabi/conference invites/colloquia lists by using the WomenAlsoKnowStuff.com directory, and by the fact that we have more than 10,000 followers on Twitter."
She added, "We're also excited that our initiative has already inspired similar groups across academia, all working to increase the representation of important research by underrepresented scholars. And we're especially proud that we've accomplished all these strides with no budget, relying solely on the dedicated work of 10 volunteer women faculty."
Melissa Michelson, a professor of political science at Menlo College and another co-author, said the editorial board is hopeful "that folks will take our message to heart about implicit gender bias and take active steps to counteract it."