You have /5 articles left.
Sign up for a free account or log in.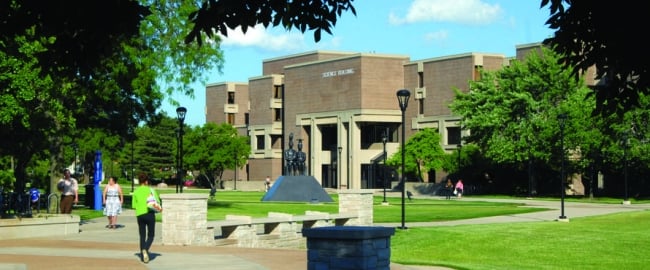 Northeastern Illinois University
Richard J. Helldobler doesn't think any university leader could have been ready to go through the last two years in Illinois, when the state's public institutions withered under severe funding restrictions due to a prolonged state budget standoff.
Institutions had to make do with stopgap funding that came from the state in fits and starts. When the state didn't approve funding for its large student aid program, the Monetary Award Program, known as MAP, institutions had to decide whether to credit student accounts anyway. Then they had to find ways to bolster their cash flow to make up for MAP funding until it arrived.
"Nothing in your training prepares you to deal with this kind of catastrophic funding loss," said Helldobler, since last summer the interim president of the 9,500-student Northeastern Illinois University in Chicago. "What you do is you roll up your sleeves and try to do the next best thing."
For Northeastern Illinois -- and many of the state's other institutions -- that meant deep, painful cuts. In May of this year, the 1,200-employee Northeastern Illinois announced 180 job cuts that did not affect faculty. They followed the elimination of 65 noninstructional positions in 2015. The university has also furloughed employees, frozen hiring and delayed maintenance. It closed and canceled classes for several days this spring. It eliminated hundreds of student jobs.
So it is no surprise that college leaders sounded relieved after lawmakers last week narrowly overrode a gubernatorial veto and passed a state budget for the first time since 2015. The $36 billion spending plan enables them to move out of a triage mind-set.
"It allows us to begin to sort of plan again," Helldobler said. "When you can't plan because you don't know if you're going to get any state appropriation, that makes it very difficult."
But the state's spending plan is a mixed bag for the higher education sector. It cuts state support for universities and community colleges by 10 percent below 2015 levels -- although they will still receive much more than they did during the stopgap 2016 and 2017 fiscal years. It also adds more than $36 million to the MAP program, pushing it above $400 million in the 2018 fiscal year after two years of uncertainty and stop-and-start appropriations.
The full ramifications of the new budget -- and the end of the impasse -- can't be fully measured so soon. Still, it is clear that the impasse seriously hurt both institutions and students by forcing painful cuts, eroding enrollments and driving down confidence in public education. It is also clear that it has changed the outlook of many leaders for the future.
Some have pointed out that Democrats who lead the Illinois Legislature managed to pass the budget with some Republican votes despite intense opposition from the state's Republican governor, Bruce Rauner. The spending plan does not resolve fundamental disagreements over taxes, regulations and hundreds of billions of dollars in unfunded state pension liabilities.
"I think most universities will engage in conversations about what it means to be in public higher education in Illinois," Helldobler said. "People need to understand this isn't over. We really think that the budget will be a very complex conversation next year as well."
Pressure Mounted
The dire situation at the state's colleges and universities was a key factor for some legislators. State Senator Dale Righter, a Republican whose district includes Eastern Illinois University in Charleston, was the only Republican senator to support tax increases in the budget package. He cited damage the budget standoff has inflicted on Eastern Illinois University, according to the Chicago Tribune.
In the House, another Republican whose district includes Eastern Illinois voted for the measure.
"It doesn't make me any less of a conservative Republican than the rest of the people standing here," said Representative Reggie Phillips, according to the Tribune. "It makes a person decide he has to vote for his district. He has to think about all the people in his district to the best of his ability."
Eastern Illinois has cut hundreds of positions amid the state's budget crisis. The university's president, David Glassman, said in March that the university had cut low-enrollment programs, eliminated 413 positions -- almost a quarter of its employee head count -- imposed furlough days for employees, extended vendor payments and reallocated funds internally in order to continue operating.
Nonetheless, the financial sector became increasingly worried about the university in light of the state budget standoff. Moody's Investor Service downgraded Eastern Illinois in June, saying the move reflected the university's highly stressed financial position and noting the institution had nearly exhausted its liquidity. The ratings agency also downgraded other Illinois public universities it rates, including the University of Illinois, Illinois State, Northern Illinois, Southern Illinois, Governors State and Northeastern Illinois.
Some universities maintained higher bond ratings than others based on stronger financial positions. Generally, the state's larger and better-known institutions, which have diverse revenue sources like federal grants and endowment income, fared better throughout the crisis than its smaller institutions, which rely more heavily on the state for funding.
Northeastern Illinois is an example of a university that struggled. In the 2015 fiscal year, the last year Illinois had a budget in place, the state provided $36.7 million in funding to Northeastern Illinois, and it fully funded MAP grants for students. Those two sources of funding were worth about 40 percent of the university's $92 million budget.
In the 2016 fiscal year, the state provided $10.7 million in funding plus MAP grants, leaving a funding shortfall of about $26 million. After more stopgap funding was released in July 2016, the university calculated a shortfall of about $17 million for the 2017 fiscal year, according to a university spokesman.
But even the state's most prominent university system felt the pressure from the budget situation. The University of Illinois System, which in 2015 relied on state revenue for only about 12 percent of its $5.6 billion operating budget, proposed a deal with the state. The system was willing to agree to performance-based funding metrics in exchange for predictable funding over five years.
The University of Illinois stood out from most of the state's other public institutions because it was able to increase enrollment during the budget standoff. Still, it has shed staff members and reported an uptick in the number of faculty members leaving its flagship campus.
MAP Funding Problems
The way MAP funding was disbursed was problematic for institutions both public and private. MAP grants go to undergraduates from Illinois who have financial need and attend public or private institutions.
But the state only allocated stopgap MAP funding while the budget standoff dragged on. In 2016, money came late. No MAP money was available for the 2017 fiscal year before the budget deal passed Thursday. The spending bill did allocate MAP funding for 2017.
The funding uncertainty left many institutions crediting MAP grants to students' accounts and trusting that the state would one day pay. It was another source of financial stress -- and not all institutions were comfortable crediting accounts with MAP grants or in a financial position to do so.
Officials believe the uncertainty led many students to not attend college or attend out of state.
"There were students last year who dropped out," said Lynne Baker, spokeswoman for the Illinois Student Assistance Commission. "It's a lot of damage, when you consider you've got students who may have been halfway through their programs, may have been almost finished with their programs."
In order to determine the effects of the uncertainty, the Illinois Student Assistance Commission surveyed financial aid administrators at institutions approved for MAP grants in the fall of 2016. Administrators at 96 of 132 institutions responded. Just 60 percent of respondents said they credited the full MAP award to students for the year's first term. Of those crediting full MAP grants for the term, only 31 percent of respondents definitively said they would not require students to pay for any shortfall in the program -- meaning many students faced the prospect of being on the hook for the money if the state did not pay.
Behavior varied greatly by institution type. While 91 percent of public universities responding credited student accounts for the full MAP award, just 27 percent of community college respondents reported doing so. And 70 percent of private institutions said they credited the full MAP award to student accounts.
The Illinois Student Assistance Commission also tabulated survey responses from 12,000 students eligible for the MAP award in late 2016. Many indicated that the budget delay on MAP funding for the first term of the 2016-17 academic year had an effect on their education goals. Some reported working more to cover expenses, taking out more student loans, taking fewer credits, transferring to less expensive institutions or not enrolling because of MAP funding issues.
"Students were really stuck," Baker said. "Do they go part-time? Do they drop out if they can't afford it?"
Other data indicate uncertainty over MAP funding might have caused students to think twice about attending college in the state. The volume of FAFSA applications in Illinois dropped 14 percent year over year, the Illinois Student Assistance Commission said in June.
"What's happening in Illinois with the budget impasse and the lack of funding for both MAP programs and the public universities is creating a lot of this decline in volume," said Eric Zarnikow, the executive director of the commission, according to Peoria Public Radio.
Institutions also faced accreditation pressure stemming from the state budget issues. The Higher Learning Commission in June sent a letter to the state's governor and legislative leaders noting effects of the budget crisis on the state's institutions. Those effects included increased tuition and fees, declining student enrollments, loss of faculty, the elimination of services, canceled capital projects, and dwindling cash reserves.
"As the accrediting agency tasked with assuring quality, I must warn you about the accreditation consequences of the failure to provide sustainable funding for Illinois higher education," read the letter from Barbara Gellman-Danley, the president of the Higher Learning Commission, according to The Southern Illinoisan.
The Illinois Community College Trustees Association is in the middle of a survey to determine the impact of the budget impasse. Slightly more than one-third of colleges have responded so far. They said they employed almost 1,800 fewer employees as of June 30 of this year than they did at the same time in 2015, according to Michael Monaghan, the association's executive director.
Respondents also said they had eliminated almost 6,200 sections of class offerings and 70 programs.
"Students now appear to have fewer choices and therefore less access to Illinois colleges," Monaghan said in an email.
Looking Forward
For the hardest-hit public institutions in Illinois, the passage of the state budget is only the beginning of attempts to chart a way forward.
The long-troubled Chicago State University laid off about 300 employees, a third of its work force, during the standoff. It only enrolled 86 freshmen in the fall of 2016, and enrollment had fallen from more than 7,300 in 2010 to under 3,600. Some feared its closure was unavoidable.
The stability of a state budget will allow the university room to pay its bills, restart recruiting that had been all but stopped and plan for the future, said Paul Vallas, Chicago State's chief administrative officer. Vallas, a former Chicago State board member, took the position in April along with a new interim president.
"We used to get about a third of our revenue from the state," Vallas said. "Now it's in the high 20s. We'd like to be less dependent on state funding, and we'd like to be more financially self-sufficient."
The university plans a $79 million budget for the 2018 fiscal year.
Northeastern Illinois is going through a similar planning process, said its interim president, Helldobler. It's evaluating programs for growth, shrinking or elimination. It's looking at different budget models.
The process might be painful. But the last two years have been painful, too.
"At least now we have an appropriation," Helldobler said. "Let's get down to work, as opposed to negotiating furloughs or negotiating 180 position eliminations and those kinds of draconian measures."