You have /5 articles left.
Sign up for a free account or log in.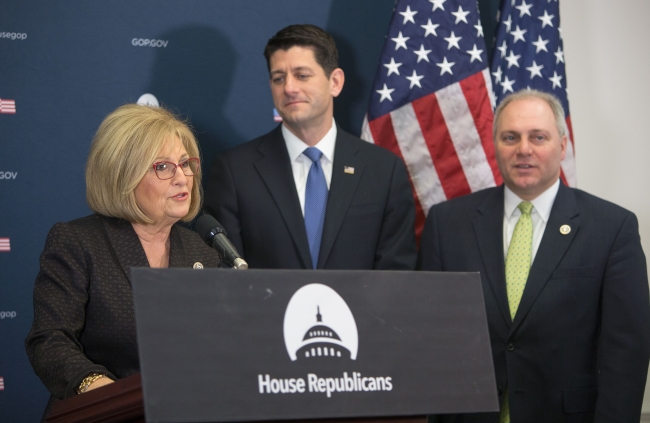 Student aid advocates didn't find much to like in a House education appropriations bill released last week -- lawmakers removed billions from the Pell Grant surplus while taking no significant steps to improve college access. But educators could at least find consolation in the fact that the committee didn't follow through on the drastic cuts to many aid programs proposed in the White House budget in May.
Advocacy groups found no such consolation in the House budget resolution released this week. The document calls for a rewrite of the tax code and for hundreds of billions in cuts to federal programs. More significant for advocates is reconciliation language included in the resolution that calls for $203 billion in mandatory spending cuts over the next 10 years -- $20 billion of that coming from programs overseen by the House education committee.
Those savings would come on top of cuts already made to education programs through the appropriations process. And if the resolution passes, student aid groups say that would likely mean Congress adopts one or more of the drastic changes to student loan programs contemplated by the Trump budget -- elimination of Public Service Loan Forgiveness, ending interest free undergraduate loans or changing income-based loan repayment plans.
"There's no way they don't touch Pell and student loans," said Jessica Thompson, the policy and research director at the Institute for College Access and Success.
The Republican budget resolution envisions more than $236 billion in cuts to mandatory spending for education programs over 10 years. Those savings, GOP staff said this week, could be realized through eliminating mandatory funding for Pell Grants and pursuing reforms to student loan programs. The budget also assumes that funding for Pell Grants would be made entirely discretionary, which would put more pressure on lawmakers to find money for the program each year. Instructions for House committees to find additional savings through reconciliation, an expedited legislative tool that allows Congress to pass spending measures with a simple majority, are separate from that budget plan but part of the same resolution.
While the budget outline imagines a drastic change to student aid programs, it is in line with previous Republican budget plans offered by Speaker of the House Paul Ryan, the chair of the budget committee before becoming Speaker. But previous Ryan budget plans came under a divided government. Republicans now hold both chambers of Congress and the White House and could look to make ambitious changes to student aid policy, among a host of other federal programs.
"The budget resolution as it was presented Wednesday presents a much more significant threat to affordability and completion than the appropriations package," said Kelly McManus, director of government affairs at Ed Trust.
Even if the budget resolution passes, it wouldn't be binding on lawmakers. But the reconciliation language would be and could be passed without the threat of a Senate filibuster. Making spending reductions through that route would allow Republican leaders to offset the costs of big planned tax cuts without the support of any Democrats. That's why advocacy groups are especially concerned about how the education committee would deliver on those required savings.
A spokesman for Representative Virginia Foxx, the North Carolina Republican who chairs the House education committee, said the budget committee had just completed its work and Foxx's committee is currently reviewing the proposed bill.
Jason Delisle, a higher ed policy analyst and resident fellow at the American Enterprise Institute, said Foxx's committee would have multiple ways of finding the $20 billion in savings called for in the reconciliation language. The Congressional Budget Office has estimated that eliminating Public Service Loan Forgiveness would save $25 billion, he said. And Delisle argued that move wouldn't make college less affordable for low-income students who have yet to enroll in college.  
"All of these claims about how these proposals would harm low-income students and harm access for undergraduates sort of melt away," he said.
Student aid groups have argued that the program is an important policy to make careers in the government, teaching and nonprofit sectors attractive for student borrowers who would otherwise seek out higher-paying jobs in the private sector. Public Service Loan Forgiveness, which was created in 2007, forgives a student's remaining loan debt after they make 120 monthly payments while working at a qualified employer. 
The Heritage Foundation also backed eliminating PSLF but said the House budget could have gone further in reducing education spending. Mary Clare Amselem, a policy analyst at Heritage, said the House should also consolidate existing federal loan programs into a single loan option -- preferably with a borrowing cap.
"Our position is that the best way to improve college affordability is to limit subsidized federal loans, which evidence suggests leads to tuition inflation," she said. "Private loans by contrast could put some downward pressure on increasing tuition prices."
The House education committee, which will report back to budget writers with proposed cuts to mandatory programs, would likely choose from policy changes long discussed among Republicans, including those in the White House budget.
Policy changes to student aid programs through reauthorization of the Higher Education Act appear to be a distant possibility with the Senate preoccupied with confirmations, health care-legislation and other higher-priority matters. But Justin Draeger, the president and CEO of the National Association of Student Financial Aid Administrators, said the budget process could potentially include real changes to policy via congressional spending decisions.
"Right now, things that are moving are largely budget related. If people are looking for a reauthorization, this is it," he said. "The size and scope and depth of reconciliation instructions, to me, could potentially be as big as any reauthorization."