Cutting Everything … Except Athletics
Some Wright State faculty members wonder why the university's athletics budget is protected, but nothing else is.
When Wright State University unveiled its most recent budget proposal, some professors were dismayed at what appeared to be more than a million-dollar boost to athletics spending -- particularly since every category of academic funding was being slashed.
University leaders framed the $1.6 million boon as a reduction -- since the department had overspent for years, this level of funding would actually amount to a decrease, and so athletics would rein in its spending and be held to a budget of about $11.6 million. But to view that as a decrease requires one to say the previous overspending -- which didn't happen in other departments -- was the comparison point.
But faculty members, particularly in the union, question the financial support for athletics amid a budget crisis, when games, even higher-profile men's basketball, generate little revenue and, at times, lackluster campus buzz if the team hasn't performed well. Per a 2016 report from the National Collegiate Athletic Association, attendance at a Wright State men's basketball games -- its most popular sport -- averaged 4,355 people. The university's Nutter Center's maximum capacity is 11,500 seats.
Wright State's Board of Trustees recently approved the university's $284 million budget, dozens of layoffs and almost $31 million in cuts after what officials universally agree was chronic overspending under the former president, David Hopkins, who resigned in March, nearly four months before he was set to retire.
Wright State's chapter of the American Association of University Professors -- the faculty union -- mostly did not direct its ire toward athletics, said Jim Vance, a retired associate professor of mathematics at Wright State, now an adviser to the union's executive committee. He said of major concern was the university's overall poor financial planning and misplaced priorities that ended in at least 50 layoffs -- other vacant positions would remain unfilled.
Still, the union in June drafted a letter to the trustees, the interim president at the time and the new president, Cheryl Schrader, calling on them to eliminate the additional athletics money and devote it instead to scholarships.
"Under normal circumstances, it would be rational to give intercollegiate athletics a realistic budget, in line with the overspending that annually has occurred. But in this fiscal crisis, it is inexplicable -- even absurd," reads the letter, signed by more than 250 faculty members.
A university spokesman, Seth Bauguess, stressed that those who added their names to the letter represented a fraction of Wright State's roughly 1,800 faculty members. (Adjuncts and other part-time employees aren't eligible to join the union.)
Bauguess said that during Hopkins's tenure, other departments were funded in a similar way, in which they didn't follow their budgets to the penny. He could not explain why athletics was treated differently in this year's budget planning.
Some faculty believe athletics is being preserved as a "sacred cow," but Bauguess said that is not so, and the interim president, Curtis McCray, in budget trimming, was charged to maintain the university's athletics program. Wright State is a NCAA Division I institution and part of the Horizon League.
Bauguess touted reports that showed the monetary value of positive media coverage -- essentially what the clip was worth in lieu of an advertisement. In the last fiscal year that ended June 30, Wright State generated what it considers the equivalent of $12.6 million in ad value from more than 13,600 pieces of news.
Wright State is also not an anomaly in that few sports programs generate profits and are often subsidized by their institutions, Bauguess noted. This phenomenon is well documented in a report from the Knight Commission on Intercollegiate Athletics.
From the report:
Because sports revenues so often fall short of meeting the needs of athletics programs, almost all programs must rely on allocations from general university funds, fees imposed on the entire student body and state appropriations to meet funding gaps. This is a significant concern at a time when economic woes have devastated state budgets and institutional endowments alike. Conflicts over funding between academics and athletics are growing.

Indeed, reliance on institutional resources to underwrite athletics programs is reaching the point at which some institutions must choose between funding sections of freshman English and funding the football team. And student athletes in nonrevenue sports risk seeing their teams lose funding or be cut entirely.
Wright State's men's and women's swimming and diving teams were initially supposed to be discontinued, but a grassroots fund-raising effort and an appeal to the trustee board saved them, but probably just for another season, Bauguess said.
A report shows that for the fiscal year ending June 2016, Wright State's athletics department was operating at a $1.4 million deficit.
At its June meeting, Wright State's trustees voted to increase out-of-state tuition and room and board fees by 3 percent.
Neither the chairman of the board, Douglas A. Fecher, nor Schrader, responded to requests for comment. Bauguess did not arrange requested interviews with Schrader or administrators, and instead emailed a statement: "Wright State University President Cheryl B. Schrader has shared with campus that the university will conduct an in-depth review of all university academic and nonacademic programs, to include athletics, as part of the strategic planning process that will begin in the fall."
Marty Kich, president of Wright State's AAUP chapter, said in theory how the university has budgeted isn't bad -- but by setting athletics funding at the level it overspent in a previous year is rewarding bad behavior.
Kich criticized the amount that the university subsidizes athletics, pointing out how little it takes in from ticket sales -- largely, it's from men's basketball, as Wright State doesn't field a football team. The university has estimated about $375,000 in ticket sales in the current fiscal year.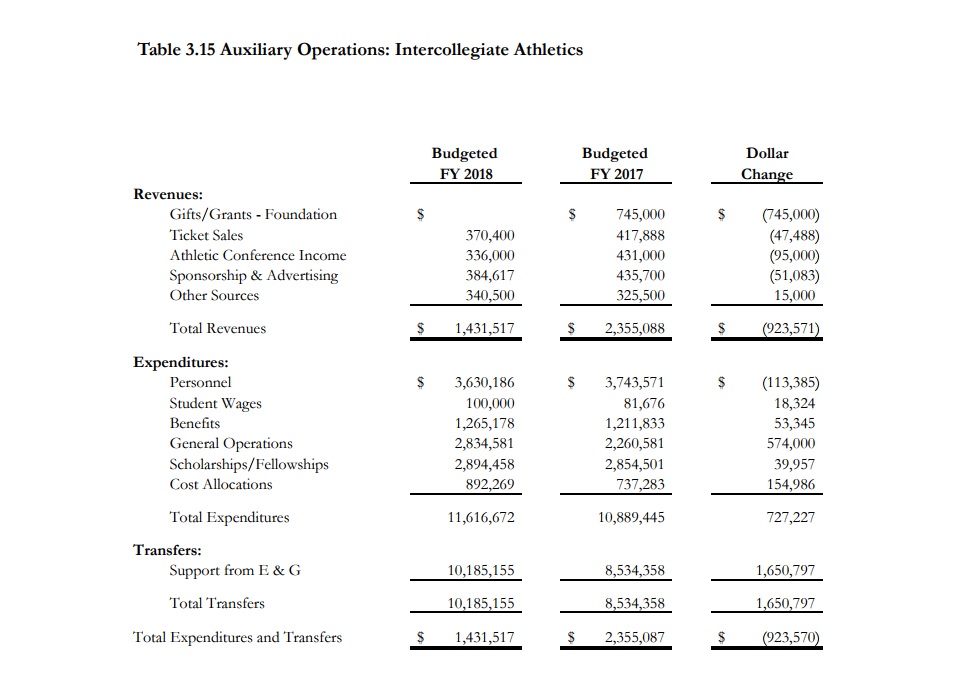 Kich recalled an encounter with an administrator who was surprised he had written so critically about athletics -- the administrator pointed out the buoyant feeling on campus when Wright State's men's basketball reached the NCAA tournament.
"But was it worth the millions of dollars?" he said
Wright State has struggled for years as it dipped into reserves to cover consistent financial shortfalls. The recently approved budget returns $6 million to the university's reserve funding, but the institution is still expected to be set on "fiscal watch" by the state of Ohio because it has not replenished reserves enough.
Relations with the faculty union also remain rocky. The university's contract with the union expired, and it has missed key dates in negotiating a new one, which will likely not occur until the fall semester.
Read more by
You may also be interested in...
Today's News from Inside Higher Ed
Inside Higher Ed's Quick Takes
What Others Are Reading
Past:
Day
Week
Month
Year