You have /5 articles left.
Sign up for a free account or log in.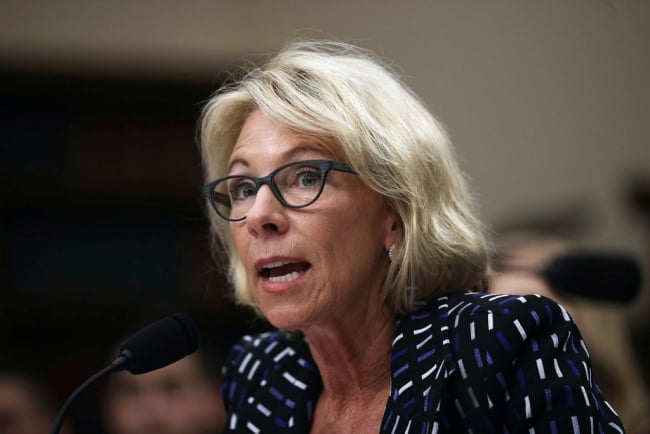 Betsy DeVos, who plans to put her stamp on federal policy governing campus responses to sexual harassment and assault, is in the midst of an extended period of deliberation and gathering input on potential changes.
But there's little appetite from any corner for the Department of Education to completely rescind 2011 Obama administration guidelines that have been at the center of ongoing controversies over how the feds enforce civil rights violations involving gender discrimination.
Instead, colleges and universities have asked for more clarity on areas of Title IX policy not addressed by the 2011 Dear Colleague letter or subsequent guidance documents. And representatives of accused students have pushed for more transparency in campus proceedings.
From the perspective of advocates for sexual assault survivors, DeVos's tenure at the department has so far been filled with setbacks. A leaked internal memo in June showed that Acting Assistant Secretary for Civil Rights Candice Jackson had instructed regional investigators not to automatically pursue systemic investigations of civil rights abuses. And the department has been noncommittal on whether it will maintain a public listing of campuses under investigation for Title IX violations.
DeVos herself, though, has said there are problems with current federal policy. After a full-day Title IX summit in Washington last month, she said the department needs to protect all students and needs to do it quickly.
"Today's summit made it clear to me there's work to be done," she said July 14. "This issue is hurting too many students. So we'll get to work to figure out how best to solve this process."
But the university representatives consulted for input by DeVos and Jackson say removing the 2011 guidance would only add to the uncertainty and lack of clarity that critics of the previous administration have frequently complained of.
University groups have insisted that no matter what steps the department takes, campus leaders will still be committed to preventing and addressing sexual assault. But higher ed representatives as well as advocates for Title IX protections said in interviews that rescinding the guidance would be like pulling the rug out from under institutions that have put in serious work to come into compliance.
"Many institutions are doing just fine. They do not want a rollback," said Deborah Brake, a University of Pittsburgh law professor who specializes in Title IX and was a participant in the summit. "They don't want the uncertainty of pulling that guidance."
While the Dear Colleague letter has empowered assault survivors and advocate groups to demand improvements on campus under Title IX, persistent failures by colleges have spurred many to file complaints with the department's Office for Civil Rights. College officials in turn have complained that federal investigations have dragged on for years, leaving a persistent cloud from unresolved cases. Representatives for the accused, meanwhile, say campus proceedings have often trampled over the rights of those students.
Potential Policy Shift
So what comes next?
DeVos could still choose to rescind the guidelines, or rescind and replace them with language incorporating the input of stakeholders consulted by the department. She could also leave the Dear Colleague letter in place and issue new guidance clarifying the "gaps" identified by institutions and lawyers working on Title IX. Several participants in discussions at the department also expected that the department could announce a formal public comment period.
"The secretary and her team are still listening to and gathering information from policy experts and stakeholders to ensure that any potential changes to Title IX enforcement get the process right for all parties involved," said a DeVos spokeswoman, Liz Hill. "This will take time, and it's vital that at the end of this process, victims feel protected, the accused have access to due process and universities/colleges have the tools they need to handle these cases with the care, compassion and attention they deserve."
Interested parties hope that the department follows through on those promises for further deliberation. Survivors' advocate groups in particular have requested numerous meetings with DeVos and Jackson after they met with a handful of organizations as part of the July Title IX summit -- a good start, those advocates say, but not nearly enough to understand the protections survivors need on campus. Numerous advocacy groups have called for additional meetings with DeVos and Jackson.
There are policy issues where advocates and universities, or advocates and representatives of accused students, are unlikely to agree. Some of the flash points of disagreement don't stem directly from federal guidance on Title IX. Survivors' and anti-discrimination groups, for example, were highly critical of the department's shift away from systemic reviews of discrimination.
Ann Hedgepeth, interim vice president of public policy and government relations at the American Association of University Women and a participant in the Title IX summit, said it was a "disappointment" to see the department pulling back on systemic investigations. Many institutions, however, have welcomed that change. Colleges targeted for those investigations say they have dragged on for years without resolution.
Advocates like Hedgepeth also worry that the department will discontinue a public list of institutions under investigation for Title IX violations. A bipartisan group of lawmakers sent DeVos a letter last week urging her to maintain the list. Many colleges and universities, meanwhile, have complained about the list, which they argue functions as a public sanction even when complaints haven't been sustained.
The controversy that surrounded the Title IX summit -- fueled by the invitation of organizations deemed men's rights groups by advocates and by comments from Jackson demeaning the experiences of assault survivors -- might suggest the various sides are far apart in finding any common ground on the issues at stake. But there are certain fixes to current campus procedures that would be accepted by many, if not receive broad support.
That could include providing new language in new guidelines laying out best practices for how campus officials should proceed in areas where the 2011 Dear College letter and subsequent guidance are silent, including the ability of parties to submit questions during a misconduct proceeding and interim steps a campus could take during a protracted investigation.
University leaders have also said they want to have a better working relationship with the department so that they can seek technical support on cases without fear of coming under investigation.
And lawyers who have represented students involved in campus sexual misconduct proceedings argue that the department should do more to make sure the process is transparent for both parties.
Kimberly Lau, a partner at Warshaw Burstein LLP who has represented students in Title IX proceedings, said all parties could find consensus on the need for more transparency in the campus-based process. 
"Transparency throughout the process for both the complainant and the respondent I think is important. Knowing what your rights are for both sides is important and knowing what to expect," she said. "Often times, these students, frankly, on both sides are confused and left in the dark as to what what exactly to expect next." 
Alexandra Brodsky, a fellow at the National Women's Law Center, said not every group comes to the issue of campus sexual assault in good faith. But she said she's been struck by the number of times she has sat down with an organization coming from another side of the issue and "struggled to find what we disagree on."
"I could imagine many ways that the department could continue to support schools to make sure that their procedures are fair to everyone that could make all good-faith actors happy," Brodsky said.
A number of recent attempts have been made to find common ground on potential changes to current federal policy. An American Bar Association Task Force that included survivor advocates, representatives of accused students, and university officials released a set of recommendations in June. That report encouraged colleges and universities where appropriate to consider alternatives to traditional adjudication models, including restorative justice.
The report also found that complainants and accused students should be given the opportunity to ask questions through the decision makers ruling in the process. Its members did not reach a conclusion on one standard of proof appropriate for all types of investigations.
An American College of Trial Lawyers task force released a report in April with recommendations for improving campus sexual assault investigations that included impartial investigations, access to evidence and some form of cross-examination. The recommendations also call for raising the standard of proof in such investigations from the current preponderance of evidence standards -- a potential change that would receive serious pushback from advocacy groups.
Last year, Know Your IX, which advocates to end sexual violence on campus, released a state policy playbook with recommended reforms at the state level.
Others with legal backgrounds have put forth more novel proposals. Attorneys Gina Maisto Smith and Leslie Gomez have argued for the creation of regional investigation and adjudication centers that would carry out the investigative process in place of campus officials.
A department official said a number of recommendations and white papers on potential improvements to Title IX policy are being considered.
While there are numerous proposals to improve federal guidance, even lawyers who have been critical of the 2011 standards said they were important at the time they were released.
"It was needed in that moment. It prompted a whole bunch of reflection," said Naomi Shatz, a lawyer who has represented both accused students and survivors of assault. "The worst-case scenario would be rescinding it and just leaving a void and not having guidelines."
But Shatz said there are legitimate critiques to be made of the 2011 letter. The guidelines don't encourage campuses to hold unfair or opaque proceedings, she said, but they also don't require necessary standards of procedural fairness. The courts have weighed in following several lawsuits brought by accused students, so there is an emerging body of law that provides an idea of what those standards should look like, Shatz said.
Cynthia Garrett, co-president of Families Advocating for Campus Equality, a group that advocates for the rights of accused students, argues that the Dear Colleague letter gave campuses the impression that they needed to "find more students" responsible and that some have done so without observing fairness for both parties. Garrett, who served on the ABA task force, said that federal guidelines should clarify those standards.
"Generally, I don't believe the government should be micromanaging such things. I'm a libertarian. I believe there should be flexibility and campuses ought to be able to do the right thing in their own way," she said. "I think we need detailed guidance to right the wrongs that have resulted from previous guidance."
A Continuing Process
University groups say they are committed to preventing and sexual harassment and assault and thoroughly investigating instances when they do occur, no matter what course of action the department takes. But they want more opportunities to shape the eventual decision by DeVos and Jackson.
"We're certainly very eager to be part of that conversation all the way through the process," said Michael Zola, vice president for government relations and policy analysis at the American Association of State Colleges and Universities.
Campus leaders and representatives of accused students say they haven't, prior to this administration, had the kind of chance DeVos has provided to be part of discussions on policy. Terry Hartle, senior vice president for government and public affairs at the American Council on Education, said colleges and universities are hoping for a relationship where the Department of Education's Office for Civil Rights is not perceived as a "gotcha agency." Hartle said there's been no framework before for finding consensus between the three kinds of parties interested in campus sexual misconduct policy -- institutions, survivor groups and representatives of the accused.
The attempt by DeVos to gather wide input was welcomed by many participants. The department has serious work to do with survivor groups and the public, however, after initial missteps. Some who work on Title IX issues say the negative attention aimed at the department could harm attempts to build real public consensus on policy changes.
Shatz said the controversy stemming from Jackson's comments about survivors days before the summit (she told The New York Times that 90 percent of campus assault allegations involved regrets over sex or both parties being drunk) and the involvement of certain groups in the session involving accused students cast a shadow over the meetings, even after a public apology from Jackson. And the administration's credibility isn't helped by a video leaked during the campaign of President Trump bragging about groping women without consent, Shatz said -- or his history of sexual misconduct allegations brought by multiple women.
"The fear this administration is going to try to do whatever it can to backtrack on women's rights is real and based in the statements and actions of people we've elected," she said.
Shatz said it's a challenge for the public and advocacy organizations to disentangle personal viewpoints of people in the administration from a recognition that there are improvements to be made to current policies.
"Those groups are not going to give the administration the benefit of the doubt," she said. "I don't know that the administration has earned the benefit of the doubt."
Brodsky said the department has a clear role in protecting students' rights. Her main priority at this point is making sure its leaders hear from survivors, she said.
DeVos and Jackson were attentive and appeared moved by what they heard from survivors in their meetings at the summit, Brodsky said. But she said it's important that they continue to hear what survivors need from their campus after an assault.
"It's not just about being sympathetic in a meeting," she said. "I think it's about realizing why these policies and why department enforcement has been so crucial in recognizing the repercussions for students of policy change."