Eastern Michigan University displays banners of 108 of its international students on campus as part of a national campaign to convey "You Are Welcome Here."
(Eastern Michigan University)
Eastern Michigan University is going all out to recognize its international students.
The university is installing 108 banners featuring 108 students from more than 40 countries. The banners, which are being installed on light posts across the campus and into the surrounding city of Ypsilanti, include the hashtag "#YouAreWelcomeHere" and are one manifestation of a national campaign by that name to communicate American universities' openness to international students.
"The overall message of being a welcoming environment for international students has just been received very positively," said Walter Kraft, Eastern Michigan's vice president for communications.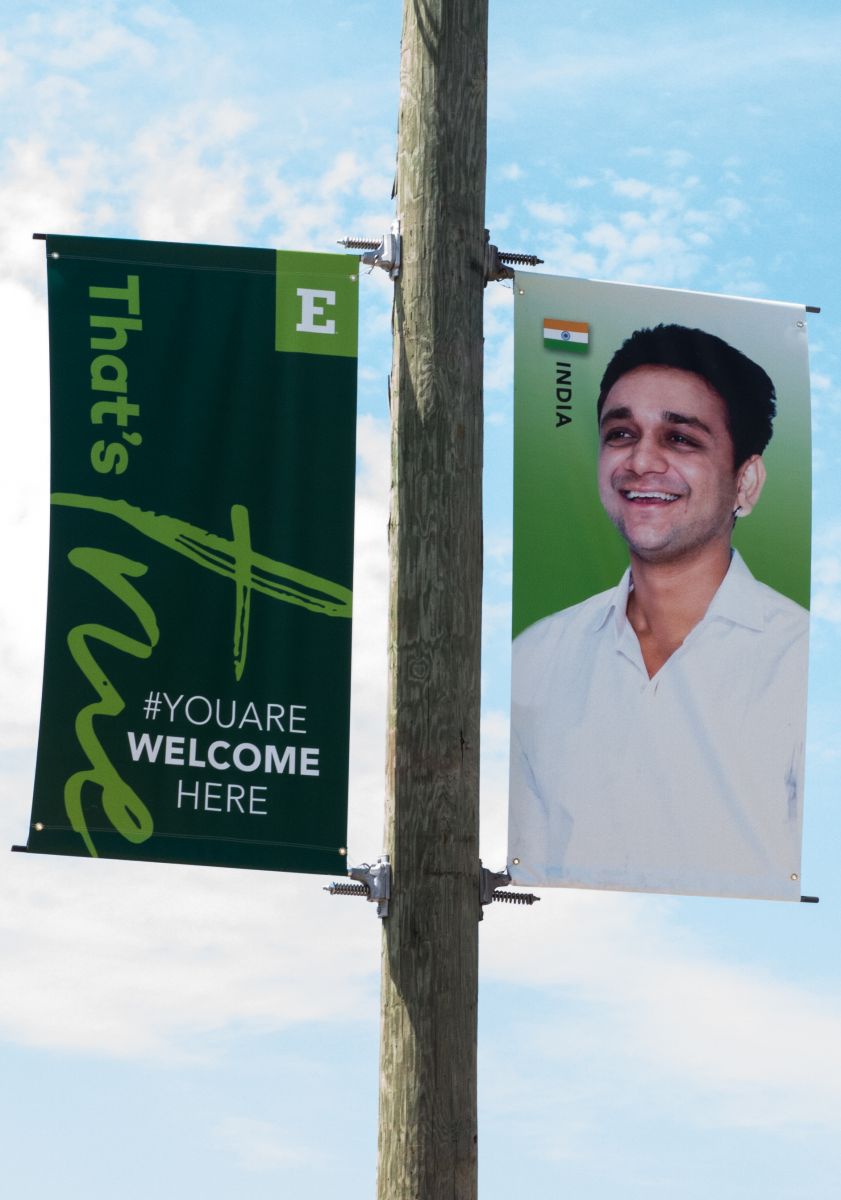 Eastern Michigan changes out its light-post banners annually to recognize various groups on campus. Last year the banners featured the university's Honors College students, and in past years they've featured faculty members and alumni. This is the first time the university has recognized its international students in this way.
Eastern Michigan, which is in the greater Detroit area, enrolls nearly 1,000 students from more than 80 countries, with the largest groups coming from India, China, Saudi Arabia, South Korea, Canada, Japan, Nigeria, Iran, Brazil, France, Taiwan and Turkey.
In addition to the banners, Eastern Michigan is promoting the #YouAreWelcomeHere campaign on its social media channels, with a typical post featuring the picture, name and major of one of the 108 students featured on the banners and a quote about why they chose Eastern Michigan. The university also plans to install a 23-foot-tall, 80-foot-wide banner featuring all 108 images on the wall of a parking garage in the center of campus.
The university has also created a video as part of the campaign (below).
"We had kind of an open casting call or whatever you might want to call it late last spring while students were still on campus," Kraft said. "We just invited anyone who wanted to participate to come out for a video shoot and these photographs."
"We ended up with 100, 200 people who came out," he said. "Many students who were not international students wanted to come out and have themselves videoed saying, 'You are welcome here.'"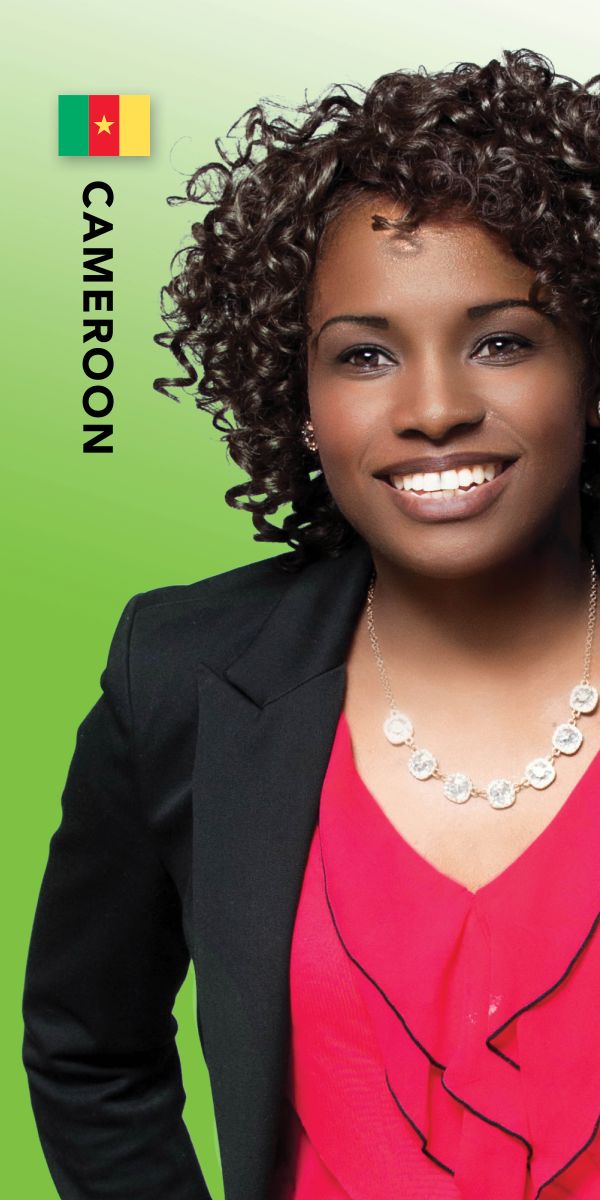 One of the students featured in the campaign is Veronica Konglim (right), a Ph.D. student from Cameroon who is studying education. Konglim first came to Eastern Michigan on a Fulbright scholarship to pursue a master's in teaching English to speakers of other languages in 2009. After graduating in 2011, she returned to Cameroon, only to come back to Eastern Michigan to take up a Ph.D. two years later.
"I came back because I loved it here and I wanted to do a Ph.D.," she said. "I had built a community here and I love the campus and the city of Ypsilanti, and besides studying I also did a lot of volunteering with Habitat for Humanity. It's something that I really enjoyed. When I had the opportunity to come back, I did not hesitate."
"I truly do feel welcome here, so I thought maybe this is something I should really be a part of," she said. "It was an opportunity for me to say thank you and to confirm, that yes, this is really true, I really do feel welcome here, and if anyone out there is thinking about coming here and is hesitant, my story should be a testimony that this campus is really welcoming."
More than 250 colleges and universities have joined the national #YouAreWelcomeHere campaign, which is being coordinated out of Temple University and has received the support of organizations including the National Association for College Admission Counseling and NAFSA: Association of International Educators. The State Department's Bureau of International and Cultural Affairs has also promoted the hashtag on its Twitter feed.
A similar campaign in the U.K., #WeAreInternational, has the support of more than 160 universities there. That campaign started in 2013 after international students expressed concerns about negative media coverage and certain political statements about immigration, according to the #WeAreInternational website.
Many colleges participating in the U.S. campaign have created videos like Eastern Michigan's conveying the YouAreWelcomeHere message. The first such video -- and the first use of the hashtag for this purpose -- came from the international education company Study Group, which published a video last November featuring some of its partner universities.
The #YouAreWelcomeHere campaign developed in the wake of last year's presidential election and gained steam after President Trump's executive order barring travel to the U.S. by nationals of certain Muslim-majority countries (after the ban was halted by the courts, the Supreme Court ruled earlier this summer to allow a modified version of the travel ban to go into effect). Many in international education have reported hearing concerns from international students about feeling unwelcome in the U.S., as well as concerns about their physical safety and ability to secure a visa.
"The reason this struck me as an important message is that it's simple and it's positive and it's kind of a countervailing message to a lot of the other negative images and messages that are out there," said Jessica Sandberg, the director of international admissions at Temple and the person leading the campaign.
"At the time that this idea came to light, we were facing a flurry of concerns form students, prospective and current international students, and also there was an awareness, I think, among international educators that a lot of the stories and the news and the images that were coming out of the United States at that time and unfortunately have continued until now have been very negative," said Sandberg.
She continued, "If you work in international student admissions, then talking about safety is not new -- that's always been a concern for international families -- but it's escalated this year. They see that there's a lot of internal disagreement in the United States, and concerns about xenophobia and general unrest."
Sandberg said the videos that many universities have created as part of the campaign "show what daily life is like. If you watch the news and you see this unrest, you forget the fact that people are just going to work and school and studying in classes and going to social gatherings. We wanted to show this is what it really looks like on a day-to-day basis."
"The other piece that I think is important is, generally, international prospective students are hearing from people like me who work in international admissions," she said. "We wanted the campaign messages and videos to show that the support for international students isn't just isolated to people who work in this profession, but it's university presidents, the cheerleader and the football player and the faculty members."
A list of participating universities -- and links to the videos they've produced -- is available here.
Today's News from Inside Higher Ed
Inside Higher Ed's Quick Takes