You have /5 articles left.
Sign up for a free account or log in.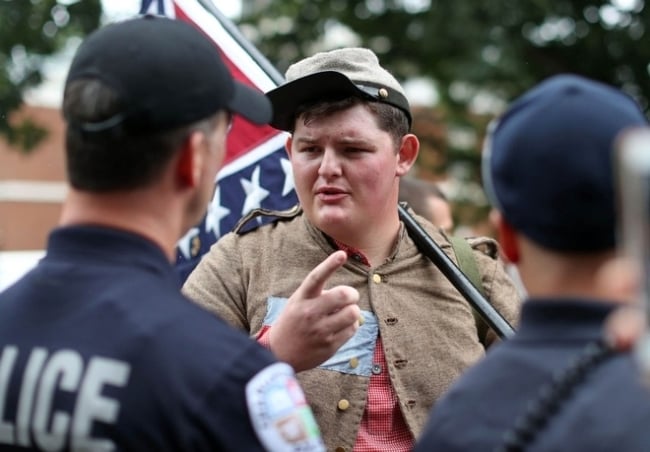 As college students were identified as participants in a white supremacist rally in Charlottesville, Va., earlier this month, there seemed to be little that their institutions could do about it. Although they received calls from other students and communities to discipline or expel students involved, Washington State University and the University of Nevada, Reno, were bound to protect their students' First Amendment rights to freedom of speech and assembly.
Not so at private colleges, however, where at least one student has been kicked out, and another has voluntarily left after he says he received death threats.
Pensacola Christian College kicked out student Allen Armentrout after he was photographed standing in front of the Robert E. Lee statue at Emancipation Park in Charlottesville, Confederate flag in hand, three days after the "Unite the Right" rally took place. Armentrout did not attend the rally, where white nationalists and white supremacists shouted racist and anti-Semitic chants and violence broke out, culminating in the death of a woman when a protester drove his car through a crowd of counterprotesters. Instead, Armentrout said he went to the park after the rally to honor Lee.
"I have been released from my school and will be unable to return to college to finish my senior year," Armentrout told local media. "I'm processing this and making adjustments to my life to compensate for this scrutiny."
Armentrout was photographed wearing a Confederate uniform and carrying a Confederate flag, saluting a statue of Robert E. Lee in Charlottesville. He said neo-Nazis and the Ku Klux Klan were distorting the history of the American South, and that Lee was one of the greatest Americans who ever lived.
"I believe a Christian institution should support patriotic individuals who want to stand for American tradition and beliefs. It really hurts me a lot when you try to do what's right and you get attacked," said Armentrout.
Pensacola Christian College still took issue, although it hasn't been releasing information on the matter, citing privacy policies in place to protect students. Pensacola did not return a request for comment from Inside Higher Ed.
Nicholas Fuentes, an 18-year-old at Boston University, is leaving after having started a degree in political science -- of his own volition, The Boston Globe reported. Fuentes, who denied being a white nationalist and said he rejects Nazism, said the rally was about protesting "immigration, multiculturalism and postmodernism." He said he has received threats that make it impossible to stay at the university.
"The rally was about not replacing white people," he said.
On Friday, Aug. 11, protesters chanted, "You will not replace us," and "Jews will not replace us."
"You can call us racists, white supremacists, Nazis and bigots. You can disavow us on social media from your cushy Campus Reform job," he said in a Facebook post. "But you will not replace us. The rootless transnational elite knows that a tidal wave of white identity is coming. And they know that once the word gets out, they will not be able to stop us. The fire rises!"
Neither Fuentes nor Boston University responded to requests for comment.
But calls from community members that students be kicked out aren't the only demands universities are facing. In addition to renewed calls for Confederate statues and monuments to be removed, the University of Virginia -- where protesters in Charlottesville marched, torches in hand -- is facing calls to revoke the degrees of notable alumni behind the rally.
Richard Spencer, an outspoken white supremacist who attended the Unite the Right rally, and Jason Kessler, who organized it, both hold degrees from UVA. A petition has circulated in recent days, with more than 9,000 signatures, calling on the institution to revoke their degrees. The university did not return a request for comment.
"I graduated from UVA in 2005, and it makes me feel ill that I have to share my alumni status with the men responsible for terrorizing the city of Charlottesville and bringing torch-bearing nazis and klansmen [sic] to the Lawn," the petition reads.
"I do not care that they earned the class credits needed to get a diploma from UVA. I do not care that they were never caught for honor code violations while they were students. They have violated our university and all if [sic] its students past and present in a way that goes far beyond cheating on a test. They do not deserve to be a part of the UVA community."
Whether UVA responds to the petition remains to be seen, although most colleges revoke degrees only for academic violations such as cheating, not for political stances taken by graduates after they've left.