You have /5 articles left.
Sign up for a free account or log in.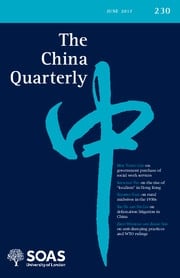 Cambridge University Press reversed course Monday and restored access to more than 300 journal articles it had blocked from its website in China, after coming under heavy criticism from scholars for caving to a request from Chinese government censors. But even as the press restored access to articles in The China Quarterly, the revelation of another Chinese government request to censor articles in The Journal of Asian Studies, also published by Cambridge, suggests the issue isn't going away.
Cambridge Press had previously blocked access in China to more than 300 articles in the China Quarterly journal, a key source for scholarship on the nation, in response to what it said was a request from "a Chinese import agency." The censored articles largely deal with sensitive subjects in China, such as the massacre at Tiananmen Square and the pro-democracy movement, the Cultural Revolution, the restive Xinjiang region, Hong Kong, Taiwan, and Tibet.
The press said on Friday it had complied with the request to remove the individual articles so as not to risk having all of its content blocked in China. Scholars accused the press of putting its economic motive of retaining access to the massive Chinese market ahead of academic freedom imperatives. They also accused the press of actively abetting the Chinese government's project of creating a sanitized narrative of Chinese history and politics by deleting specific articles deemed by government authorities to be unacceptable.
In a statement Monday, the press confirmed it had restored access to the articles. "Following a clear order from its Chinese importer, Cambridge University Press reluctantly took the decision to block, within China, 315 articles in The China Quarterly," the press said. "This decision was taken as a temporary measure pending discussion with the academic leadership of the University of Cambridge, and pending a scheduled meeting with the Chinese importer in Beijing."
"The academic leadership of the university has now reviewed this action in advance of the meeting in China later this week," the press's statement continues. "Academic freedom is the overriding principle on which the University of Cambridge is based. Therefore, while this temporary decision was taken in order to protect short-term access in China to the vast majority of the press's journal articles, the university's academic leadership and the press have agreed to reinstate the blocked content, with immediate effect, so as to uphold the principle of academic freedom on which the university's work is founded."
The press did not respond to requests for comment. It is unclear whether any other Cambridge Press content remains blocked in China. A message from the editor of The China Quarterly, Tim Pringle, which circulated widely on social media last week, said that the censorship request involving the journal followed a similar request involving more than 1,000 ebooks published by CUP.
In a statement Monday, Pringle expressed support for the decision by the press to repost the China Quarterly articles. "It comes after a justifiably intense reaction from the global academic community and beyond," Pringle said.
"Access to published materials of the highest quality is a core component of scholarly research," Pringle said. "It is not the role of respected global publishing houses such as CUP to hinder such access. The China Quarterly will continue to publish articles that make it through our rigorous, double-blind peer review regardless of topic or sensitivity."
Experts interviewed by Inside Higher Ed described China's move to censor The China Quarterly content as part of a broader push by the Chinese Communist Party to shrink the space for public discourse and critical writing. Although international, English-language academic publications with highly specialized and small audiences have to a large degree been left alone by government censors to date, that seems to no longer be the case.
The Association for Asian Studies said Monday that it had received notice from Cambridge Press "that a similar request has been made by China's General Administration of Press and Publications concerning approximately 100 articles from The Journal of Asian Studies, an AAS publication."
"The officers of the association are extremely concerned about this violation of academic freedom, and the AAS is in ongoing discussions with CUP about how it will respond to the Chinese government. At the present time, no JAS articles have been removed from CUP website search results in China," the association said.
"We oppose censorship in any form and continue to promote a free exchange of academic research among scholars around the world."
It remains to be seen what business consequences Cambridge University Press might experience as a result of the decision to restore access to the censored China Quarterly articles -- and whether all of its content will be blocked from the Chinese internet.
An unsigned op-ed that appeared Sunday in a state-run Chinese paper, The Global Times -- a publication known for its nationalist, aggressive approach -- framed the matter as a question of sovereignty, with China having the right to block information on foreign websites it deems harmful and Western institutions having an obligation to abide by Chinese laws and regulations when operating there. "Western institutions have the freedom to choose," the editorial said. "If they don't like the Chinese way, they can stop engaging with us. If they think China's internet market is so important that they can't miss out, they need to respect Chinese law and adapt to the Chinese way."
Scholars offered measured praise of Cambridge Press's decision to reverse course on Monday. "The decision by Cambridge to not help Chinese authorities censor The China Quarterly is a good one," said Alex Dukalskis, an assistant professor in the School of Politics and International Relations at University College Dublin. "Pressure from academics and media coverage undoubtedly helped Cambridge reverse its decision, and Cambridge should be commended for listening. However, the Cambridge statement was not decisive because it did not mention the issue of censored books or how the press would handle censorship demands in the future. The Cambridge episode is a small part of the larger issue of preserving academic freedom as China becomes more powerful and internationalized in the higher ed sector. For example, academics at many universities with Confucius Institutes and active branches of the Chinese Students and Scholars Association have voiced concerns about pressure to self-censor. So, we can celebrate the Cambridge decision for now, but these issues are not going away. Preserving academic freedom on issues that the Chinese Communist Party euphemistically deems 'sensitive' will require vigilance."
Christopher Balding, an associate professor at Peking University Shenzhen Graduate School, offered a similar perspective about the importance of Western academic institutions figuring out how to engage with China. Balding had organized a petition calling on Cambridge to reverse its initial decision on The China Quarterly and raising the specter of boycotts of Cambridge Press and its journals.
"To their credit I fully understand that they're in a difficult position," Balding said. "I'm not unsympathetic to where they're at. I think it was a mistake in the first place to block it, but to their credit I think they've come out and said, 'We're not going to do this,' and hopefully this will prompt a conversation in scholarly publishing houses and colleges and universities about how best to engage China going forward. This problem essentially continues to worsen, and there's very little thought given to how best to manage this situation with China -- and I don't think continued acquiescence is the right strategy."
"This is beyond simply within Chinese borders at this point," Balding said. "China is trying to censor all kinds of activity well outside its borders."
"This is not the end of a complex issue," said Greg Distelhorst, an assistant professor of global economics and management at the Massachusetts Institute of Technology. "Difficult decisions remain for how academic presses can simultaneously engage with China and maintain their integrity. For example, if all foreign-published scholarship was blocked in China, researchers in China would suffer most. I do not envy Cambridge or other academic presses trying to make policies for this challenging operating environment."
"That said, creating politically sanitized versions of top academic journals -- and worse, publishing those journals under Cambridge's name -- would be a bad policy," Distelhorst said. "I am happy to see Cambridge change course."