You have /5 articles left.
Sign up for a free account or log in.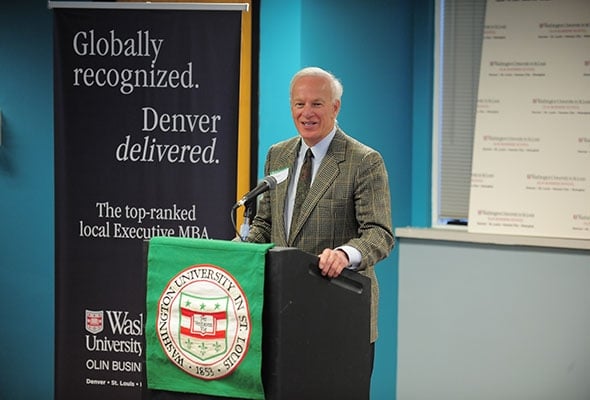 Washington University in St. Louis
In 2013, the Olin Business School at Washington University in St. Louis stretched its executive M.B.A. program to the West for the second time in three years.
The business school at the private nonprofit university announced it would start offering its executive M.B.A. program, or E.M.B.A., in Denver in September of that year. The 20-month program would meet monthly in chunks of several days and be split into two halves -- the first in Denver and the second on the campus of Washington University in St. Louis. It would also have an international residency in Shanghai. That mirrored what the business school was doing in Kansas City, Mo., where it had been offering an E.M.B.A. since 2010. It was a time when several top business schools were bringing in significant revenue through E.M.B.A. programs and some were opening new locations in cities away from their home campuses.
Fast-forward to today, and the business school is in the process of winding down both of its off-campus E.M.B.A. sites in the United States. In a letter sent to students earlier this year, Dean Mark Taylor wrote that administrators were "refocusing Olin's resources" and would no longer be offering the first year of its E.M.B.A. curriculum in Kansas City and Denver.
"This was a difficult decision but one necessary as we look towards strengthening the business school in an ever-challenging higher education market," wrote Taylor, who started as the business school's dean in December.
Taylor sees the change as a way to refocus Olin's offerings on St. Louis and on international components in Shanghai and Mumbai, India. But it's also reflective of shifts in the market for E.M.B.A.s, degrees geared for professionals with several years of business experience who want to study in intensive chunks while keeping their jobs. The Olin Business School is not the only one to decide to close a program away from campus.
Traditionally, employers have often paid much of the cost of an E.M.B.A. But companies are becoming more reluctant to pay. Satellite campuses are also facing more competition from online learning, making it harder for university leaders to rationalize the expense of leasing space in faraway cities. More broadly, some point to broad indicators showing a decline in U.S. student interest in M.B.A. degrees of all types.
In the case of the Olin Business School, it was time to rethink physical delivery in the U.S., Taylor said in a recent interview. In addition to its home campus in St. Louis, the business school also sends E.M.B.A. students to Washington for an immersion program with the Brookings Institution that focuses on policy issues, government regulations, appropriation, budgeting and legislative action. It also has residencies in China, through a joint venture with the Fudan University School of Management, and Mumbai, at the Indian Institute of Technology.
"It's really about the broader trends, I think -- thinking about the strategic direction of the school, thinking about international reach," said Taylor, a former dean of the business school at the University of Warwick in the United Kingdom before he joined the Olin Business School last year.
"Having three delivery points in the Midwest didn't seem consistent with our new sort of international strategic policy," Taylor said.
The Olin Business School still wants to be a part of the region, Taylor said. It's retaining a recruitment adviser to focus on bringing in students from Kansas City and Denver.
The business school currently reports about 10 E.M.B.A. students each in Denver and Kansas City. The last classes are expected to be held in the locations in January 2018. That timeline will allow current cohorts to complete most of their planned classes at the branch sites, but the Denver location closure will require some students to travel to St. Louis earlier than planned. Officials said "financial arrangements" had been made for those students but did not go into detail.
The two locations are much smaller than Olin's other locations. It typically has about 70 to 80 E.M.B.A. students per year in St. Louis. A Shanghai cohort recently started with about 65 students, and a Mumbai summer cohort totals 22 students. They were also small in comparison to the business school's other M.B.A. programs -- it reports 260 full-time M.B.A. candidates and 306 studying for a professional M.B.A.
Kansas City and Denver operations weren't offering the right mix of financial returns and experience for students -- even though they were paying for themselves, Taylor indicated.
"They were washing their face," Taylor said. "There were financial issues we had to look at, obviously. But the financial implications weren't paramount. The strategic implications were the most important."
Online delivery for E.M.B.A. programs is also likely to grow, Taylor said. He added that students could still decide to attend in St. Louis during their first year.
The first half of the Olin Business School Programs in Denver and Kansas City had been scheduled with class days on Thursdays, Fridays and Saturdays about once a month in their respective cities. But residencies requiring travel were interspersed, and students had to travel to St. Louis for their second year.
"Once people think about the mode of delivery, coming to St. Louis occasionally from Kansas City and Denver on a part-time basis isn't that big a deal," Taylor said. "Some of the work can be done online. And also, we're going to want you to do some overseas placements anyway. It doesn't really matter where your base is."
The Olin Business School may have faced another challenge in the markets: price. When the school was opening its Denver program, Poets & Quants for Executives, a news website that covers executive M.B.A. programs, noted that it was more expensive than others already in the market.
"Washington [University] is coming into the Denver market with the highest price tag, 28.9 percent above the current price leader in the market and 44.8 percent more than Colorado State's offering," Poets & Quants wrote. "Washington's hefty $108,500 price, moreover, does not include airfare for an international residency in Shanghai, China."
At the time, the University of Colorado's 18-month program in Denver cost $65,000, a price that included travel and lodging for a nine-day international business trip and three-day retreat, Poets & Quants continued. Colorado State's 21-month program cost $59,940, which included airfare and lodging for a 10-day global immersion trip. And Daniels College's E.M.B.A., an 18-month program, cost $77,160, which included airfare and lodging for an international travel seminar and weekend retreat in San Diego.
The business school quotes the cost for its upcoming E.M.B.A. programs in St. Louis at $128,000. That includes hotels for four residencies but not airfare to Washington, D.C., and China, nor does it include lodging for class weekends.
Taylor named one other trend that was important in the Olin Business School's decision to end its E.M.B.A. programs in Denver and Kansas City -- corporate sponsorship of students has declined dramatically in the last decade.
"We have something like 15 percent of our students on full sponsorship through their employers," he said. "It would have been two, three times that figure 10 or 15 years ago."
That phenomenon has also been noticed by Jeffrey R. Brown, dean at the College of Business at the University of Illinois in Urbana-Champaign. Brown announced earlier this year that the college was suspending enrollment in an E.M.B.A. program it operated in Chicago.
Companies will still pay for executive education, Brown said. But fewer and fewer are willing to do so.
That was not, however, the only reason the College of Business at Illinois suspended its program. The E.M.B.A. in Chicago was always on the small side, Brown said -- it had about 30 to 35 students per cohort for a total of about 70 students overall at any one time. A competitive market and improvements in online education combined to mean the program wasn't meeting financial objectives, Brown said.
On the other hand, Illinois launched an online M.B.A. program in January 2016. It recently started its fourth cohort and already has about 800 students enrolled.
"Now that there is an online alternative, geography is becoming less relevant," Brown said. "Today, I think a broader theme in all of this, as we look at removing geography as a barrier to education, is to what extent do universities really want to be spending on brick-and-mortar stuff anywhere?"
Even leasing space for an executive M.B.A. program can be expensive. Those programs tend to be set up in major metropolitan areas. And institutions also have to pay for faculty members to travel to the off-campus locations, or they have to hire locally.
"As more and more schools are trying to use technology and operate at scale, you will see fewer players with larger programs that are financially sustainable," Brown said. "Smaller regional players are going to find that they lose money when they end up getting into these markets, and then they end up exiting."
Chicago was a competitive market for the University of Illinois program. The market already had major established players in the M.B.A. space, like Northwestern University's Kellogg School of Management and the University of Chicago's Booth School of Business.
Theoretically, closing an off-campus business program should be easier than closing other types of programs. But it might not always work out that way, according to Brown.
"Even if people intellectually understand the business decision, there's a huge emotional element to this," Brown said. "The advantage that business schools have over some other disciplines is if we're doing our jobs well, our students really do understand the strategy and finance and so forth behind it."
Not every school will have to close off-campus E.M.B.A. sites, Brown said. About a dozen institutions have a good satellite-campus E.M.B.A. business model in place and have managed to operate effectively and at scale.
One well-known institution running an E.M.B.A. program far away from campus is the University of Pennsylvania's Wharton School. It operates an intensive 24-month E.M.B.A. program in San Francisco.
The program has been growing, according to Bernadette Birt, executive director. It has relocated for more space since she arrived in her role in 2010, with cohort sizes jumping from roughly 90 to 106.
"We're pleased with the market," she said. "Folks [are] trying to make significant moves within organizations and into new industries and into entrepreneurship ventures. The M.B.A. really sets them up to be more successful."
Of course, San Francisco's economy and talent market is very different from the rest of the country. More broadly, Birt acknowledged, the executive M.B.A. space is under pressure from changes in corporate sponsorships and employees who are managing their careers more independently, without feeling tied to individual employers.
The trends she, Brown and Taylor identified roughly align with those reported from the 2016 Application Trends Survey by the Graduate Management Admission Council, the owner of the Graduate Management Admission Test. Executive M.B.A. application volumes have been flat for several years, but a majority of E.M.B.A. programs reported growing volumes in 2016 for the first time since 2008, the survey found.
However, much of the increase appeared to be fueled by growing demand from applicants to programs in Europe and international candidates coming to the U.S. Only 43 percent of E.M.B.A. programs in the United States reported growing application volumes, while half said application volumes fell and 7 percent reported volumes were flat.
Since they are an effort to reach local working professionals, E.M.B.A. programs aren't likely to benefit from an upsurge in international interest.
U.S. residents are not taking the GMAT as frequently as they did several years ago. In 2016, 109,376 U.S. residents took the test, compared to 144,650 in 2012.
E.M.B.A. programs don't often require a student to take the GMAT. But some deans still view GMAT statistics as indicative of overall interest in master's-level business education.
Other forms of master's-level business education have been far from static of late. On Tuesday the University of Iowa's Tippie College of Business announced plans to phase out its full-time M.B.A. so that its final cohort will graduate in May 2019. In doing so, it joins other major institutions, like Wake Forest University and Virginia Tech, which in recent years have ended traditional full-time M.B.A. programs amid enrollment pressures and a desire to be more flexible for students.
Iowa said ending its full-time M.B.A. will allow it to focus on growing a part-time M.B.A. program and specialized programs. More than 90 percent of the business school's M.B.A. enrollment already comes from professional and executive programs.
Institutions respond to changing financial circumstances and market demand, said joyce gillie gossom, executive director of the National Association of Branch Campus Administrators. (She prefers not to use capital letters in her name.) Those responses include the opening and closing of off-campus locations like E.M.B.A. sites.
"The demand is there, the demand is met by that institution, and the demand is gone," she said. "And it doesn't make sense for you to maintain the presence where there is no demand."
Other factors can be at play, too. All too often, branches expand and contract based on circumstances controlled by administrators on a home campus instead of on their value, gossom said. A dean could decide they dislike having faculty members teaching away from campus. Revenue could drop, making the off-site location less attractive financially.
Online programs and platforms have been another source of pressure in recent years, gossom said. But she warned that many students who attend branch locations are older and less comfortable taking online courses.
"They want someone they can see and talk with and interact with and stay after class with and ask questions," she said. "They want to be able to create study groups with their fellow students and talk through class assignments."
U.S.-based full- and part-time E.M.B.A. enrollment declined over a five-year period ending in 2015-16, according to statistics from the Association to Advance Collegiate Schools of Business. E.M.B.A. enrollment totaled 3,988 in 2011-12 and had slipped to 3,605 in 2015-16.
But the statistics reflect a small sample of 55 institutions that chose to report details on E.M.B.A. programs over that five-year period. AACSB warned against generalizing the findings across the field as a whole.