You have /5 articles left.
Sign up for a free account or log in.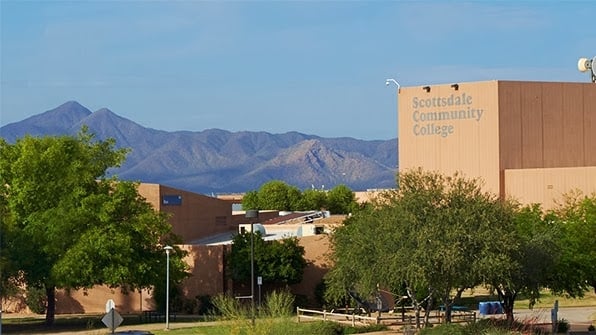 A regional accreditor recently denied an Arizona community college's bid to increase its online degree offerings, with a decision that highlights challenges colleges may face when seeking to expand their online presence.
Scottsdale Community College had sought to add 48 new online certificate and degree programs. The college, which is a part of the Maricopa Community College District, had proposed gradually beginning to offer the degrees, beginning this fall and continuing through 2020.
After conducting a review, the Higher Learning Commission gave the college an acceptable rating in each category for online course delivery. However, the accreditor also identified several problems, mostly revolving around inconsistency in the way Scottsdale offered its existing online programs to students. As a result, it rejected the college's request to add the new credentials.
In a peer review report, which Inside Higher Ed obtained, HLC's reviewers described "strong foundational components critical to online delivery and a clear passion for such delivery. At the same time, there were clear areas for improvement, including a limited amount of standardization across individual courses."
In particular, the reviewers found a lack of required training for online instruction.
"SCC's contract with the faculty was cited as the reason training could not be mandated. Further authority for reviewing and overseeing online delivery was pushed down to the department level. This decentralization in review and oversight authority led to variability between the 10 online courses reviewed by the team that, in the opinion of the team, made the courses more faculty- than student-centered," the report said. "The lack of consistency may be a contributing factor in the online student success rate, which was 10 percent lower than either face-to-face or hybrid delivery modalities."
Success rates in Scottsdale's face-to-face courses stood at 75.2 percent compared to 65.4 percent in online courses last fall.
HLC also cited concerns about Scottsdale's use of multiple learning management systems and about inconsistencies in course navigation and the deployment of student help facilities in courses.
The college pointed to faculty contracts as one reason why instructor training couldn't be mandated. It also cited "the inability of the institution to control the content of online courses, ceding all course-related decisions to faculty members" as a reason for the inconsistencies in delivery, according to the report.
"The HLC review team was fair in its assessment of SCC's embedded change application," said Nancy Neff, executive director of institutional advancement and community engagement at Scottsdale, in an email. "The team was very positive in its response and offered valuable constructive feedback for moving forward. We have evaluated the HLC feedback and are developing a plan to address concerns. We hope to implement later this year."
Neff said Scottsdale is also working with faculty to implement and mandate training for faculty members who teach online.
Russell Poulin, director of policy and analysis at the WICHE Cooperative for Educational Technologies, applauded HLC for setting a higher standard for online programs. But he said the push for standardization raises questions about academic freedom.
"It's been kind of a problem distance education has had to deal with for quite a while, the idea in some places that you can't require the training," Poulin said. "The academic freedom issue finds itself in the contracts … when you're doing it face-to-face, it's a little less of a problem."
With online learning, he said, academic freedom can become an issue because instructors are asked to run the technology themselves and initiate engaging and meaningful interactions with students they may never see.
"We're still in a place where a lot of students are still uncomfortable with distance learning. And if you have a faculty person that is uncomfortable because they don't have the proper preparation to succeed, is it surprising pass rates are going down?" Poulin said.
Poulin said Quality Matters, which conducts quality assurance in online courses, has tried to combat many of these issues through a peer-to-peer mentoring system.
Scottsdale uses Quality Matters as a model, which HLC noted. However, the peer-review team was concerned that just 10 of 174 faculty members at the college had formally completed the Quality Matters training and only 20 percent of courses were certified by the group.
"Using a recognized model such as Quality Matters is effective, but only to the extent that it is consistently applied and deployed," the review said.
"We have 1,090 academic institutions that are members using Quality Matters and 1,090 different ways they do it," said Deb Adair, executive director of Quality Matters, which is a nonprofit organization. "They've got different missions, different cultures, different resources -- and not just monetarily -- so they have to have the flexibility of being able to adapt the tools to their needs."
Adair said the group is aware of resource constraints at institutions that can make consistent delivery of its training and review processes difficult.
"If you want to show you're doing something, you have to have a consistent, rigorous process and you need to really take that next step up and develop a quality-assurance process rather than just using standards," she said. "We're trying to describe what that looks like at institutions. So, you do have to start mandating certain things and maybe requiring every course in a program be reviewed, maybe not certified, but reviewed every five years and provide some criteria for faculty."
Scottsdale will reapply to its accreditior in the future for approval of the 48 online certificates and degrees, Neff said, once it has addressed HLC's concerns and documented their success with the programs.