You have /5 articles left.
Sign up for a free account or log in.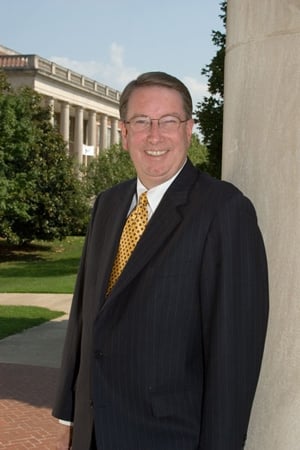 Lipscomb University President Randy Lowry apologized again Monday after discussion over a dinner he hosted for African-American students last week grew beyond centerpieces that held stalks of cotton to encompass a menu including greens, corn bread and macaroni and cheese.
"We have many, many events at our house, and we're in Nashville, Tenn., so you know, kind of Southern comfort food is served a lot at the university, at most restaurants in Nashville, and we serve it in our home," Lowry said in an interview. "We actually had the very same caterer and the very same dinner a week before for my mother-in-law's birthday. So it's hard with students, because some want their comfort food and some want something completely different from their comfort food, and so when dealing, again, with a very diverse student body, it's hard to please everyone.
"But frankly, we rotate lots of menus, as does our cafeteria, as we do with special events on campus," he said. "And I'm very sorry if anyone was offended by that, but there was absolutely no intention to set up a menu that would in any way make a statement. It was just one of the options for a good dinner."
Lowry issued his initial apology to the campus via email Friday, writing that African-American students attending a dinner the night to discuss their experience at Lipscomb had shared concerns about centerpieces containing stalks of cotton. He apologized for causing discomfort, anger and disappointment and asked for forgiveness. But his note made no mention of the menu.
The university posted his apology to Facebook, and images of the centerpieces circulated on social media and news websites. Some commenters argued that it is currently common to decorate with cotton in the South and that the centerpieces were likely not intended as a reference to enslaved people picking the cash crop. But others soon questioned menu choices in addition to the cotton.
The menu for the Thursday dinner for African-American students included turnip greens, macaroni and cheese, and corn bread, foods closely associated with African-Americans. The night before, the president hosted a dinner for Latino students at which the menu included flank steak, fajita chicken, salsa, street corn and Spanish rice.
Lowry did not hear any concerns about the menu choices during the events, he said. Those issues were only raised later.
Pressed on whether the menu choices at the two dinners were happenstance, Lowry pointed out that the menu consisted of more than just the items in question.
"It wasn't exactly corn bread and mac and cheese," he said. "It was two or three different meats, and it was cookies and brownies. It was a lot of different things. It was a very generous buffet, but we just kind of rotate."
Lipscomb provided the full menus for each night. They were as follows.
Wednesday, Sept. 13
Flank steak with peppers and onions
Fajita chicken with peppers and onions
Lettuce
Tomatoes
Cheese
Onions
Salsa
Sour cream
Street corn
Pinto beans
Chips and queso
Spanish rice
Thursday, Sept. 14
Pulled smoked pork BBQ with Dr Pepper BBQ sauce
BBQ sliced chicken breasts
Danish ribs
Turnip greens
Mac and cheese
Corn bread
Cookies and brownies tray
As for the cotton in the centerpieces, Lowry said the same centerpieces were to be placed at the dinner with Latino students Sept. 13, but the outdoor area where they were set up could not be used because of rain. He had earlier suggested that a worker find a way to represent the fall season in the centerpieces. They were subsequently made of grains like barley and wheat, along with sunflowers and cotton. They were dried so that they could be used multiple times.
"I don't want to make light of the interpretation of that," Lowry said. "Those students that were concerned were sincerely and deeply concerned, and I was sincere and deeply apologetic that we had offended them."
When Lowry started at Lipscomb in 2005, its minority population was 4 percent, he said. This year, it was 23 percent. That's up 1 percent from last year, the university reported in a fact sheet. The figure includes undergraduate students and graduate students reported as coming from different countries, races and ethnicities.
Last fall, 7 percent of Lipscomb's undergraduate students were black or African-American, according to the National Center for Education Statistics. Another 6 percent were Hispanic or Latino, 3 percent were Asian, and 76 percent were white. The private university, affiliated with the Churches of Christ, enrolled nearly 3,000 undergraduates and more than 1,600 graduate students.
The university fact sheet also highlighted programs and initiatives intended to educate students about diversity. They included an initiative based on a call in the Bible to love one's "neighbor as yourself," a new 10-day summer event for high school students based on a civil rights tour and a presidentially appointed committee to help build a "culture centered on respect."
Going forward, Lowry does not worry that the recent events have damaged his relationship with students. Some students will need to be able to communicate their concerns, and he wants them to know he will talk to them as soon as it can be arranged, he said.
"When we go forward, we will continue to try to be concerned," he said. "We missed on this one, and I thought the appropriate thing to do was apologize for that miss, and I hope forgiveness can be granted and we, frankly, can get everybody focused on some of the much more profound things -- and that's taking hundreds of young people who may not have had a chance for an education and absolutely changing their futures."
The events at Lipscomb appear to be a failed attempt at cultural inclusivity, said Shaun R. Harper, a professor at the University of Southern California's school of education and executive director of the university's Race and Equity Center, who recently delivered a much-discussed speech on racism at the National Association for College Admission Counseling's national conference. Over the years, many college presidents have tried to demonstrate that they appreciate aspects of the cultures that students of color bring to campus, he said.
But they do not get needed advice -- either because they do not have a diverse leadership team to give that advice or because a particular set of advisers are not conscious of issues of race.
"I think a good adviser would say to someone that just because you're having Latino students over doesn't mean you have to have things dressed in salsa, or just because you have black students over you have to serve them what the president is calling comfort food but what is thought of as soul food," Harper said.
The larger issue at play is what actually makes students of color feel as if their president respects them and wants to build a culture of inclusion, Harper said.
"It's not food," he said. "It is policy and it is things that college presidents do to hold their faculties and other administrators accountable for creating a racially inclusive campus environment."
As for apologizing after events like those at Lipscomb, simple is usually best, Harper said.
"Oftentimes an apology is much more helpful than an explanation, because explanations oftentimes are experienced as defensiveness or defensive justifications." he said. "Just say, 'You know, I recognize that this was a huge misstep and I deeply apologize to our students.' That's it. Just say that."