You have /5 articles left.
Sign up for a free account or log in.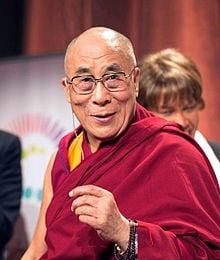 Is the Chinese government punishing the University of California, San Diego, for inviting the Dalai Lama to be its 2017 commencement speaker?
Victor Shih, an associate professor of political economy at UCSD who studies Chinese banking and fiscal policies, posted on Twitter on Saturday an image of a document "regarding questions about government-sponsored study (visit) abroad to UC San Diego." Shih posted a Chinese-language document -- which he said a colleague received directly from the China Scholarship Council -- and an English translation suggesting that the agency will no longer process applications for prospective visiting scholars to UCSD who have not already scheduled visa interviews.
"China Scholarship Council puts a freeze on all CSC-funded scholars to @GPS_UCSD, presumably due to Dalai Lama visit," Shih said on Twitter. Reached via email, he said, "My only comment now is that CSC did not freeze any funding to UCSD, or provide us with any funding in the first place. It seems from the statement that it will freeze funding going to Chinese scholars who wish to be visitors to UCSD." He did not respond to follow-up messages seeking more information about his sourcing. The chair of UCSD's 21st Century China Center, Susan Shirk, who was copied on Shih's email to Inside Higher Ed, did not respond to inquiries.
On Monday Laura Margoni, a spokeswoman for UCSD, said, "We've learned unofficially that the China Scholarship Council has apparently issued instructions about CSC-funded visiting scholars who do not yet have visas -- that they will not be allowed to study at the UC San Diego. We were not notified of this directly by the China Scholarship Council, so we are currently making inquiries to find out if this is case." She had no updates to share Tuesday as to the status of the university's inquiries.
The China Scholarship Council did not respond to emails seeking comment.
Some Chinese students at UCSD protested the university's decision to invite the Dalai Lama, the Tibetan spiritual leader and Nobel Peace Prize winner. The Chinese government regards him as a separatist. The Dalai Lama has long maintained that he wants autonomy for Tibet, but not full independence.
"The Dalai Lama is not only a religious personality but also a political exile who has long been carrying out actions to divide the motherland and to destroy national unity," UCSD's Chinese Students and Scholars Association said in a statement after the invitation to the Dalai Lama was announced. The group said it had consulted with the Chinese consulate in Los Angeles for guidance.
A Chinese newspaper known for its nationalistic, bombastic rhetoric also blasted UCSD for the invitation and said its chancellor, Pradeep Khosla, "must bear the consequences for this."
"Don't naively believe that China will acquiesce to the chancellor of UCSD. His support for Tibet independence will affect his personal and the university's exchanges with China. Chinese universities will take cooperative programs with it into prudent reconsideration," the article in The Global Times said.
"It's suggested that relevant Chinese authorities not issue visas to the chancellor and not recognize diplomas or degree certificates issued by the university in China."
Some scholars have expressed concern about the growing influence China has gained over American universities as the number of Chinese students in the U.S. has soared -- and as American universities have become increasingly reliant on the tuition dollars they bring. After the University of Calgary awarded the Dalai Lama an honorary degree in 2009, the Chinese government removed the institution from its list of accredited universities, raising concerns about possible impacts on recruitment and on the value of degrees held by alumni in China (Calgary's place on the list was subsequently restored).
The reported action by the China Scholarship Council in regards to UCSD would not appear to directly affect self-paying Chinese undergraduates, but only those scholars who are sponsored by the government.
Of the invitation to the Dalai Lama, the university had previously issued the following statement: "The University of California, San Diego, has always served as a forum for discussion and interaction on important public policy issues and respects the rights of individuals to agree or disagree as we consider issues of our complex world. Our 2017 speaker, His Holiness the 14th Dalai Lama, carries a message that promotes global responsibility and service to humanity that is of great interest to the UC San Diego community and to our students as they enter their professional lives. As a public university dedicated to the civil exchange of views, the university believes commencement is one of many events that provide an appropriate opportunity to present to graduates and their families a message of reflection and compassion."