Howard students shout, chant and protest through a convocation speech by the former FBI director. Others offer views on the clash of words.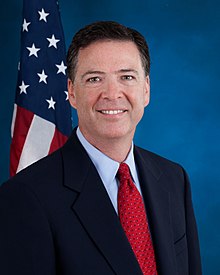 WASHINGTON -- James Comey (at right) was met with protests when he spoke at Howard University's convocation Friday, a sign, perhaps, of the former Federal Bureau of Investigation director's long road ahead at the historically black university.
Comey, who was appointed to the King Endowed Chair in Public Policy at Howard last month, was met with protests and chants of "No justice, no peace" and "I love being black," as well as "We shall not be moved," when he took the stage. After waiting about 15 minutes, he decided to speak over the chants -- which did not subside throughout his speech -- from a group of students attending the ceremony.
Interviews with students on campus the next day painted a picture of a student population where many are skeptical of or neutral about Comey at best. Amid a larger debate over campus speakers, many students at historically black colleges have objected to inviting speakers they view as not having been supportive of black people or black institutions. Education Secretary Betsy DeVos faced protesting students throughout a commencement address in May at Bethune Cookman University, another historically black university.
In interviews on Howard's campus, students offered a range of views on what happened.
"I honestly give [Comey] props for that," Alexis Barge, a marketing major who was seated near the protesters, said of Comey trying to wait for the protests to subside. "He was very calm; he wasn't looking angry or anything like that."
Though she took some issues with the way the protest was carried out, she said she agreed with the protesters' cause. The 50 or so students who protested, who organized on social media under the name HUResist, gathered in opposition to Comey because of his tenure at the FBI.
"Convocation is an event designed to officially welcome freshmen and transfer students into the historically black university," the group said in a statement posted to social media. "Comey, ironically, boasted many affronts to black communities and communities of color during his tenure with the FBI, including the dismissal of racist state-sanctioned violence, and efforts to dismantle the growing Black Lives Matter movement, similar to the FBI's efforts to dismantling of [sic] the civil rights and Black Power movements just a few decades prior."
One specific charge that the group brought up in its statement was the "Ferguson effect." In 2015, following the protests in Ferguson, Mo., after a white police officer shot and killed Michael Brown, an unarmed black teenager, Comey said that the scrutiny officers were receiving in the following months was hampering their ability to do their jobs effectively.
"Where we are stepping back a little bit is at the margins, where we might otherwise have gotten out of our cars and talked to a group," Comey said police officers had told him. "We're not doing that so much anymore because we don't feel like being that guy in the video."
Comey's comments were controversial at the time and earned rebuke from the Obama White House.
"[The protesters] started off right, but then it got really rowdy. They were cursing, and there were children there. I'm not a fan of James Comey myself, for certain reasons," Barge said. "I do believe they should have let him speak, a little bit."
"If I would have known about the protest, I honestly would have been a part of it."
Samara Archibald, who studies nursing, also said she has a skeptical outlook of Comey. And her criticism of the protest, as was Barge's, was about the way it was organized rather than its message.
"There were rowdier people who started getting in the front, and they were a lot more angry. The way they were saying it wasn't as well-spoken as the people who were starting at the beginning," said Archibald, who watched the convocation ceremony via a video feed.
"It started getting a lot more disorganized," she said, adding she would have preferred letting Comey speak. "I do stand with the protesters, I do stand with their message."
Noelle Shaw, a criminology major who attended the convocation ceremony a few rows down from the protesters, said she hoped Comey would be open to learning during his time at Howard.
"I agree with the [protesters'] message," she said. "But you can't have change if you're not willing to listen. He doesn't know what you want to change, and you have to let him respond to the changes that you want."
Additionally, for Barge, parts of Comey's speech came off as tone-deaf.
"Parts that I heard [above the noise of the protest], some parts I was hearing, saying, 'This is our struggle,' -- I didn't completely agree with. White people have privilege," she said. "When he says 'our struggle together,' it's like … I guess he's trying to be relatable."
The protest came as universities and their choices for speakers and lecturers have come under scrutiny, raising questions about who is deserving of those spots. In addition to protests of DeVos, Harvard University recently rescinded an offer made to Chelsea Manning for a one-week fellowship after the university was blasted by the Central Intelligence Agency and others for inviting her. Manning was convicted for leaking classified information about the U.S. military, and while some consider her a hero for the action, others consider her a traitor. But at the same time, Harvard kept its offers to Sean Spicer, the former White House press secretary under Donald Trump, and Corey Lewandowski, a former Trump campaign manager who was once charged with simple battery over the way he handled a reporter at a rally.
For the protesters, Comey's history seems to be a nonstarter for even beginning a conversation, much less taking a job at Howard (he has pledged to donate his $100,000 salary to a scholarship fund for students from foster homes). Neither Howard nor HUResist responded to requests for comment over the weekend. In Howard's efforts to allow the speech to continue, a minister unsuccessfully attempted to quiet the crowd, and Comey's microphone was turned up.
"I thought it was well organized," Sage Chase, a musical theater major, said of the protest. She said she declined to join in because she didn't feel like she had done enough research on the matter, but she said she had friends who protested.
"It was surprising to me" when it was announced that Comey was appointed to his position at Howard, Chase said. Even though she didn't think much of it, she knew there was opposition to him on campus.
"I just accepted it, but I didn't go to the convocation or anything," she said. "I just don't understand why he was appointed or why he is coming here."
Latrell McClain, a psychology major, said he doesn't consider himself very political, but he wasn't surprised at Comey's reception Friday, given the campus's history of activism.
"The fact that there was a protest so early [on campus], I'm not surprised about it at all," he said. "When it comes to Howard, stuff like that is done all the time."
You may also be interested in...
Today's News from Inside Higher Ed
Inside Higher Ed's Quick Takes