You have /5 articles left.
Sign up for a free account or log in.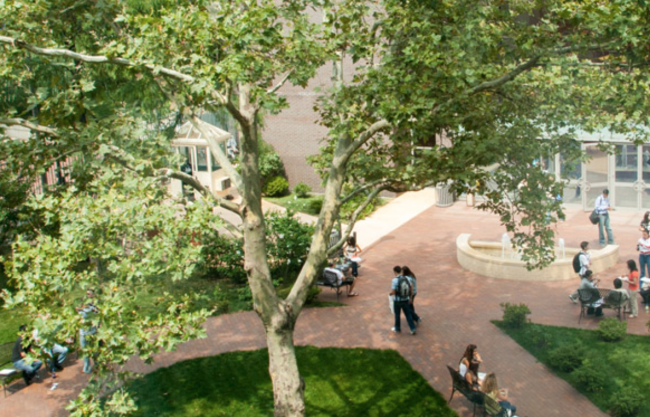 A year after Long Island University's unprecedented faculty lockout at its Brooklyn campus over contract negotiations, relations between professors and administrators have yet to improve. And while faculty members point to spiraling enrollment numbers as further cause for concern, the administration says its once-collapsing finances have stabilized -- proof that a tough-as-nails management style is working.
"At LIU, we have over 500 programs, and while that's nice to say, on the one hand, strategically we can't continue to be all things to all people," said Christopher Fevola, LIU vice president and chief financial officer. "We're aligning our strategic priorities with investment."
He added, "We haven't laid off a single faculty member; we're promoting people and granting tenure. Things seem very favorable at this point."
Indeed, Moody's Investors Service in June upgraded LIU's revenue bond rating to Baa2 from Baa3, with a stable outlook. That's not great, but it's better than the negative-outlook Baa3 rating it received as recently as 2013.
The reasons for the upgrade, according to Moody's, are "clear strategic direction and gains," including "sustained investments in new programs." Total enrollments are declining, but the university is focusing on enrolling students in more "distinctive" programs and those who bring "greater expected family contributions."
Since Kimberly R. Cline became president in 2013, LIU also has more than doubled its endowment from about $87 million to some $197 million. LIU plans to continue the financial comeback by focusing its offerings on what it sees as key growth areas, including communications, pharmacy and nursing.
Gale Stevens Haynes, vice president of academic affairs and chief operating officer, said the borough of Brooklyn is in need of more health-care professionals and, as a result, a large share of majors at that campus are in that field.
LIU still wants to be known as a research institution with an emphasis on the liberal arts, she said, but institutions nationwide "have been slow to come to grips with the fact that most students come to college to achieve a certain career goal." And even though "while they're there, we try to broaden their thinking with everything that a liberal arts education should provide," she said, a traditional liberal arts education is no longer the be-all, end-all for LIU.
Not as Good as It Sounds
That's where the faculty objections begin. As part of LIU's rebranding, the university's Board of Trustees last academic year imposed a credit cap on the disciplinary core at both the Brooklyn and C. W. Post campuses. The university already had cut or suspended dozens of degrees, with professors saying they'd had little to no involvement in planning. On the Brooklyn campus, for example, math, philosophy, economics, visual arts and sociology-anthropology, among other majors, were effectively killed until further notice.
While the university said its unusually large general education cores (at least 51 credits at Brooklyn and 39 to 45 credits at Post) were scaring potential students away, the call to trim them added insult to injury for professors. On top of the lockout, many said, it now appeared administrators were trying to take over the curriculum -- the primary domain of the faculty on many if not most campuses.
Moreover, professors said, blaming plummeting enrollments on the core seemed to be overlooking alleged administrative errors: an anemic recruiting strategy with a high turnover rate among admissions staffers, a long-term failure to distinguish LIU from other area institutions and, most recently, the chaos of the lockout at the beginning of last fall term.
Enrollments this year don't look good. Two years ago, there were 3,552 undergraduates at Brooklyn. Last fall there were 3,199 and this September there were 2,734. Total credits taken also dropped for undergraduates since 2015. Graduate enrollments fell over the same period, from 2,583 to 2,298.
The Post campus's figures are slightly better but still show a continued decline in overall enrollment, from 3,341 undergraduates in 2015 to 3,099 today. 
Jessica Rosenberg, an associate professor of social work at the Brooklyn campus and president of its American Federation of Teachers-affiliated faculty union, said it's difficult to know how much to blame on the lockout. However, she said, "this lockout was the first and only to date in higher education and it's a disastrous event -- there's a reason these things don't happen. The impact on the faculty and impact on morale is so negative that it takes a long time to recover … Students left."
Rosenberg said the union is seeking to better communicate with university leaders to avoid another such impasse. "I wouldn't say communication is better since the lockout," though, she added.
As for communication, many professors say there isn't much. Faculty members at both Brooklyn and Post have complained, for example, to the New York State Education Department and asked it to investigate alleged violations of shared governance, failure to grant tenure based on pre-existing criteria and over-enrolling health care programs, among other concerns. The department did not respond to a request for information about the status of the investigation.
"We believe that faculty members are being systematically excluded from the essential roles that they must play in educating students," reads a letter to the department from the Post Faculty Council. "Despite repeated efforts on the part of the [council] to collaborate with administration and improve shared governance, faculty has been handed down mandate after mandate without prior consultation or any effort to engage in authentic dialogue. We ask that you intervene and help us restore compliance with accreditation, transparency, accountability and shared governance to our institution."
LIU, meanwhile, has cited New York's Excelsior Scholarship, a free in-state tuition initiative for qualifying students, as one reason for the drop in enrollments -- although LIU is among the approximately one-third of New York's private campuses to opt in to a companion program for private colleges, which could provide some students with additional aid.
Some professors aren't convinced by that logic, however. José Ramón Sánchez, chair of urban studies at the Brooklyn campus, attributed the year-over-year enrollment drop to the lockout and the longer-term decline to Cline, the president. Part of her austerity budgeting program includes reductions in financial aid and graduate assistantship, he said, and even bathroom sanitation has suffered as a result of contracting out the janitors' union.
"Working-class private colleges like ours do not do well in these difficult economic times," Sánchez added. "But this university leadership has committed to budget cuts, staff reductions and antiacademic policies that have pushed the institution into a downward spiral."
John Ehrenberg, chair of political science at the Brooklyn campus, agreed, saying the challenges facing private universities serving an predominantly "urban, immigrant, female, minority and working-class student body are profound, dangerous and different from those facing public universities."
At the same time, he said, "word of mouth has been a very strong force for us, and word of mouth says that things are bad. And it's true."
A "grinding" austerity program means that "faculty lines are not being replaced, secretaries are being forced to double or triple up, programs and majors are being shut down," Ehrenberg said. The faculty remains "angry and disenchanted," despite a "promising" new dean of arts and sciences, "and the future doesn't look like it's going to be very different from the immediate past. LIU used to be a fun place to work, even with its permanent challenges and frequent crises. Those days are gone, and I don't think they're ever coming back."