You have /5 articles left.
Sign up for a free account or log in.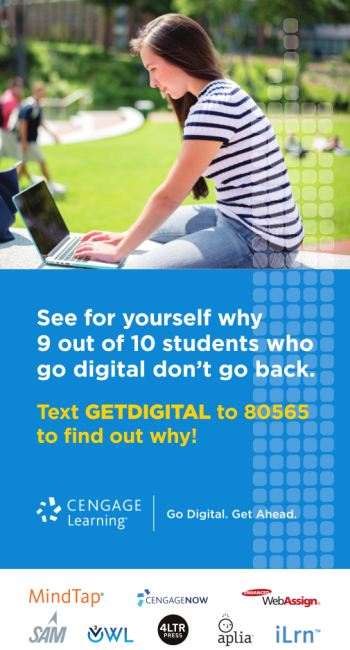 For years, big-time publishers have been skeptical of open educational resources, questioning their quality and durability. But one of those publishers, Cengage, is today announcing a new product line built around OER.
Cengage predicts that the use of OER -- free, adaptable educational course materials -- could triple over the next five years. In a report published last year, Cengage said that education and technology companies were ready to "embrace the movement" -- adding their own services and technology to create "value-added digital solutions that help institutions use OER to its best advantage."
With OpenNow, Cengage is sending its clearest signal yet that it is serious about OER. Taking OER materials freely available online from sites such as OpenStax, Cengage has added its own assessments, content and technology to the materials, which will be delivered through an "intuitive, outcomes-based" platform that can be integrated into students' learning management systems. Focusing on general education, OpenNow has launched with courses in psychology, American government and sociology, and more courses in science, economics and the humanities will be available this fall.
The "open" in OER is commonly understood to mean that content should be openly licensed. Accordingly, Cengage says that all written content in the OpenNow platform, including assessments and some materials that were previously under a Cengage copyright, will be registered under an open CC-BY license so that institutions can adapt and customize the content to meet their own needs.
Though the course content is ready to use "out of the box," Cengage said that it can offer instructional design team services if desired. The OpenNow platform, and all its content, complies with Americans With Disabilities Act regulations.
Cheryl Costantini, vice president of content strategy for Cengage, said that the content in the OpenNow platform would be "available for anyone to use for free outside of our solution." But for those who want to use the OpenNow platform, fees start at $25 per student per course. "The $25 is for the delivery of content that's aligned to assessment and learning objectives, the additional assessments and videos we either curated or created, and the outcomes-based platform with personalization and analytics," said Costantini.
The $25 price point is in line with prices charged by Lumen Learning, which has also developed proprietary OER courseware, and which could be a potential competitor for Cengage. Though obviously more expensive than finding OER content and providing it to students for free, Cengage said that the $25 price point was still affordable and would ensure access to high-quality materials. The average price point for Cengage's other digital course-materials products is $80. Many general education courses have historically required the purchase of books that can easily top $100.
Asked why Cengage was choosing to move into the OER space now, Michael Hansen, Cengage CEO, said that the company is evolving to meet the needs of a changing market. "We respect that some of our customers want to use OER, and it has the potential to change the learning experience," said Hansen. "OER offers pedagogical flexibility -- instructors can change it, remix it, improve it -- and students can actively contribute to it. This can make learning more engaging and effective. Giving our customers this flexibility, while providing students value, is a positive thing for everyone," he said.
"Instructors aren't just looking for affordable content; they want the ownership that comes with OER. But it takes time to find and vet OER content that is current and accurate," added Costantini. She said that a pilot launched last year by Cengage, which blended OER and proprietary content, had taught the team a lot about working with OER. "We learned how to maintain and sustain this content. And we learned how to improve it and then give it back to the community," she said.
Richard Baraniuk, the founder of OpenStax -- a nonprofit provider of free, peer-reviewed OER textbooks, which is based at Rice University -- said he supported publishers and companies taking OpenStax content and adapting it. "We actually feel great about it; OpenStax is 100 percent oriented toward helping students, so we're in favor of any product or service that improves student learning and saves students money," said Baraniuk.
Asked if he minded companies making money from OpenStax content, Baraniuk said he didn't have a problem with companies charging for content they had added value to. He noted that while OpenStax does have several relationships with companies and publishers that provide OpenStax with a revenue stream, there are no legal restrictions on companies wishing to take OER content and build on it.
Phil Hill, the co-publisher of the blog e-Literate and a partner at MindWires Consulting, said he was not surprised by Cengage's OER announcement. "If you've been paying attention, you'll know that Cengage has been saying for at least a year that they wanted to get into this space," he said. Hill says he was surprised, however, at how aggressively Cengage seemed to be promoting OER with this announcement. "We've seen other publishers dipping their toes in, but this seems as if it is central to Cengage's strategy." He noted that the announcement could cause other publishers to accelerate their OER strategies. "The movement is not going away," he said.
While previously OER might have been viewed as a threat to publishers who set high textbook prices, Hill said he thought there had been a shift in publishers' opinion of OER "from threat to opportunity." He noted that many problems faced by traditional publishers -- how to reduce prices, how to enable customers to customize content, how to ensure students have their materials on the first day of class -- were problems that OER can solve. "So why not use OER to solve them?" he asked.
And indeed other major publishers -- such as Macmillan Learning, Pearson and McGraw Hill -- have been talking about the benefits of using OER, offering help in doing so or adding business lines focused on OER.
Hill noted that the timing of the Cengage announcement -- just before the annual Open Education Conference in Anaheim, Calif. -- was interesting. "I think this is going to cause a lot of heads to spin in the OER community," said Hill. "There are some who are antipublisher through and through, and others who don't mind who provides OER, as long as they are following open principles and providing cheaper curriculum to students. It's going to be really interesting to see what the receptivity to this news is at the conference."
Nicole Allen, director of Open Education at the Scholarly Publishing and Academic Resources Coalition, which supports the adoption of OER on campus, agreed that Cengage's announcement signaled a shift in thinking of big publishers towards OER. "The traditional publishing industry has done a complete 180 on OER," said Allen. While she said it was great that publishers were "getting with the program," she said it was important for consumers to keep asking questions.
"It's one thing to brand something as open, and another thing for it to actually be open," Allen said. "As OER has gained momentum, more and more companies want to attach themselves to the idea of being open. But for each product that's launched, we need to keep asking questions. Is it really open, or is it just being branded as open? Open is not just a set of attributes, it's a set of values and practices that make education better."