You have /5 articles left.
Sign up for a free account or log in.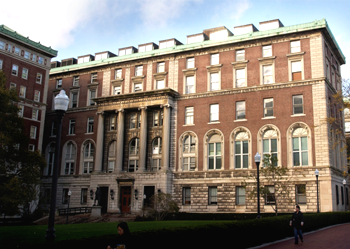 Wednesday evening, students at the University of Michigan blocked part of a talk by Charles Murray, the social scientist whose spring appearance at Middlebury College -- where he was shouted down -- set off national discussions of tolerance for controversial speakers. Before that, Columbia University joined the institutions that have had invited speakers interrupted by protesters, with a speaker invited by the College Republicans chapter being effectively shut down Tuesday night.
Murray at Michigan
At the University of Michigan Wednesday, students stood up and shouted, played music and used an overhead projector to point an arrow with the label "white supremacist" at Murray, MLive.com reported. Criticism of Murray centers on a book he co-wrote years ago, The Bell Curve. Its examinations of race and intelligence have been widely denounced as faulty social science with racist implications. But Murray and supporters deny that there is anything racist about what he wrote -- and he repeated that denial at Michigan.
Some students in the audience pushed back at those disrupting and said they wanted to hear Murray.
After a period when Murray was unable to present his lecture, many of those disrupting left and he was able to talk and answer questions.
Some video of the disruption was posted to Twitter.
On Twitter, Murray posted his reaction to his Michigan appearance, writing, "Mich lecture: 1st half same old SJWS caterwauling. They left. Interesting discussion with the remnant. Martini just arrived. Later."
Anti-Islam Speaker at Columbia
Tommy Robinson, an anti-Islam activist from the United Kingdom, was slated to speak via video chat at an event open to anyone with a Columbia ID. Protesters both shouted him down and peppered him with questions.
Robinson, whose real name is Stephen Christopher Yaxley-Lennon, bills himself as anti-extremist but has been affiliated with various anti-Islam activist groups over the years, and called the Quran "a violent and cursed book" on Good Morning Britain over the summer. Currently, he's a contributor for The Rebel, a conservative media outlet.
Video of the protest, posted to YouTube and embedded below, show protesters chanting "Go home Nazi scum" and holding signs reading "Stop pretending your racism is patriotism."
Answering questions from protesters, Robinson alleged there were only 50 Nazis in Britain, while there were "23,000 Muslims on the terror watch list." The 23,000 number appears to have come from the number of people designated as "subjects of interest" at some time by anti-terrorism authorities in the U.K., although the range of time that number covers, as well as the religious affiliations of those people, are not clear.
Statements like that, as well as Robinson's comments on the Quran, are what critics of Robinson have latched onto, saying he often conflates terrorism and extremism with the religion at large.
What will happen to the protesters at Columbia, however, is unclear, as is the case with student protesters across the country.
Columbia students appear to have run afoul of the student code of conduct, which has provisions against "disruption of university events." A spokeswoman said that any disciplinary actions, if applied, would be confidential.
Punishments Unclear
Columbia is not the only college not talking in public about potential punishments. That was the same response Inside Higher Ed received last week from the College of William & Mary after students in September shut down a talk set to be delivered by a speaker from the American Civil Liberties Union. The students were found to have violated the code of conduct, although a William & Mary spokesman said that any punishments would be protected under federal privacy laws.
"We do take what happened very seriously and are taking appropriate action," spokesman Brian Whitson said in an email Wednesday.
At the University of Oregon, where student protesters shut down a speech by the university president last week, a review of the incident was still ongoing as of Wednesday afternoon, meaning disciplinary actions were still up in the air, a spokesman said.
On Monday, Texas Southern University canceled a speech set to be given by a conservative lawmaker after protesters gathered at the historically black university before the event started. The university said the event was pulled at the last minute because it was not registered properly, but State Representative Briscoe Cain blamed the protesters. It was not immediately clear if the university was weighing any disciplinary measures.
Punishing students can be a controversial act itself, however.
Earlier this month at the University of Wisconsin, the System Board of Regents voted into place a set of punishments for protesters who repeatedly disrupted university events, with suspension and expulsion on the table. The policy mirrors Republican legislation that has stalled in the statehouse, and opponents of the measure said it would chill free speech itself and overstep the First Amendment rights of protesters by being too vaguely written.
Columbia, it should be noted, is a private university, and isn't under the same regulations as public universities when it comes to giving space for controversial speakers. However, in an email sent to Columbia students Tuesday afternoon, before Robinson's speech, Suzanne B. Goldberg, executive vice president for university life, said it is "foundational to Columbia's learning and teaching missions that we allow for the contestation of ideas."
The university, Goldberg said, did not want to be in the position of dictating which ideas were allowed on campus. Goldberg added that the university also has an obligation to reiterate its stances against white supremacy and Islamophobia.
"We reject those views and maintain our commitment to fostering a vibrant community founded on the fundamental dignity and worth of all of our members," Goldberg said.