Topics
A Late Condemnation of Homophobia
The president of Cleveland State University has been harshly criticized for defending free expression without speaking out against a flier that called for gay people to kill themselves.
When a poster urging gay, bisexual and transgender students to kill themselves appeared on the Cleveland State University campus, the president didn't condemn or criticize the fliers, as has become usual for college administrators faced with blatantly hateful expression on their campuses.
Instead, he defended free speech.
"CSU remains fully committed to a campus community that respects all individuals, regardless of age, race, color, religion, national origin, sexual orientation and other historical bases for discrimination," President Ronald M. Berkman said in a statement Monday. "CSU also is committed to upholding the First Amendment, even with regard to controversial issues where opinion is divided. We will continue to protect free speech to ensure all voices may be heard and to promote a civil discourse where educational growth is the desired result."
Now, activists, alumni and students are infuriated. In interviews they expressed puzzlement and anger over Berkman's reply, an unusual deviation from the typical response. University leaders are generally quick to take down and denounce hateful fliers. And many presidents of public institutions manage to do so even while noting the First Amendment issues that may prevent punishing the expression. As anger over his initial statement grew, Berkman backtracked and said he found the message of the fliers "reprehensible," adding a caveat that the "legal framework" made blocking such posters difficult.
The flier, posted last week (the same day the institution opened a new center for LGBTQ students) shows someone hanging by a noose, and statistics on queer people who consider suicide.
The top of the poster reads "follow your fellow faggots."
A spokesman indicated the poster would have been allowed to remain if the university's procedures had been followed, igniting further backlash and leaving advocates to question the institution's policies.
But Berkman was correct in that the poster was protected by the First Amendment, said Ari Cohn, a lawyer and director of the individual rights defense program with the Foundation for Individual Rights in Education, or FIRE, a free speech watch group.
"While the posters seemed to encourage individuals who identify as part of the LGBT community to commit suicide, that can't be proscribed any more than saying something like 'go kill yourself' in the context of a Twitter argument (which happens, often)," Cohn wrote in an email. "Regardless of how hateful and ugly the speech may be, it does not fall into an unprotected category of speech, and CSU is legally required to adhere to the First Amendment."
Hateful fliers have appeared on a number of campuses in recent months, but almost all of them are racially prejudicial, not attacking the LGBTQ community.
The president issued another statement Tuesday after vehement public criticisms.
"I wanted to acknowledge that yesterday I failed to express my personal outrage over a recent incident involving an anti-LGBTQ+ poster that was recently posted on campus," Berkman said. "While I find the message of this poster reprehensible, the current legal framework regarding free speech makes it difficult to prevent these messages from being disseminated."
He also announced he would lead a forum yesterday to discuss the campus's concerns. Spokesman William Dube, who did not respond to a request for an interview, instead emailed a statement confirming the poster's existence. Another statement regarding Wednesday's meeting is expected today.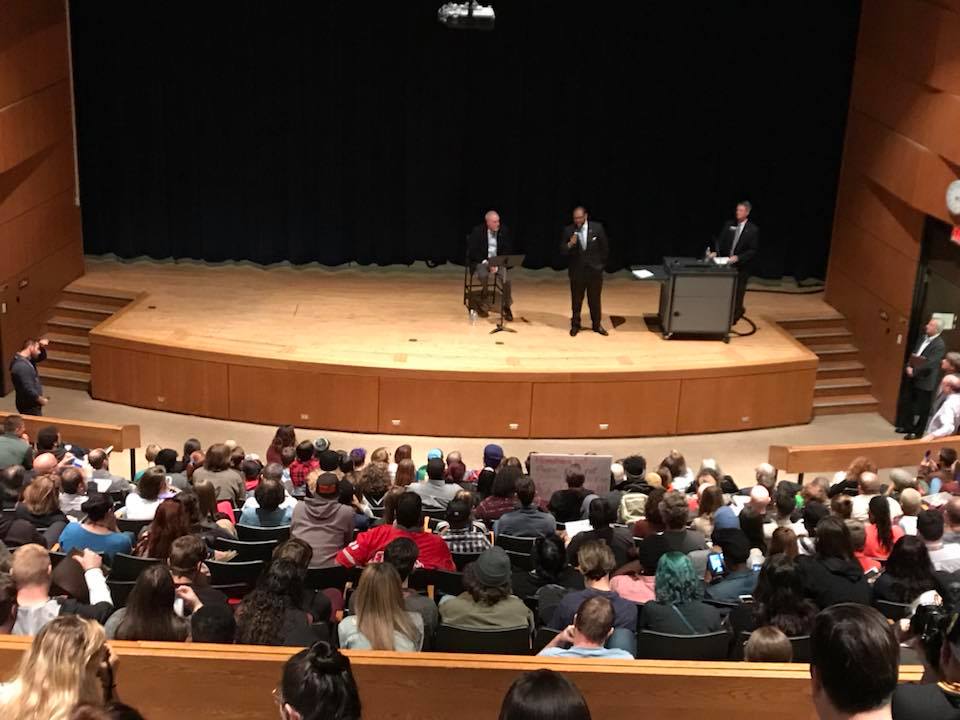 Still, this did little to satisfy some students. One junior, Molly Stachnik, helped plan an event today in the campus courtyard in which students who are members of minority groups could share how the president's response hurt them, she said in an interview.
Stachnik, who identifies as queer, said the campus and its administrators and professors are largely supportive and she has not dealt with homophobia there before. But she said in the current political climate that actions as simple as posting a hateful flier can snowball into much more serious events -- shootings fueled by discrimination, for instance.
"We want to make our voices heard," Stachnik said. "We want to send a clear message to Berkman that we're not going to stand for this, that this is not OK, we're not going let this get swept under the rug."
Both state and national organizations also said they were disappointed by Berkman's response.
Representatives from Equality Ohio, a policy-centric LGBTQ group, and the Southern Poverty Law Center, which tracks prejudice across the country, used the same word to describe the posters: "appalling."
Alana Jochum, executive director of Equality Ohio, questioned why the posters did not violate the university's antidiscrimination policy, which in part states that discrimination is "unwelcome verbal, nonverbal, graphic, physical, electronic or other conduct that subjects an individual to an intimidating, hostile or offensive educational or employment environment."
She said a forceful condemnation of the posters is required, as the fliers advocate for bloodshed against LGBTQ people -- she noted that the figure in the poster appears to have their hands bound.
"It is violence, it's targeting a specific population, and generally threats are not protected speech," Jochum said.
Equality Ohio reached out to the president's office directly offer assistance in helping repair the administration's relationship with the campus, Jochum said. If the university's policies allow for such a poster to be displayed, they should be re-evaluated, she said.
Lecia Brooks, outreach director for the Southern Poverty Law Center, said this was not "a free speech issue." She called the president's response "wholly unacceptable" and advised LGBTQ allies to draw attention to this on campus.
"The response of taking a poster down because it doesn't follow policy, or you have got to protect free speech before a condemnation of homophobia and the disgusting nature of the flier, is just missing the whole point," she said.
Phyllis Harris, executive director of the LGBT Community Center of Greater Cleveland, said in a statement she appreciated Berkman's "clarification" to his initial message, but said that leaders should "boldly" use their power to condemn hate speech.
"The focus of this conversation should remain on the physical and psychological safety of Cleveland State's LGBTQ community and not on the rights of those who wish them harm," Harris said.
The Human Rights Campaign, the largest LGBTQ lobbying group, also released a statement to Inside Higher Ed. "It's disappointing that CSU President Ronald Berkman failed to initially grasp the seriousness of the despicable anti-LGBTQ fliers that appeared on his campus," HRC's legal director, Sarah Warbelow, said. "It is particularly heartbreaking that these fliers, which used anti-LGBTQ slurs and cruelly talked about LGBTQ people and suicide, surfaced on the day CSU opened its new LGBTQ center. Universities have an obligation to ensure that students aren't being harassed and discriminated against. And while we appreciate that President Berkman followed up with a stronger message of personal outrage over the incident, it has never been more important for our leaders -- on campus and off -- to immediately recognize, condemn and take action when LGBTQ people and others in marginalized communities are viciously targeted."