You have /5 articles left.
Sign up for a free account or log in.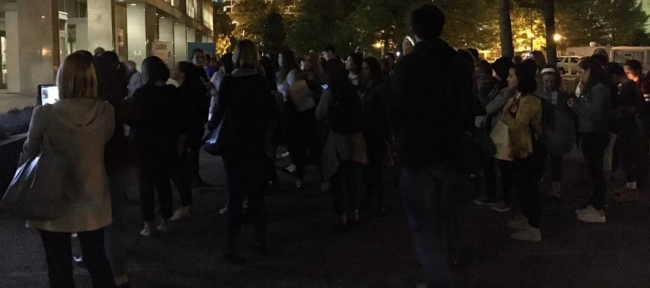 WASHINGTON -- Survivor advocates who have repeatedly claimed they were shut out of a process to shift existing federal policy on campus sexual assault gathered outside the Department of Education's headquarters Thursday to raise their voices on the issue.
Nearly a month after Education Secretary Betsy DeVos rescinded 2011 Obama administration guidelines on handling charges of campus assaults, advocates held a vigil to protest the rollback of those federal policies and to show continued support for survivors of assault. A crowd of between 100 and 150 gathered to hear statements from fellow survivors and declare their resolve in pushing back against the new direction under DeVos.
Survivor advocates say the 2011 guidance pushed colleges and universities to take sexual assault seriously for the first time by making clear their responsibilities to investigate and adjudicate claims of sexual misconduct. Jess Davidson, the managing director of End Rape on Campus and an organizer of the vigil, said in an interview that the Thursday event was a demonstration to survivors that advocates would not let the issue fall to the wayside.
"We were really seeing that survivors across the country were just feeling devastated. We were getting calls from clients who didn't know if they should stay in school or what this meant for their cases," Davidson said of reactions to the rescinding of the Obama-era guidelines. "We wanted to take a minute to honor and recognize what survivors are feeling right now."
Davidson said activists have seen success pushing campus leaders to maintain existing policies since DeVos rescinded the Obama guidance and issued new interim guidance to colleges and universities. Davidson said the secretary has yet to seriously incorporate the needs of survivors in her decision making.
"There is a really consistent pattern here where DeVos is locking survivors and survivor advocates out of the room and so they take to the streets," she said.
Liz Hill, a spokeswoman for the department, said DeVos has been focused on bringing all voices to the table in discussing campus assault policies. "To say that anyone has been kept out of the conversation is just false," she said. "The secretary and the Office for Civil Rights has met with numerous survivors and their advocates."
Hill said DeVos has said repeatedly that campus assault must be confronted head-on but that accused students must also know guilt is not predetermined. "Unfortunately, under the previous administration's directives, too many students were being failed by the system that was in place to adjudicate these horrific cases," she said.
Laura Dunn, executive director of SurvJustice, one of the group's involved in organizing the vigil, told attendees Thursday night that serious work is ahead for advocates of survivors. But she said they are organized in a way they were not before the Obama administration issued its guidelines.
"I remember distinctly how alone I felt as a survivor on campus," she said. "Look around you -- none of us are alone right now."