You have /5 articles left.
Sign up for a free account or log in.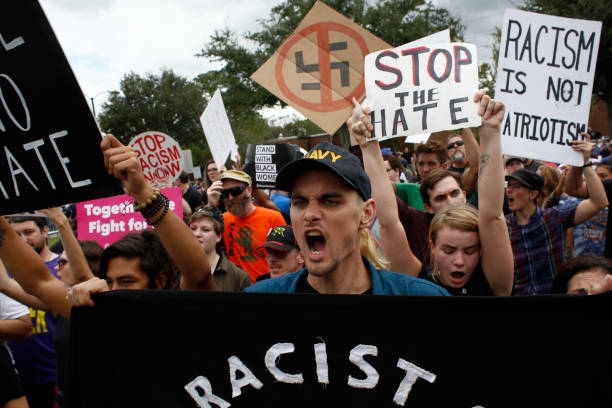 Photo by Brian Blanco / Getty Images
When Richard Spencer stepped out on stage at the University of Florida Thursday, it was following weeks of preparation, hundreds of thousands of dollars spent on security, and repeated condemnations by administrators and professors who said they deplored Spencer's brand of white supremacy but were constitutionally bound to let him speak.
He was instantly met with boos -- members of the crowd attempting to shout him down.
Anxieties both among students and university leaders abounded for weeks. This was Spencer's first event since he helped direct the deadly demonstrations in Charlottesville, Va., where white nationalists marched onto the University of Virginia campus and then the city, and one drove his car into a crowd, killing a woman.
But there were few reported scuffles and injuries in Gainesville. Spencer was able to address the crowd shortly after the scheduled 2:30 p.m. starting time. By a little after 4 p.m. Thursday, he had departed, though protesters still lingered. To those who worried about large-scale violence, or a legal dispute if Spencer had been unable to talk, there was relief on both counts.
W. Kent Fuchs, the Florida president, urged students to stay away from the Spencer talk. He spent part of the day in a booth set up by the Chabad Jewish Student Center to encourage students to respond to Spencer's hateful message by doing good deeds for others. At the end of the day, Fuchs tweeted a link to an article about that activity, and his take on it: "Love and good deeds always overcome hate and evil."
In a column published today in The Independent Florida Alligator, Fuchs cited the program to promote good deeds and other efforts Thursday as the ideal ways to push back against Spencer and his ideas. Fuchs praised the use of the social media hashtag #TogetherUF and discussions students had about diversity and race relations. Fuchs wrote that it was important to focus on strategies that "thwart Spencer's movement, not just for the few hours he was on campus, but forever."
And he wrote that trying to ban Spencer from campus (which he said wouldn't have been viable legally) or trying to prevent him from being heard are both strategies doomed to fail.
"I argue old strategies of protest, which include shutting down Spencer and chasing his followers out of town, are exactly what white supremacists need to attract attention and followers," Fuchs wrote. "For Spencer and his ilk, I believe the right strategy is to 1) shun the speaker, his followers and his events, and 2) as loud as possible, speak up with acts of inclusion and love and messages rejecting racism and white nationalism."
'Go Home'
From the moment Spencer began speaking at the campus arts center, the audience jeered. He was greeted with expletives and cries of "go home." A steady drumbeat of chanting continued throughout his talk, which soon morphed into a question-and-answer discussion after it was clear the crowd would not remain entirely hushed. Spencer was able to be heard and the chants were not so nonstop he couldn't make his points, though the audience overwhelmingly rejected them.
Spencer seemed to relish the reaction, casting his naysayers as "childish," calling them at one point a "mob" and "grunting morons."
"Why do you think that you need to suppress speech?" Spencer said as some members of the audience stood starkly giving him the middle finger. "The answer is because you know that what I am saying is true. You know what I am saying is powerful. You know what I am saying is going to change the world. And therefore, you all want to stop it. You're going to fail."
"Do you not want to hear something, poor little babies, that might contradict something your professor told you? Aw. Might you have to think a little bit, child?"
The university tried to maintain normalcy for the day, with classes initially proceeding as scheduled. But with protesters (most anti-Spencer) arriving, many professors called off classes. The scene outside where Spencer spoke was anything by normal. Snipers were positioned on building roofs, and more than 500 law enforcement members were spread across the campus.
The list of items forbidden at the event was lengthy -- no bags or purses, bottles or laser pointers, masks or bandannas. And no weapons.
A nearby hotel parking lot was flooded with police vehicles. Roads close to where Spencer was speaking were shut down. One student posted to Twitter that her bus stop had been shut down, and she arrived late to class only to find it had been canceled.
The demonstrations, however, remained relatively peaceful. Thousands of protesters gathered on the campus of more than 50,000 students -- one group screamed "Nazis not welcome here" as they marched down a sidewalk, a banner unfurled before them.
Two people were arrested Thursday. Sean Brijmohan, 28, brought a gun onto campus, according to the Alachua County sheriff's office. He had been hired by a media organization as security, police said. And David Notte, 34, was arrested for resisting law enforcement.
During the talk, which Spencer claimed was the biggest free speech event of the students' lifetime, almost none of the questions he fielded were serious inquiries of his platform -- in his words, promoting "white identity" and the creation of an ethno-state in America.
A couple of audience members asked why Spencer insisted on speaking to campus when its constituents clearly didn't want him there. Another asked him how it felt to be punched in the face, a reference to the infamous incident at President Trump's inauguration, in which Spencer was socked during a live interview.
One self-identified Florida alumna referenced Charlottesville when she addressed Spencer. She had asked how Spencer would respond to people who say that he should take responsibility for violent acts committed in his name and the name of the so-called alt-right, the far-right-wing movement characterized by racist and anti-Semitic views that Spencer helped create.
"Name a single incident in which some alt-rightist went out and murdered someone," Spencer said.
The alumna responded, "Charlottesville," citing the death of Heather Heyer, who police said was struck by a car driven by James Alex Fields Jr., a reported white nationalist from Ohio.
Her killing "remains unclear," Spencer said.
The crowd screamed back, "It's your fault."
"All I demand is that he receive a fair investigation, and a fair trial," Spencer said, referring to Fields. "Which I fear he may never get because he is used as a scapegoat. The fact is his vehicle was attacked. His vehicle rammed into another vehicle mysteriously, that rammed into other people, then other people were injured as he was attempting to escape. This is a very strange method of committing murder." (Spencer's account differs considerably from those of onlookers and law enforcement.)
An attendee asked Spencer why he felt multiculturalism was a determent to society.
Spencer launched into a nostalgic story of "peak America" that his parents knew in the 1950s, with diners, ice-cream dates and drive-in movie theaters -- a "white America in the midcentury."
He said that his generation was born "strangers into our own land," a country defined by the Immigration and Naturalization Act of 1965, which ended immigration quotas.
"All institutions have been a part of … what's called 'the great erasure,'" Spencer said.
Though a line of Spencer's fans sat in the front row, many in plain white shirts, almost none took a turn at the microphone. They left through a side door shortly before Spencer ended his talk. One of his supporters did ask him how to stop religious infighting within the alt-right, especially when some of its more devout followers couldn't look to Spencer, a self-professed atheist, as a leader.
Spencer responded, "That's unfortunate," and said he wouldn't deny Christianity its place in European history.
The university spent weeks arranging Spencer's visit after first denying his request to appear in the wake of Charlottesville, citing safety considerations, but he was eventually allowed him to reschedule, amid his threats to sue if he was not permitted to speak.
Auburn University earlier this year canceled a talk by Spencer for the same reasons, but a graduate student from Georgia State University filed a lawsuit on Spencer's behalf then, and with a judge's court order he was able to address the Alabama public institution.
Shortly after Charlottesville, white nationalists publicly linked the events there to planned campus rallies, giving colleges and universities a legal route to block Spencer, lawyers have said in interviews.
The university has spent upwards of $600,000 on security, bringing in the additional police presence from across the state. Florida Governor Rick Scott, a Republican, declared a state of emergency in part to help coordinate those forces.
Spencer himself spent a fraction of what the university paid -- a little more than $10,000. Per a Supreme Court case decided in 1992, Forsyth County, Georgia v. The Nationalist Movement, institutions are not allowed to pass high security fees along to a speaker, as it's a potential way of restricting free speech.
Florida administrators were deliberately vocal in denouncing Spencer's message, while simultaneously trying to explain their obligation, as a public institution, to accommodate him. Members of a faculty union at Florida and students had created petitions urging the university to stop his speech.
But President Fuchs tweeted before Spencer's talk, "I don't stand behind racist Richard Spencer. I stand with those who reject and condemn Spencer's vile and despicable message."
Spencer thanked police and the university at the end of his talk before once again turning to the crowd, telling them he and the alt-right would continue "to fight."
"The world is going to look at this event, and the world is going to have a very different impression of University of Florida because you acted this way. And let me tell you, the world is not going to be proud."