You have /5 articles left.
Sign up for a free account or log in.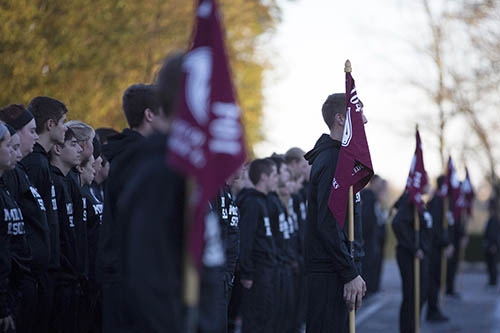 Quick quiz: Where is Omaha Beach?
If your answer was Normandy, France, the site of the D-Day landings, you're correct. But Jerry Davis is worried that kids these days might wager Nebraska.
That's why the College of the Ozarks, where Davis is president, has launched a new required course for freshmen -- dubbed Patriotic Education and Fitness -- to combat what he sees as rising anti-American, antipatriotic sentiments in American culture that have been "bubbling for many years." How much that is true versus how much that is his perception is certainly up for debate, but given that one of the college's five pillars is "patriotic education," the course certainly fits the culture of the Christian liberal arts college.
The college held a media day for local outlets in Point Lookout, Mo., Monday to show off the new four-credit course, which was piloted both semesters last year and debuted in earnest as a requirement for freshmen this semester. At the media day, a formation of students marched through campus and stood at attention as Davis addressed them. Terrence Dake, a Board of Trustees member and retired Marine general, told them to stand at ease before continuing with another address.
Speaking by phone with Inside Higher Ed Wednesday, Davis had criticisms of the younger generation but said the course -- which combines elements from ROTC programming, physical education courses and the college's patriotic education pillar -- was about building a positive citizenry.
"We can all be patriots, but we all can't be in the military. But we need to understand each other," he said. "We think that higher education should take a leadership role in closing what we think is a cultural gap, if you will, between the 99 percent [of American citizens] that don't serve in the military, and the 1 percent that does."
"We don't need that gulf to widen -- we need it to close."
The course includes physical- and military-oriented education components -- such as map reading, rifle marksmanship, military organization and protocol regarding the American flag -- as well as civics and government aspects. While the course is certainly oriented toward patriotism, it isn't necessarily partisan; the college's website prominently lists both College Republicans and College Democrats chapters as ways for students to become civically engaged.
"We don't need a bunch of kids running around thinking Omaha Beach is in Nebraska," he said. "There's a remarkable amount of ignorance in college students, no matter what their grades, nowadays. And it goes back to how they've been taught."
Davis wants colleges to "be intentional" about patriotism. But as the National Football League has come under scrutiny with accusations of "forced patriotism" in putting its players on the field for the national anthem, Davis rebuffed the idea that requiring a course on patriotism might dilute its purpose.
"We require them to take English and other things, because we think it's important," he said. "It communicates a value, that it's important."
He added that in his four decades as a college president, he's "never found students reluctant to criticize anything," from parking lots to dining-hall options, and doubted that this course would leave to students reluctant to criticize the military or the United States.
Davis also said that he had received inquiries wondering whether the course was a reaction to recent protests by NFL players -- originally started last year by former San Francisco 49ers quarterback Colin Kaepernick -- which involve kneeling during the national anthem. The protests have played out in various sports and at various colleges as a way to protest police brutality against African-Americans, but its detractors have said it's disrespectful to the military. The College of the Ozarks concurred, and in September, Davis announced that the Bobcats would not play opponents whose teams don't stand for the national anthem.
"The college itself has a patriotic goal. And if you look at what that goal is, we define it as [encouraging] understanding of American heritage, civic responsibilities, love of country and willingness to defend it," he said. "That's one of the ways we do that, is with this course. It's not a reaction to something."
While he said that "people in this part of the country" generally aren't fans of "disrespect of the national anthem," he also believes that had been the consensus for a long time.
Though the course will almost certainly draw liberal or leftist detractors from around academe, Davis expressed confidence in the course's potential to be a positive impact in students' lives.
"I want them to have an appreciation for the country in which we live. They should understand how it works, and they should understand more about the military and how it operates," he said. "And they should come away with the idea that we're all Americans, and we have these things -- or should have these things -- in common."
"If you're going to be a good citizen, we can't think of a better way to prepare you than to take a class like this."