You have /5 articles left.
Sign up for a free account or log in.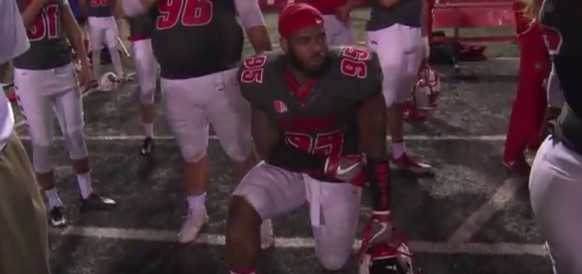 When members of teams across the National Football League knelt during the national anthem before their games on Sept. 24, it was a defining moment for the protest against racism and police brutality started by former San Francisco 49ers quarterback Colin Kaepernick last year.
It also raised a question: Would the movement, which had gained more steam than ever before -- thanks, in part, to President Trump's tweets lambasting it relentlessly -- spread to college athletics?
Over the last week, coaches of football teams across the country fielded questions about kneeling, institutional policy and where they stood on the issue. For the most part, college teams are in the locker room during the anthem, so there isn't an opportunity to protest. At the same time, at least one college issued an order for players to stand during the anthem.
Five players at the University of New Mexico took a knee on the field while the anthem played after the first half of their game against the Air Force Academy Saturday, the Associated Press reported.
The anthem -- and the protest -- appeared to catch coaches off guard, although weather delays had also scrambled most of the pregame ceremonies.
"We've never been out there for the national anthem, and the agreement was that there wasn't going to be a national anthem played," New Mexico coach Bob Davie said.
Air Force coach Troy Calhoun told reporters he didn't mind, and the crowd reportedly didn't react much.
"That's their right," he said. "They live in a country where they're allowed to do that. We've got service members all over the world currently and who have served, so if somebody chooses not to stand, they're allowed to. There's no law and there should be no law and it should be your choice."
That's not a universally shared sentiment, however. On Friday, the College of the Ozarks, which does not have a football team, announced it would ban any protesting during the national anthem during its sporting events. The college also called for opponents to be held to the same standards.
"The College of the Ozarks will not play in games where disrespect is exhibited toward the American flag or national anthem," Jerry C. Davis, the institution's president, said in a statement. "Opponents are pledging to meet the college's expectations for respect of the national anthem and American flag. Otherwise, our college will not participate."
Players at Assumption College in Worcester, Mass., opted for what one of the players called a display of "brotherhood and unity."
While the national anthem played, players placed their hands on the person standing next to them or in front of them in line, in an effort to make a statement during the anthem.
"We felt like we couldn't sit back and do nothing, because we feel that social injustices are going on in the world. We wanted to get together and send a message, but a positive message more than anything else," Assumption receiver Ashton Grant told the Worcester Telegram.
"The world outside of here this summer wasn't lacking for any social injustices," Assumption coach Bob Chesney said, "and for our guys and anyone that wants to make a stand or speak out against those things, [the national anthem] seems to be the platform in our sport. We discussed, 'Is there something we need to do?' and if there is, we need to do it all together."
At Cornell University and Brown University, while players were in the locker room before their respective games, some band members took a knee while playing the anthem, according to reports.
At the same time, protests by students continued off the field, with students at St. Michael's College in Colchester, Vt., taking a knee during a protest that included athletes and student activists.
"We organized mostly in support and in solidarity with people of color who are experiencing racial oppression, racial injustice, against police brutality and in solidarity with our athletes here on campus," the organizer of the event, student Melanie Castillo, told the local NBC station.
"I took an approach from an athlete's perspective. You take a knee in competition to respect a person, whether they are injured or have been fouled wrongly. Your fellow teammate, an American citizen, is being hurt. They need to be recognized," St. Michael's basketball player Winston Jones, who attended the protest, told reporters.
At Clemson University, several student senators last week remained seated during the Pledge of Allegiance that starts student government meetings.
These protests aren't the first time that college students or athletes protested during the national anthem. Last year, a handful of players at the University of Michigan and Michigan State University raised their fists during the anthem at their respective home games over the same weekend.
A cheerleader at Georgia Tech took a knee last year during the anthem before a game as well, although protesters -- and detractors -- were busy talking about it last week. Raianna Brown, the cheerleader, shared a year-old picture of her protest on Twitter over the weekend that the NFL protests occurred.
"For me, it's not about being disrespectful toward the country or toward the flag itself. It's more making a statement about what's going on in the country that's being ignored," she told The Cut in an interview after her tweet went viral.
Brown said she received both negative and positive reactions when she knelt, both of which were revived again when she shared the picture this year -- a sign of how politicized the issue remains.
"This time it most definitely has gained a lot more traction, probably just because overall in media the #TakeAKnee hashtag has gained a lot more traction as well," she said. "This time I've actually gotten a lot more, I guess, blowback; as far as social media, there have been a lot more negative comments. But the negative comments are really outweighed by all the positive support I have received."