You have /5 articles left.
Sign up for a free account or log in.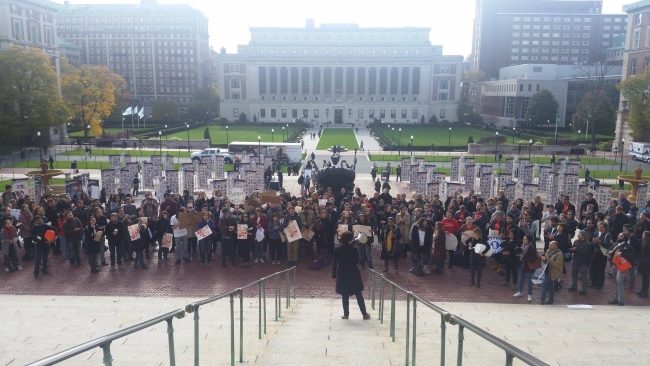 Advocates for graduate student unionization at private colleges, underway for decades, were hopeful in the early years of the Obama administration that they would reach a breakthrough with a Democrat-appointed National Labor Relations Board.
Despite some setbacks, they eventually made progress with the NLRB -- but it wasn't long before Donald Trump's 2016 presidential win added to organizers' problems. In September, the U.S. Senate confirmed his second nomination to the NLRB, pushing the five-member board into a Republican majority.
As many colleges and universities have made themselves prominent and outspoken opponents of various Trump administration policies -- such as the rescinding of the Deferred Action for Childhood Arrivals program, various implementations of the travel ban targeting several Muslim-majority countries, and Education Secretary Betsy DeVos's revisions to policies regarding sexual assault investigations -- opposition to graduate student unionization could prove to be a common ground for Republicans and college administrations.
The debate around unionization centers on whether graduate students should be recognized as students or employees. Observers thought a major 2016 NLRB ruling regarding Columbia University graduate students' efforts to unionize would be a catalyst for unionization at private institutions, but the students have yet to win recognition from the university despite a vote in favor of unionization, as extensions and appeals requested by the university have drawn out the case.
Although multiple universities have seen votes for graduate student unionization, New York University remains the only private institution to reach a contract with its graduate student union. And now, as cases remain pending, rulings from the NLRB are likely to be less sympathetic to graduate students in favor of unionizing.
Despite the changing political climate, Olga Brudastova, a Ph.D. candidate at Columbia, said that she remains optimistic about the push toward unionization.
"Columbia was hoping our movement would die out by now, but it's going on even stronger because people feel the urgency of a lot of [other political] issues that are under attack," said Brudastova, who joined a protest at Columbia Wednesday. Boston College, Boston University, Northeastern University and Harvard University also saw demonstrations as part of an organized effort to petition their respective campuses for union recognition.
"I really don't think it is possible, it's not feasible" to lose momentum, Brudastova said, citing additional votes in favor of unionization at Tufts University and the University of Chicago over the past year. "The movement is not of the size that can be neglected at this point."
Jocelyn Fuentes, a Ph.D. candidate at Harvard who participated in a protest Wednesday, also expressed confidence in the Harvard unionization movement. Harvard officials did not respond to a request for comment, though the university and its graduate student organizers are disputing the results and voter rolls related to an election held in 2016 where the unionization effort was defeated.
The election of Trump "means we might have to work harder," she said. "But I don't think we've lost any momentum this semester."
Still, union organizers appear to have hit a snag, timing-wise. A major inspiration for unionization efforts at Columbia, Brudastova said, was when NYU voluntarily recognized its graduate student union in 2013. In midterm elections the next year, Democrats lost their majority the Senate after Republicans had already worked to block and delay Obama's NLRB appointments. Though the 2016 ruling was a bright spot, 2017 looks rough for organizers if universities and unions don't reach agreements outside the NLRB.
In a statement, Columbia University reaffirmed its position that graduate students' relationship to the university is of the student-university sort, rather than employee and employer.
"The daily activities and the adviser-advisee relationships involved in scholarly training define an experience very different from that of the typical workplace," the statement read. "Involving a nonacademic third party in this training poses a substantial and perhaps unavoidable risk to the university's core function of producing world-class scholars."
Boston College took a similar approach.
"Our position remains that our graduate students are best characterized as students -- not employees -- and that the collegial relationship that exists between our faculty and students would be irreparably altered through graduate student unionization," spokesman Jack Dunn said via email.
In addition, Dunn said that Boston College's status as a faith-based institution should make it exempt from the jurisdiction of the NLRB. Labor law does give certain exemptions to religious institutions, but the NLRB under the Obama administration opened the way for unions at religious universities, provided there was a clear separation of issues for collective bargaining from issues of theology.
Writing to Harvard, Boston College and Columbia Wednesday, Vermont Senator Bernie Sanders -- who during the 2016 presidential campaign often tried to engage with unionization efforts during stops at college campuses -- sided with the students' efforts.
"To appeal this decision to an antiworker, Trump-appointed National Relations Labor Board [sic] is not something that a world-class institution of higher learning should do," the letters read.
The alignment of the Trump administration and universities on the unionization issue, and the juxtaposition that created after colleges had become outspoken against Trump, was not lost on students, either.
"It's not particularly surprising that [Harvard is] aligning with Trump on this issue, but it is disappointing, given they have, in various public statements, said how much they'll oppose the Trump administration," Fuentes said. "I find it disappointing as a grad worker that they would use the Trump administration to weaken labor rights."
More from Career Development