You have /5 articles left.
Sign up for a free account or log in.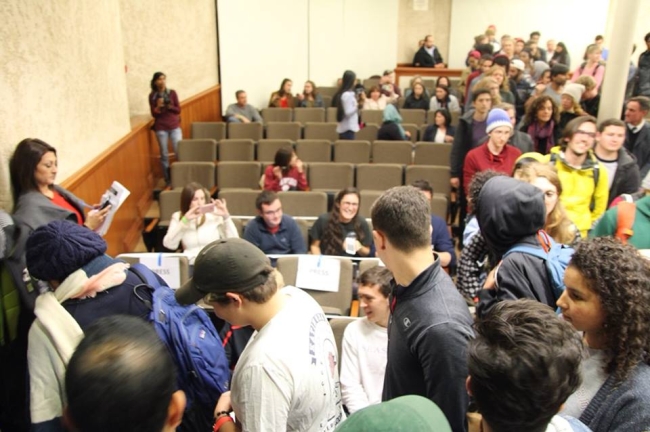 In a digital war of words, Robert Spencer, widely considered to be an anti-Islam extremist, mocked Stanford University students who criticized him before his talk at the elite institution Tuesday night. On his blog Spencer named students, posted photos and videos of them, and referred to them as "fascists."
Student organizations and faculty members publicly expressed deep concerns with both Spencer's invitation to the campus (extended by the Stanford College Republicans) and his continuous "harassment" of students online.
Stanford administrators remained silent on specific blog posts by Spencer, but released multiple more general statements. One statement from President Marc Tessier-Lavigne and Provost Persis Drell did not reference Spencer, but promised an inclusive campus environment. They also at length defended the need for free speech in higher education.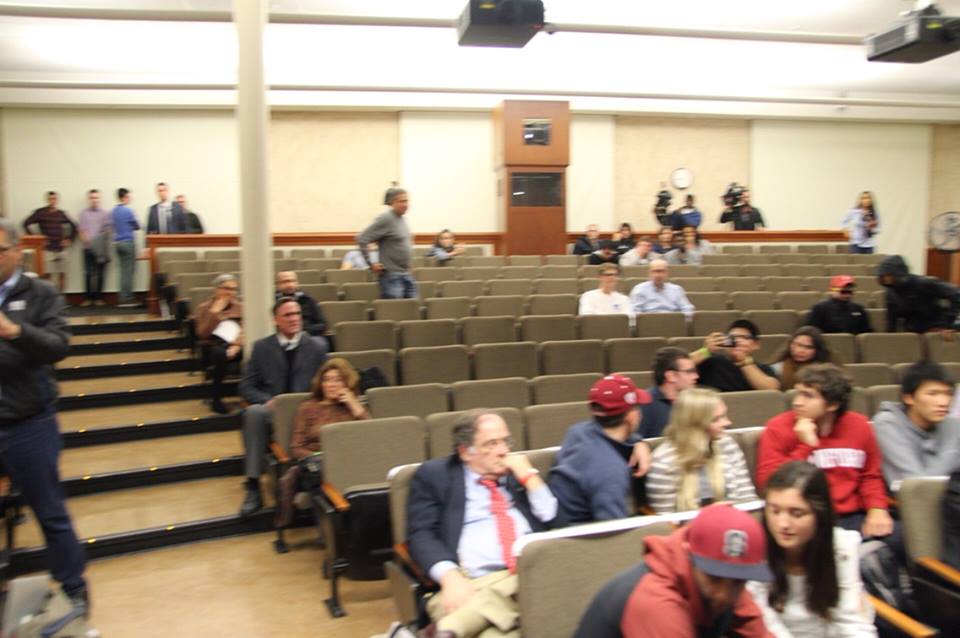 On Tuesday night, hundreds protested Spencer's speech outside the venue. More than 100 students opposed to Spencer entered the auditorium and took seats. Then shortly after he started to speak, they stood and walked out. They did so silently and did not attempt to disrupt the speech. Students posted photos to social media (at right) suggesting that only a small number of people remained in the room after the walkout.
As a private institution, Stanford has no constitutional obligation to allow Spencer on campus -- it is governed by its own policies.
The most recent announcement last Thursday, by Susie Brubaker-Cole, the vice provost for student affairs, and Jane Shaw, Stanford's dean of religious life, acknowledged "the emotional impact" of Spencer's visit, but said that nothing could "undercut the fact that Muslim students are an integral part of our community."
"Significantly, in relation to the talk next week, the president and provost underscore our university's commitment to freedom of expression, which allows groups in our community to host speakers of their choice provided university policies are followed and imparts upon each of us a responsibility to ensure that speech can proceed without disruption.

However, the president and provost also emphasize that this commitment empowers each of us to exercise our own free speech, "to call out hate when we see it," and to speak forcefully and peacefully against injustice. These are values we know Stanford community members -- of all faiths and none -- feel deeply about.
Robert Spencer -- who is unrelated to the white nationalist Richard Spencer, who has dominated headlines in recent months for his speeches at public colleges and universities -- has been deemed by civil rights organization the Southern Poverty Law Center one of the country's most "prolific and vociferous anti-Muslim propagandists."
He was barred from the United Kingdom, where he and Pamela Geller, co-founders of the Stop Islamization of America group, were due to speak at a rally by another fringe conservative organization, in 2013 because his presence would "not be conducive to the public good," according to statements from the U.K. government.
Spencer has detailed his credentials deeply on his website -- he has authored 17 books and delivered seminars on Islam to the Federal Bureau of Investigation as well the federal Joint Terrorism Task Force. Fundamentally, he believes that Islam is a violent religion.
Spencer has disputed the SPLC's characterization of him and questioned the center's validity. In an email to Inside Higher Ed, Spencer wrote that SPLC has tried to destroy "legitimate organizations" and "stigmatize legitimate positions." He wrote that his opposition to "jihad terror" has been lumped in with the likes of neo-Nazis and the Ku Klux Klan.
For at least a week, Spencer has responded on his blog Jihad Watch to multiple opinion writers in Stanford's student press, at times dissecting the students' and professors' grievances with him line by line.
He has also criticized and identified students who have simply openly disagreed with his views or the event.
In one post Monday, Spencer wrote about and identified one student, and linked to a 2016 article in the student newspaper The Stanford Daily, in which the student was quoted.
After a Muslim student published an essay titled "I Will Never Belong in the Stanford Community," detailing her discomfort with Spencer, in the political student magazine The Stanford Review, Spencer sardonically picked apart nearly every sentence of it.
"Her piece here wringing her hands and claiming victim status over my scheduled appearance at Stanford next week is a masterpiece of self-dramatization, featuring outlandish claims that would have moved me to laughter were it not, hang it all, for the pathos of this poor girl's plight. I shed a few tears in solidarity with her, while giggling behind my hat," Spencer wrote.
Spencer ridiculed in several posts made by another student -- whom he referred to as a "fascist." In the video, posted to Snapchat, someone purported to be the student is shown tearing down posters advertising Spencer's event. The video was first flagged and written about by national right-wing group Young America's Foundation, which orchestrates with campus conservative groups to schedule appearances by controversial speakers like Spencer.
Young America's Foundation coordinated with the Stanford Republicans to bring in Spencer.
The foundation has paid for the fees associated with these speakers -- in this case, some of Spencer's expenses, Stanford spokesman E. J. Miranda said.
The College Republicans covered most of the costs with its designated funding from student government. (In one column, student groups claim that the student government funding was as much as $6,000.)
The university also chipped in some, though Miranda declined to identify how much.
Asked if the university felt Spencer was inappropriate in naming students on his blog or whether it was grounds to refuse to host him, Miranda wrote in an email, "The university will be reviewing various issues related to this event after it has concluded."
At least eight professors and others on Monday wrote in The Stanford Daily that Spencer's blog has opened students and faculty members to harm. They said that while they respect free speech, Spencer's actions need to be addressed by the university -- they called on the institution to take "ethical action" as determined by its code of conduct. It is unclear if they were asking for Spencer's invitation to be revoked.
A coalition of student groups, largely representing minority students on campus, has also written in the student paper demanding that the Republicans cancel the event -- or if not, then the campus boycott it. Spencer's appearance has been condemned by both the Undergraduate Senate and Graduate Student Council.
Immediately following the event, student affairs staffers will be available at a gathering in one of the university unions. A group known as Stanford Against Islamophobia, created after Spencer was invited, also held a counterrally Tuesday night at the Mitchell Earth Sciences building on campus.
In his statement to a reporter, Spencer said he appreciated that Stanford has allowed the event to proceed in the face of "enormous pressure," but said its acceptance of a "smear campaign" against him does not bode well for the health of open discourse at the institution.
"All my work has been in defense of the freedom of speech, the freedom of conscience and the equality of rights of all people before the law," he said. "I've never made broad-brush statements about Muslims in the aggregate, contrary to repeated claims. I've never called for violence, never justified violence, never approved of violence. I'm merely calling attention to the jihadis' use of Islamic texts and teachings to justify violence and oppression."
The Stanford Republicans, in a column for The Stanford Review, said the group requested Spencer because he has provided thoughtful arguments backed by evidence. They said there is "arguably no greater threat" than "radical Islamic terrorism."
The event was not open to the public -- only students and a small number of outsiders picked by the Republicans could attend. Spencer had said he would arrive with his own security.
On a question-and-answer webpage, Stanford said disrupting a campus event is not allowed and may lead to consequences.
Hot-button speakers, among them Richard Spencer, and former Breitbart editor Milo Yiannopoulos, have toured campuses the entire year, with their appearances at times greeted by vehement demonstrations and violence. Prominently, controversial author Charles Murray was shouted down at Middlebury College, which led to 74 students being punished, though none were suspended.