You have /5 articles left.
Sign up for a free account or log in.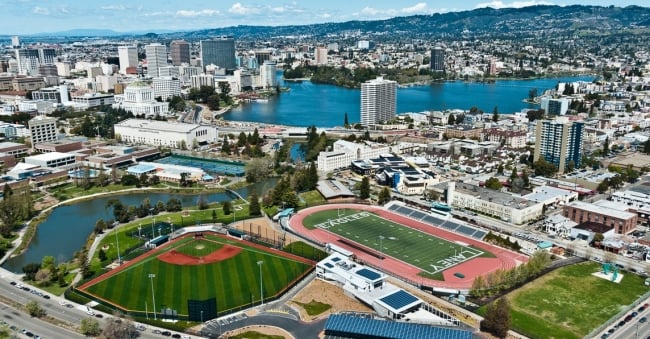 It's not every day that a community college gets courted by a Major League Baseball team.
It's also not every day that a community college gets to turn away a professional baseball team, either.
But that's exactly what happened Tuesday evening when the Peralta Community College District's governing board directed its chancellor to "discontinue planning for a community engagement process on a possible baseball stadium."
The Oakland Athletics have spent about a year examining where to build a new ballpark in the city. In September, the A's announced that they wanted to build the new, 35,000-seat stadium on a district-owned 15-acre property near Oakland's Laney College, which is one of Peralta's four two-year institutions.
The Athletics' plan promised to address displacement of residents and small businesses and to create new affordable housing and well-paying jobs. The team also proposed opportunities for partnerships on mixed-use developments that would help generate revenue for the district.
But faculty groups, students and community organizations have been vehemently opposed to the proposal.
"We're all really excited," said Jennifer Shanoski, president of the Peralta Federation of Teachers and a chemistry instructor at Merritt College. "Especially in these times when people feel so powerless with everything happening to us all the time. Here's an instance where good old-fashioned organizing and grassroots organization worked."
In a team statement released Wednesday, the A's said they were "shocked" by the board's decision not to move forward.
The news also caught Oakland leaders by surprise.
Jowel Laguerre, the district's chancellor, said the board didn't make its decision specifically because of opposition from the campus groups, but because they want to focus on assessing the needs of the college and seeing what other partnerships are available.
"The district will build on its shared governance model to reimagine the district's needs and the resources to meet them. We will develop a robust and inclusive internal engagement process to assess our needs and partnerships aligned with our mission. The Board of Trustees will continue due diligence in determining the costs and benefits of potential development," the board's statement said.
In an interview with Inside Higher Ed, Laguerre pointed out that Peralta has challenges with its infrastructure and wants to focus on better addressing the housing and food-insecurity needs of its students.
"The board is really focused on the long-term future of the district and not necessarily the opposition that came up for something that was not well detailed," Laguerre said.
A lack of details helped keep faculty and students from supporting a ballpark on college property.
The A's "approached the district and administration well, but there was not a lot of transparency and openness with faculty, staff and students," Shanoski said. "They tried to do these sort of listening tours, but there was never any information being provided."
Laguerre said there wasn't anything for people to be against because the proposal wasn't a project yet, just a concept.
"It's easy to say yes or easy to say no but more difficult to say, 'Let's think about this and how can this happen,'" Laguerre said. "Even though we're not using the Oakland A's project to ask those questions, that's what we're asking. How can we use the resources we have and what kind of partnerships can we develop?"
For the different groups on campus, the A's couldn't sufficiently address concerns around the potential impacts of a new ballpark on the college and surrounding area.
Community and faculty groups raised concerns on issues ranging from the effect of construction and game noise on classes to displaced housing and gentrification in the neighborhoods surrounding the college.
"We didn't make a knee-jerk reaction," said Donald Moore, president of the Laney Faculty Senate and an anthropology professor. "Part of it was listening to the Oakland A's and getting a bunch of supportive comments and no meat behind it. No substance."
Moore said whenever anyone raised concerns about traffic or displaced businesses, the team would make reassuring statements about mitigating any problems the ballpark would bring, but they did not provide details or research to explain how they would solve those problems.
Laguerre said some of the issues faculty raised, like noise concerns, could have been addressed once the proposal was farther along in planning. But the experience of receiving an offer has helped the college learn how to deal with development and partnership proposals, he said.
Meanwhile, many people around Oakland are eager to keep the team in the city, especially after the Oakland Raiders received approval from the National Football League to move to Las Vegas in 2019. Prior to selecting the college's land, the A's considered a waterfront site or a new stadium near their current home at the Oakland Coliseum.
Moore said with the Raiders leaving for Las Vegas and the Golden State Warriors abandoning nearby Oracle Arena for San Francisco, the A's could have the Coliseum to themselves to redevelop and improve that neighborhood.
"We want to keep the A's in Oakland, as well," Laguerre said. "I believe in and stated we need to do everything we can to keep the Oakland Athletics in Oakland, but it's not just Peralta's job to do that. It's the whole community that needs to come together around that particular issue."