You have /5 articles left.
Sign up for a free account or log in.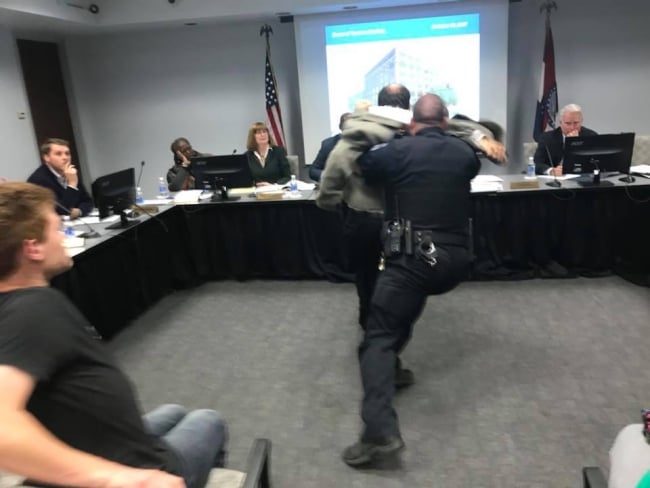 Faculty and staff members at St. Louis Community College started receiving layoff notices last week.
Layoffs would cause tension at most colleges, but in this district, a dispute recently led to an adjunct faculty member being tackled by police at a board meeting. And last month, a few students who protested faculty and budget cuts at a Board of Trustees meeting received conduct letters warning them about their disruptive behavior during the meeting.
"Faculty, adjuncts and full-timers are being treated poorly at a public state institution, and the students are organizing and sticking up for teachers," said Sean Thomas, 36, a sociology major at the college.
Thomas was one of about 10 students who protested at a Nov. 30 board meeting that announced about 70 faculty members and 25 staff members would receive layoff notices. The students got down in front of the table where board members sit and shouted and chanted for more than an hour as the trustees debated and later voted on the layoffs. The board expects the cuts to address a budget deficit that is expected to grow by $13 million a year by 2020. The district has a $200.7 million budget this year.
The layoffs follow substantial cuts in state funding and decreases in enrollment over the past couple of years. But protesters blame the college's poor finances on administrative pay raises and a plan to build a new allied health facility.
"I'm very sorry we had to go through this process, as this was not easy for anyone," said Chancellor Jeff Pittman. "We are notifying folks … that they've been identified as part of the reduction plan, but at the same time we're doing everything we can to mitigate that."
This year STLCC saw a $5 million cut in funding from the state. Combined with decreases in enrollment, Pittman said, the college needed to make adjustments to balance the budget and "rightsize" faculty and staff levels with current enrollments. The district received about $43,359,367 this year from the state.
This fall, STLCC had about 18,800 students enrolled across the district; just 10 years ago there were more than 25,100 students enrolled. Pittman said the enrollment decline is probably due to a number of factors, but he points to the improved job market as a primary reason for low enrollment. But Pittman said he thinks the turnover in administrative leaders may have had an impact, as well.
Emily Neal, associate professor of political science at the college and president of the full-time-faculty union, said she doesn't buy the argument that instructor numbers should decrease because enrollment has decreased, especially when research shows that smaller faculty-to-student ratios are better for students.
"There were many places at this institution where we could potentially find savings," Neal said, adding that resources could have been reallocated and more faculty members could have been moved from regional campuses to the main campus.
Pittman said the board had already found cost savings by offering a voluntary buyout program this summer, of which 117 employees took advantage. The college is also selling its downtown headquarters, which is expected to save money. Meanwhile, the administration has proposed another round of voluntary buyouts.
A statement released Friday by the STLCC chapter of the National Education Association, which represents the college's full-time faculty, said, "On multiple occasions at public meetings and in private negotiations, we have explained why leadership's plans to cut faculty, decrease benefits and eliminate programs are counterproductive to increasing enrollment or to balancing the school's budget, especially as STLCC continues to increase administrator salaries and pay unnecessary consulting fees."
The faculty group's statement also said that the board and Pittman have failed to act in "good faith" with the NEA to explore other options to avoid the cuts.
"Decisions that aside from devastating the lives of over 50 faculty have also effectively accelerated a once innovative college's decline. The most disturbing aspect of these layoffs is they represent the Board of Trustees' betrayal of the community's trust in them to provide affordable quality education to all," the statement read.
The faculty union also wrote that if the chancellor and the administration continue to refuse to work with instructors to resolve STLCC's challenges, they will call for a vote of no confidence in Pittman. 
"We ultimately fear that if the chancellor, his team and the Board of Trustees remain on this path, their legacy will not be a new $39 million allied health building, but the death of a once great community college whose demise began at their own hands on Dec. 12," the statement said.
As of Friday, the faculty union counted 58 instructors who had received layoff notices, with the majority -- 14 professors -- working in English. Nine were reading instructors (outside English) and seven are counselors.
"This administration has little to no regard for fostering the basic literacy skills that are necessary not only for any certificate or degree but also for an informed and educated citizenry," the faculty union wrote.
Steve Taylor, an adjunct math professor at the college, said he and other instructors and students believe Pittman and the administration are ideologically driven to see the college change into a "technical school."
"This institution has for a long time been a place where middle-class and lower-middle-class people could go … get two years of education and transfer to a four-year institution, and there seems to be less interest in doing that," he said.
However, Pittman said, the administration took into account the need for faculty based on the demands in each department and whether there were state or accrediting body restrictions on the number of faculty members needed per student.
"It was a rather straightforward approach in a wide range of disciplines and programs," he said. "Many disciplines had difficulty meeting [student] load. We were still staffed up for 30,000 students, but now we have about 20,000."
Altercation at a Board Meeting
Taylor, who is now on administrative leave from the college, was tackled and arrested by police in October during a Board of Trustees meeting after he allegedly charged toward the area where the board members and the chancellor were sitting. He later received treatment at a hospital for bruised ribs and injuries to his face and shoulder.
That meeting was held to discuss wages and contracts for adjuncts. Taylor was upset that the board banned applause for speakers during public comments but allowed applause for administrators, he said.
Thomas, the sociology student, said that was when students began organizing for professors, once they learned adjuncts were being "paid close to poverty wages and barely enough to live on." Taylor said he teaches about eight classes a semester, drives 105 miles a day to multiple campuses and only makes about $30,000 a year.
Adjunct faculty at the college typically make anywhere from $2,500 to $3,000 per semester for one- to three-credit courses, said Stacie Manuel, an organizer with Service Employees International Union Local 1, which represents adjunct faculty members at the college, adding that the adjunct faculty union argued for a 5 percent increase recently in wages and were able to win a 3 percent increase that is retroactive to January. However, that number won't become final until the union votes to accept the increase.
Manuel equated the job situation for adjunct faculty members the way corporations hire part-time workers to keep labor costs low. The adjunct union, for instance, fought in negotiations this fall for job security measures that full-time faculty already enjoy, like being paid for preparation time even if classes are canceled and receiving hiring or promotion opportunities above job candidates who don't already work at the college.
"The bulk of classes are taught by people who make poverty wages, and if they want to be able to make a living, they have to cobble enough work from multiple places," she said. "It's common for people to work in three or four different schools. You don't see adjunct faculty able to make ends meet at one school."
The adjunct faculty members had been working for about four years to improve working conditions at the college, but it was when students learned this fall about the low wages their adjunct instructors earned that they began to get involved, Manuel said.
"Educators at the community college are being mistreated and, we, the students who have benefited from having excellent instructors, will ultimately suffer," Thomas said, adding that the students also presented Pittman with alternative ways to save money, including not constructing the approximately $40 million new allied health building, which will also house the new administrative offices.
Thomas said he was the first person to speak at the meeting where Taylor was tackled and arrested. He says students were told to be silent and not applaud for one another, which was when Taylor approached the board about the suppression as a violation of students' rights. At the board meeting where trustees voted for faculty cuts, Thomas said, students protested loudly so that no one but the trustees could hear themselves.
"We were being ignored the entire time; even with such a public outcry of support for faculty, they ignored our presence and continued with the vote," he said.
But last week, during finals week, the students received letters stating their enrollment at the college could be affected because they violated the student code of conduct by disrupting the meeting. Thomas said the letter detailed that he would need to meet with a dean to discuss the situation.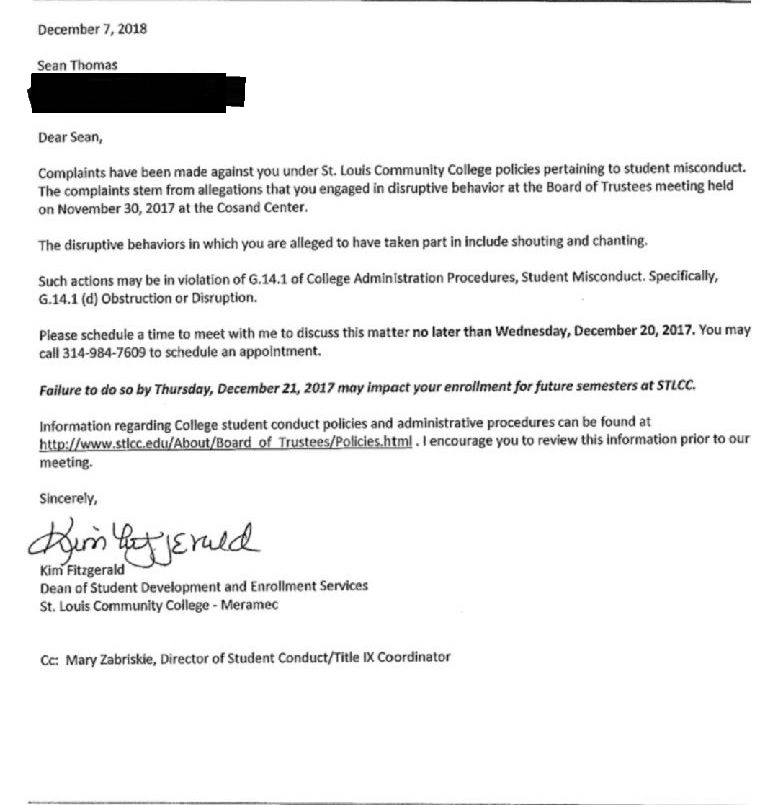 "They were disrupting college business, and we couldn't conduct the meeting in a normal fashion," Pittman said. "We just want to make them aware as an educational institution that conducting themselves in that way could cause consequences down the road as they finish college here and go on into life. If people want to protest, we have designated protest areas. If they want to stand outside the downtown office, they can protest all they want."
But Thomas said the entire situation and the way the college has treated students has forced him to rethink whether he wants to graduate from the college or transfer to a university without finishing at STLCC. Thomas, an honors student and president of the student newspaper, has one class left next semester before graduating.
"I don't necessarily want to tout STLCC, and I don't know if I necessarily want to be like, I started my education at this place," he said. "But on the flip side, being a person who studies sociology and the institutions that make up our society, I also don't want to run. I feel like I'm at this point where leaving STLCC means we're leaving it to the whims of the administration completely, and if that's the case, then in a few years students in St. Louis who don't want to learn technical skills won't have a place to go to learn philosophy, the arts, music. And that's what scares me the most."
Pittman argues that the new allied health building will have minimum impact on the operating budget. The college has set up a more than $36 million bond structure for the new building that will allow STLCC to pay interest on the new bonds until their existing debt is paid off. After 2019, the college's total debt is projected to decrease even with the new building, he said.
The college is tearing down two towers on its Forest Park campus that Pittman said would cost more to renovate in order to make way for the new building.
"This reduces our facilities footprint, and by selling our downtown building and putting up a modern building to reduce costs, I see us coming out and netting savings," he said.
But Pittman and his administration are being criticized for also seeing pay increases. Pittman argues that the college has reduced administrative costs by eliminating campus presidents and vice presidents and setting up a provost model.
A 2017 Missouri Department of Higher Education compensation survey of presidents and chancellors shows Pittman's base annual salary last year was $260,000, not including retirement or benefits. He also receives a $29,000 housing allowance and $11,100 automobile allowance. Those numbers are estimated to increase this year. The survey shows that his base salary is estimated to increase to $267,800, not including retirement and benefits, although his housing allowance is expected to decrease to $24,000. Among Missouri's two-year chancellors and presidents, Pittman's compensation package was the second largest last year. The survey shows the president of Ozarks Technical Community College made about $1,000 more. However, for 2017, Pittman is estimated to become the highest-paid chancellor among the state's community college leaders, with a total compensation of about $343,400. The numbers have been attracting attention as faculty members have criticized the high and increasing pay of STLCC administration.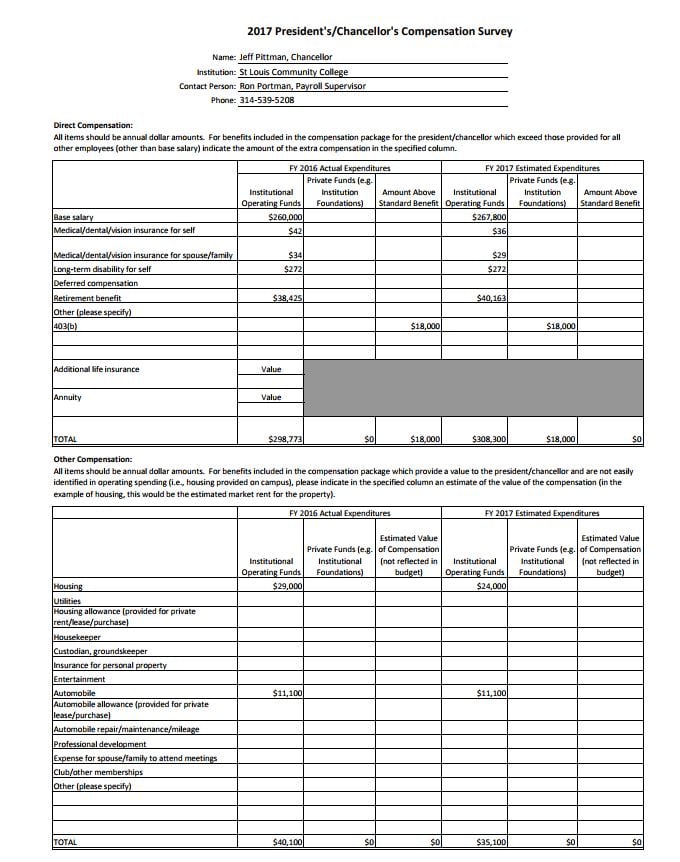 Meanwhile, Pittman said, the college has found new revenue to help the budget situation in other places. Despite overall enrollment decreases, the college has seen a 33 percent increase in dual-enrolled students, who total nearly 1,000 students. There has also been an 8 percent increase in new first-time student applications this year.
Pittman said despite the layoff notices, if a number of faculty members take the early buyout, some instructors will be asked to stay.
"We're going to look at new ideas going forward to increase revenue and enrollment at the college," he said. "How can we look at a new business model going forward, because states are going to continue struggling with the budget."