You have /5 articles left.
Sign up for a free account or log in.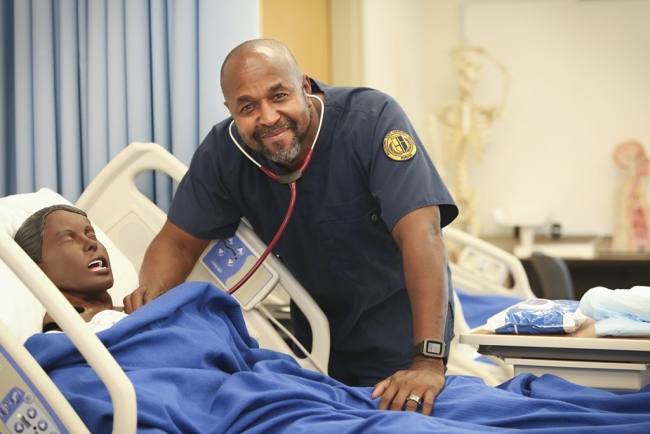 Tennessee has received numerous accolades for its push over the past few years to increase college access.
But a recent report on the retention and completion rates of the state's most vulnerable college students show that access alone isn't enough if Tennessee wants to reach its goal for 55 percent of adults to hold a degree or certificate by 2025.
Complete Tennessee, an education advocacy group, found that despite increases in overall retention rates during the last five years at the state's public and private institutions, African-American students at the state's community colleges still remain 10 percentage points behind their peers. Likewise, three-year community college graduation rates remain relatively low, averaging 20 percent in 2016. The state is ranked 44th in the country in degree attainment, according to the Lumina Foundation.
The group also found that adult enrollment across the state's colleges has dropped by 25 percent since 2011.
"The Tennessee Promise has dramatically expanded postsecondary access and opportunities for students who traditionally may have experienced barriers to entry," Kenyatta Lovett, Complete Tennessee's executive director, said in an email, referring to the state's free tuition initiative established in 2014. "However, to help close achievement gaps, more must be done to address the challenges students face beyond tuition -- such as balancing work and family obligations with classes."
Lovett said the wave of new students enrolling in Tennessee's community colleges in recent years has forced the institutions to think more creatively.
The state's two-year sector grew by 2 percent from 2016 to 2017, to more than 86,600 students. And retention at the colleges has also increased -- by three percentage points from 2011 to 2015. But that improvement hasn't translated to black students.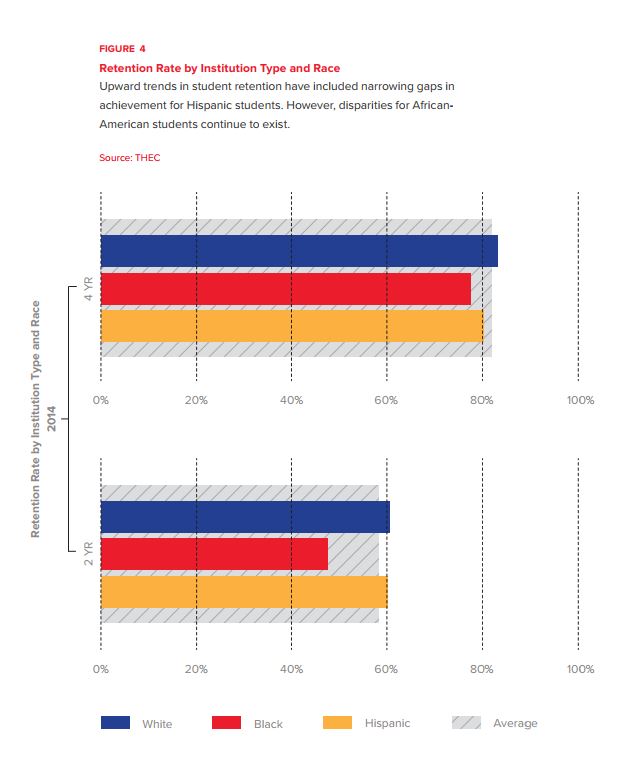 "Our next big part of the work is around retention," said Mike Krause, executive director of the Tennessee Higher Education Commission, adding that the year-to-year retention rate for community college students is about 56 percent overall. "But that leaves a large number of students we still need to get to completion."
There are still unanswered questions about why students are leaving the institutions, but one indicator Krause points to is "summer melt," or that period of time between the end of freshman year and the beginning of sophomore year.
"We're looking at some approaches through summer bridge programs and encouraging continuous enrollment," he said. "We've had a promising bridge program for three years now that has been successful for students needing remediation … Our thought now is, what do you do in summer at a nonresidential community college to keep students engaged?"
Krause said this year each institution and campus leader will set equity goals and plan out strategies to help their students from underserved groups.
The state is also starting a program with the Lumina Foundation to specifically tackle equity in its colleges and universities by deploying retention strategies that have proven useful at Georgia State University, Miami Dade College and the City University of New York system.
Five public institutions -- East Tennessee State University, Jackson State Community College, Southwest Tennessee Community College, the University of Memphis and the University of Tennessee at Chattanooga -- were selected as "exemplars" for Lumina's Talent, Innovation and Equity initiative. Lumina is beginning a similar program in Colorado.
The five institutions will replicate programs like mentoring and using text messages to offer academic or financial advice to students.
"Tennessee has actually done a tremendous amount across policy areas," said Scott Jenkins, strategy director at Lumina, adding that the state has built an ecosystem focused on access and providing college for traditional and nontraditional students.
But the state also recognized another challenge, Jenkins said, adding that increasing the state's college attainment rate can't happen without increasing rates for low-income students and students of color. Lumina has set its own national college credential attainment goal of 60 percent by 2025.
"And they're not going to get there if they don't connect with adults," he said.
More than a year ago, state officials realized they were about 870,000 degrees short of reaching the 2025 goal of 55 percent degree or certificate attainment.
However, Krause said, the decreasing adult enrollment numbers aren't too troubling a sign because of the state's low unemployment rate.
Typically, colleges enroll fewer adult students when the economy has improved and unemployment is low. According to October's labor statistics, Tennessee had a 3 percent unemployment rate.
The report "shows the challenge getting adults into higher education," Krause said, adding that many adults may be employed in jobs that seem like a really great deal for them, even though it may not be "a durable job that will withstand the next economic downturn."
Even so, Krause said the problem of declining enrollment for adults could change once Tennessee Reconnect launches this fall. The initiative is an expansion of the Promise program and offers last-dollar tuition and fee-free access to qualified students at the state's community colleges. Applications for the program will be available Feb. 15.
Lovett, of Complete Tennessee, agreed and is hopeful Reconnect will reverse the state's downward trend with adult student enrollment.
"Traditionally, adult students do well once enrolled in college," he said. "However, the feedback we received from our listening tour last year called attention to alarming realities of limited access and support resources for many adults in Tennessee."
Jenkins said it takes time, sometimes years, for adult students to go from the initial decision of wanting to return to college or to go for the first time to actually enrolling.
"Not all of our adult-serving institutions are adult friendly," he said. "They may say that, but they're only adult friendly as long as you show up in August."
For example, a truly adult-friendly institution might have up to 10 academic start dates for students instead of only two, Jenkins said. "With the economy in a strong position, we'll have to have a really strong message to adults on why college can lead them to a better employment outcome."
That message can't just be about the value of four-year degrees and technical certificates, Krause said.
He pointed to Pellissippi State Community College as an example of what the rest of the state can expect to see once it opens doors to adult students.
When the state decided last year to fund tuition-free college for adults for fall 2018, Pellissippi made the decision to begin the program a year early.
The college didn't want its current and potential adult students to delay enrolling for 15 months just so they could participate in Reconnect, said Ted Lewis, vice president of academic affairs at Pellissippi. So the college spent more than $2 million to launch Reconnect early.
This fall it enrolled 3,248 students over the age of 24 out of more than 11,168 students. Of the adult students, about 1,500 received Pellissippi's Reconnect scholarship. Over all, the adult population at Pellissippi increased from 24 percent of total enrollment last year to 29 percent this fall, Lewis said.
The boost in adult students helped increase the college's overall student enrollment by 9 percent, he said.
"We launched an ad campaign to let the community know we did have Reconnect dollars available to students and we also restructured the way we're delivering our classes," Lewis said. "A large number of students are employed. Our employment rates are very good, so we redeveloped courses and offered them on Saturdays. We started a weekend college on one campus and increased online enrollment."
Lewis said beyond making adjustments to scheduling, the college created a support program called Pellissippi Achieves for Adult Learners. The program creates a network for adult students to interact together and have mentors, career, degree and family planning options, like day care and transportation services.
"The Reconnect will only require two courses a semester, and that's doable for many adults," Krause said. "It'll be challenging, for sure, but for the 97 percent of Tennesseans working right now, being able to work and attend a college aren't mutually exclusive."