You have /5 articles left.
Sign up for a free account or log in.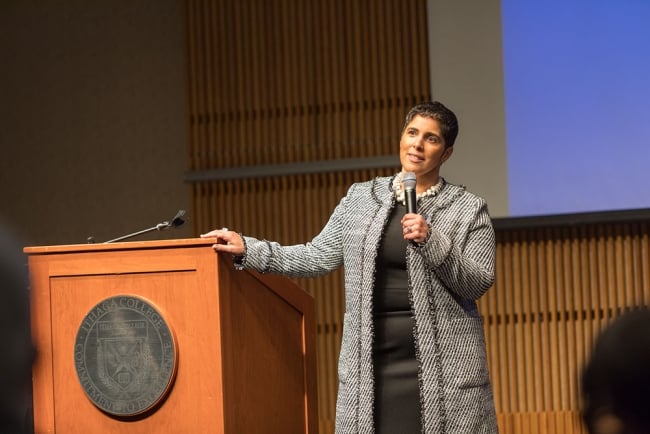 More than 16 years ago, Shirley M. Collado pleaded no contest to a count of misdemeanor sexual abuse in D.C. Superior Court.
She had been charged with allegedly touching in a sexual manner a therapy patient she was treating. The patient had also lived with Collado for a short time after she had been treated by Collado.
Today, Collado is the president of Ithaca College. She acknowledges inviting the patient into her home, and she has publicly confirmed pleading no contest in court. But she says she delivered the plea under extreme circumstances and did not commit the touching or other acts that were alleged. On the contrary, she was trying to help someone in need at a time when she herself was suffering her own intense emotional pain, she says.
The court case and surrounding allegations have been thrust into the limelight this week after student newspapers published detailed accounts of allegations and events said to have taken place when Collado was training as a trauma therapist at the Center at the Psychiatric Institute of Washington. The Ithacan published an extensive piece Tuesday. So did The Vanderbilt Hustler, which covers Vanderbilt University, where Collado is a member of the Board of Trust. Both publications wrote about the case after receiving anonymous packages in the mail containing court documents.
It is a harsh turn of events for a president who received attention for her exceptional personal history when she was hired last year. Collado, the daughter of immigrants from the Dominican Republic, has been noted as the first college president who entered higher education through the Posse Foundation, which sends groups of disadvantaged students to enroll together at colleges.
In response to the new scrutiny of Collado's past, Ithaca College's Board of Trustees has voiced strong support for her. Trustees say they were well aware of the case when they hired Collado and that it was part of vetting that took place before she was publicly named Ithaca's incoming president in February. Collado has posted her own lengthy statement denying any sexual impropriety and saying that she pleaded no contest at a time when she was pressed financially and emotionally.
The situation is notable because it comes at a time when allegations of sexual assault, harassment and impropriety -- some of them dating back many years -- have rocked numerous college campuses and leadership teams. But it also stands out because it offers an unexpected reflection at the top levels of higher ed of a criminal justice system some say is tilted against the poor. Unlike many college presidents, Collado comes from a background of limited means and says money played a factor in her plea at a time when her career was just starting many years ago. In addition, Collado's and Ithaca's willingness to address the situation head-on has caught the attention of many crisis communication professionals.
"This is not new news," Collado said in a telephone interview with Inside Higher Ed. "This is a story that I shared very, very openly before I became president. It's public record, highly visible."
Publicly Discussing a Plea
Collado has publicly referenced the case virtually from the moment she was announced as Ithaca College's incoming president in February. The college posted a Q&A with Collado on March 1 that explained some of the history. A former patient who "struggled with significant psychological disorders" sought Collado for help when she didn't have anywhere to go, she said in the Q&A. Collado said she "went out of my way to help her" but that it backfired because she was not in a position to help. The incident took place shortly after Collado's husband committed suicide about three years into their marriage, Collado wrote.
The former patient made "claims against me," Collado said in the Q&A. She said she fought the claims for a while but did not have the resources or social capital to continue.
"I was in my 20s, and I had just tragically lost my husband, so I decided to take steps to end the legal action so that I could focus on taking care of myself and moving on with my life," she said in the Q&A. "It was a very difficult decision, but it's the kind of decision that young people face daily when they feel they have no options, no resources, and no outside support."
The Ithacan included far more detail in the article it published this week. Collado pleaded nolo contendere, or no contest, in August 2001 to a single charge of placing a hand on a patient's clothed breast with sexual intent, the student newspaper wrote. Collado was a 28-year-old recent graduate of Duke University and the patient's therapist at the time the incident was alleged to have taken place.
The nolo contendere plea meant Collado was accepting conviction but not admitting guilt. After such a plea, a case continues as if a guilty plea was entered. Collado received a 30-day suspended sentence, 18 months of supervised probation, an order to complete 80 hours of community service and a $250 fine. She was ordered to stay away from the patient.
The student newspaper's account also details allegations that the patient and Collado kissed and had other sexual encounters. Court documents from prosecutors show employees at the center believed the patient's allegations, The Ithacan wrote.
Collado denied the allegations again in her interview with Inside Higher Ed. Her plea covered one situation: putting a hand on the body outside of clothing, she said. She pleaded no contest because of financial and emotional constraints but denies all allegations through and through. She did not have a sexual or romantic relationship with the patient -- and the patient was no longer her patient during the short time when they lived in the same home, she said.
Although she tried to help the patient by offering her a place to live, it became clear to Collado that she had not made a good choice, she said. A therapist allowing a former patient to live with her violates professional norms.
"I was going through my own grief and loss, and I needed to move on, and I did my very best to make that transition as smooth as possible," Collado said. "Shortly after that, and only after that decision, this person got in touch with the Center and made allegations about behavior that had occurred on the unit, and I was floored."
Scrutinizing a Presidential Candidate's Past
Those most familiar with the search process that led to Collado's hiring say they were aware of the case early on. It came up "in conjunction" with a background check, said Jim Nolan, a trustee who chaired the search committee and chairs the Ithaca Board of Trustees' governance committee.
Nolan declined to describe in additional detail how the case was discovered -- if the then candidate for president brought it to the college's attention or if it was discovered by the college in the due diligence process. But he said both the board and search committee had comprehensive discussions about the issue.
"There was a point in time we felt it was really important for Shirley to have the conversation with all the search committee members," he said. "As board members, we had access to the court documents. And we talked to the on-campus members of the search committee about the pertinent details and made them aware."
Some of the information was sensitive and needed to be put into context, Nolan said. Collado's references were also fully checked.
Several faculty members who were on the search committee felt that the process was the right one to follow, given the sensitive and painful nature of the allegations and the time of Collado's life in which they took place.
The committee needed to be told about the case, said Claire Gleitman, an English professor and president of the Faculty Senate for Ithaca's School of Humanities and Sciences, who was on the search committee. Committee members were given an appropriate amount of information for making a recommendation, she said.
Seeing the new details does not change Gleitman's belief that the process and recommendation to hire Collado were appropriate.
"These days, the past is never past," Gleitman said. "The people I've heard from -- and I've heard from a fair handful -- have been expressing very strong support for President Collado and regret on her behalf."
Asked whether a therapist living with a former patient was a lapse in judgment, Gleitman said it is clear in retrospect the action was a mistake. But it was made at a time when Collado had lost her husband and was trying to act out of compassion.
"I think it was an error of judgment that is both understandable and also, as far as I can tell, an entirely isolated incident," Gleitman said. "I don't think we see any evidence whatsoever of further errors in judgment that would lead us to think it was a character flaw. I think it's really important to emphasize that this was an isolated event that happened in her past."
A Way Forward?
College presidents are expected to set the agenda, inspire students, faculty and staff, and raise money from donors. Those are tasks that might be difficult given the unwelcome attention foisted upon Collado this week. Yet her backers do not think her ability to lead will be compromised.
The president is carrying on during a brief but intense period of scrutiny, Gleitman said. Nolan, the trustee and search committee chair, described the events from 2000 and 2001 as formative experiences for the president.
"I would say the life events that people experience form, over time, their judgment," Nolan said. "It becomes part of the fabric of how people make decisions."
Meanwhile, broader faculty reaction has been muted. Few have reached out to discuss the topic with Thomas Swensen, a professor and chair of Ithaca's department of exercise and sport sciences who chairs the college's Faculty Council and was also on the search committee that selected Collado.
"The lack of comments right now is maybe a statement," he said. "I'm not quite sure how to interpret it."
The attempts to share information and be open have likely helped the college in the public eye, according to crisis communication experts. In many ways, they have made moves that are right out of the playbook for handling potentially damaging information.
Leaders sometimes have an instinct to hide in similar situations, said Susan Jacobson, president of the Philadelphia-based public relations firm Jacobson Strategic Communications.
"It's not a time to hide," she said. "This is a time when she's really got to show strength through adversity. People are really watching her."
The student newspapers' reporting has provoked strong reactions on social media from a range of commenters, some arguing in support of the president and some debating the way the situation adds to ongoing discussion about sexual abuse. Still others have been critical of Collado's past actions.
Collado continues to be bothered by the fact that someone anonymously sent details about the case to student newspapers. She feels targeted, she said.
But she still thinks she can lead the college. Some of her closest colleagues in higher ed leadership have penned letters in support of her.
Nancy Cantor, the chancellor at Rutgers University Newark, wrote that Collado shared facts about her early career when she was executive vice chancellor and chief operating officer at Rutgers, the position she held before coming to Ithaca.
"Shirley remains a treasured colleague of profound integrity and compassion, admired by those who have had the privilege to work closely with her," Cantor wrote. "We have every confidence in her and consider the Ithaca College community very fortunate to have her as its leader."
Collado wanted to come to Ithaca and treat it as a place where she could lead and be herself, she said. She wants to draw strength from her past.
"Yes, many of us have narratives that are complicated and hard and challenging," she said. "This was an experience, like college, that was formative for me. And it's an experience I wish on no one."
Collado came to Ithaca after the college's former president, Tom Rochon, decided to leave following intense criticism of his handling of racial incidents on campus. Collado has also been executive vice president of the Posse Foundation.