You have /5 articles left.
Sign up for a free account or log in.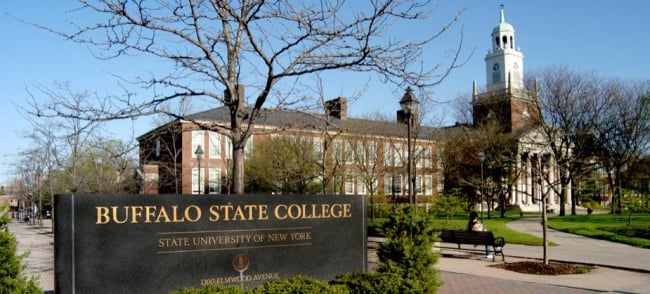 In the spring of 2015, a female athlete withdrew from the State University of New York's Buffalo State College, later saying the college failed to take her allegations of sexual assault by a male athlete seriously.
An investigation by the U.S. Department of Education's Office for Civil Rights last year confirmed the woman's claim that she had suffered gender-based discrimination when Buffalo State created a hostile environment by not properly responding to her complaint.
A November letter outlining OCR's findings, released via a public records request, shows that despite knowing about the alleged sexual assault, campus officials in 2015 were operating under the assumption that a proactive investigation wasn't necessary because the incident took place off campus and they never received a formal complaint. Neither assumption accurately reflected federal Title IX law or regulations.
College officials also didn't act on several requests by the woman, including for excused absences from the classroom, which led her to withdraw, the civil rights office found.
An agreement reached between OCR and Buffalo State in October called for the college to make several steps, including a reimbursement of the student's non-tuition-related expenses for the semester she dropped out (she was already reimbursed for the cost of tuition) and retraining of key staff members on Title IX requirements.
Catherine Lhamon, the department's civil rights chief under the Obama administration from 2013 until January 2017, said she was glad to see the Office for Civil Rights aggressively enforcing the law. And she said after some confusion following the release of new federal guidance last year on sexual harassment and assault, the letter reconfirms institutions' obligation to investigate incidents that occur off campus.
Details of Complaint
The female student (referred to in the OCR letter as the complainant) in January 2015 reported to Buffalo State police that she was sexually assaulted by another student, a member of a men's athletic team. Campus police originally took the complaint and, because the alleged incident took place off campus, referred the case to the Buffalo city police department.
The complainant, her mother and an advocate from an off-campus crisis services center requested several measures from the college before the student returned to campus, including her alleged assailant's removal from a course section they both attended and the excusing of absences accrued while she was at home recovering.
Buffalo police eventually would conclude that there was not sufficient probable cause to make an arrest for the alleged assault. OCR's findings describe campus officials' own handling of the incident as inadequate and say they created a hostile environment for the woman.
Although college officials eventually arranged for the student's alleged assailant to enroll in a different course, that information either wasn't conveyed to the complainant or she didn't believe assurances from college officials, leading her to avoid attending the course entirely, even after returning to campus. The college apparently failed to issue a no-contact order to the alleged assailant. And although college officials indicated they would address her absences from class, the woman later found out from professors that the absences and work she missed while recovering at home would not be excused.
OCR found that Buffalo State's communication with the female student about Title IX grievance procedures was limited and confusing, leaving her without a clear understanding of the process and an impression that college officials were seeking to convince her not to file a complaint.
"The complainant asserted that she withdrew from the college because the college made [her] feel unsafe, like the assault was [her] fault, and that [she] should just get over the fact that [she] was sexually assaulted and move on,'" according to the OCR letter.
The woman also alleged that her coach notified the coach of her alleged assailant's athletic team about the assault. (OCR said it could not find evidence of the claim. And the complainant's coach, as well as the men's coach, disputed that the complainant was identified in conversations.)
The documented failings of college officials were numerous, though, OCR found.
After the alleged sexual assault was reported to Buffalo State police, the civil rights office said, college officials had an obligation to immediately investigate what happened, regardless of whether the female student directly reported the incident to administrators. But officials failed to do so, under the belief that they were not required to take action when an alleged incident occurred off campus or if an individual did not file a formal complaint.
Federal investigators also linked the failure to act on measures sought by the student -- such as the excusing of absences -- to her eventual withdrawal. And college officials couldn't provide a reasonable explanation for not having taken action on the absences, OCR found.
"The documentation provided to OCR by the college indicates that it not only failed to investigate the complainant's allegation of sexual assault, the college failed to conduct any assessment of whether the complainant was subjected to, or continued to be subjected to, a hostile environment," the determination letter said.
Those failures occurred despite an agreement reached between OCR and the State University of New York system just two years before the alleged incident in January 2015. That resolution followed a Title IX compliance review of multiple SUNY campuses, including Buffalo State, and called for each campus in the system to provide Title IX training to appropriate staff and students. OCR received reports documenting that staff training in 2013, 2014 and 2015.
That training, as of 2015, should have tackled how to address allegations of sexual misconduct and harassment as well as the resources available to students who experience harassment or assault. Yet Buffalo State officials failed on all of those counts, according to OCR's findings.
In a written statement, a Buffalo State spokesman said the university has a "steadfast commitment to conducting prompt, equitable and complete investigations of all reports of sexual violence."
"College staff members regularly receive training regarding Title IX and related procedures, and the most recent training related to the OCR resolution agreement served as a worthwhile reinforcement of the policies and proactive practices that are in place to provide a safe learning environment for our students," said Jerod Dahlgren, a college spokesman.
Clarifying the Role of Colleges
As part of the October resolution agreement with the Education Department, Buffalo State has provided documentation of reimbursement of the complainant's expenses for the spring 2015 semester, the college and department officials said. It also has obtained outside consulting for the university's Title IX coordinator and training on sexual harassment for university staff.
An outside investigation -- at the university's expense -- of the complainant's alleged assault required by the resolution agreement is still in progress. The Office for Civil Rights also will seek detailed reports from Buffalo State of its handling of sexual harassment complaints, including sexual assault, for the current academic year and the 2018-19 academic year.
Lhamon, the former civil rights chief, said she is a strong believer in OCR maintaining an active enforcement role for a number of years after reaching an agreement that identifies any compliance issues. And although she has been critical of other steps taken by the department, she said the agreement was a positive sign.
"I do think it's really encouraging to see OCR still taking appropriate steps, to see leadership still entering resolution agreements that are consistent with the law," she said. "This looks to me like good work from OCR and that's encouraging."
Lhamon said the letter detailing civil rights investigators' findings should also clarify for colleges their obligations to investigate incidents that occur off campus and involve allegations of sexual harassment and assault. The Education Department last year rescinded 2011 and 2014 guidance on colleges' responsibilities for handling sexual harassment and assault. Department officials said they would craft a new regulation addressing campus assault and issued new interim guidance to colleges in September.
That document, Lhamon said, created confusion among advocates and higher ed institutions about their obligations to investigate misconduct that occurs off campus. She said OCR's findings at Buffalo State confirm that colleges are required to investigate a report of sexual assault regardless of whether it occurred on or off campus.
Alexandra Brodsky, a fellow at the National Women's Law Center, said when a survivor does not want to pursue a formal disciplinary complaint, a college should respect that decision. Buffalo State officials, however, appeared to discourage the student from making a complaint at all, she said.
Even if the student had been well informed about the discipline process and made a decision not to report, Brodsky said, details about college officials' handling of accommodations requested by the student were troubling.
"In our conversations about Title IX and sexual assault, including those conversations that this department has led, we are so focused on discipline," Brodsky said. "But for many survivors, accommodations like classroom changes and excused absences will make the difference between them staying in school and dropping out or falling behind."
Based on the OCR report, she said, it's hard to believe that other students at the college -- including students who may never have come forward to OCR -- have not been similarly mistreated.
Lhamon said the broad remedies put in place by the agreement between the Office for Civil Rights and Buffalo State should address concerns about the failures in this case being repeated. And she said that, thanks to the 2013 agreement between the SUNY system and OCR, investigators should have the information they need to determine if individual remedies are necessary for other students.
"They must look into it and they do have the information available," she said.