You have /5 articles left.
Sign up for a free account or log in.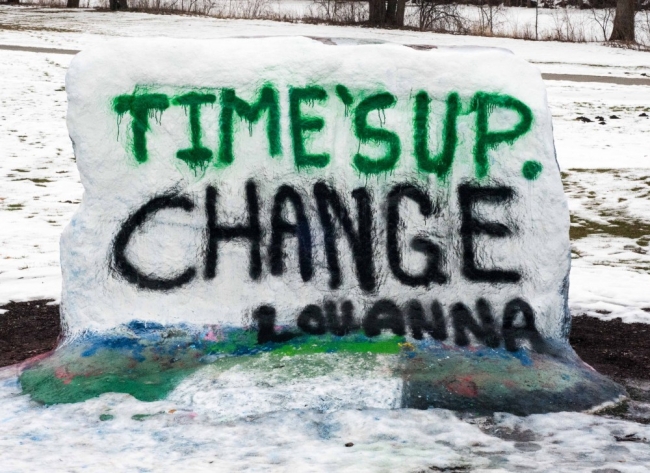 For seven days, dozens of young women and teenagers stepped into a Michigan courtroom that was suddenly a national stage, delivering harrowing accounts of sexual abuse they suffered at the hands of former American gymnastics team and Michigan State University doctor Larry Nassar.
They spoke of how abuse they endured as young athletes has affected them for years. They spoke of attempting to report Nassar to authority figures, and they spoke about what they see as the failure of Michigan State to properly investigate complaints about him and protect more children from abuse.
NCAA to Investigate Michigan State
In deciding to review the Nassar case,
the sports governing body is once
again delving into uncharted territory.
Read more here.
On Wednesday, the last of the 156 women spoke. She was Rachael Denhollander, the first to publicly accuse Nassar. In the 16 months since she came forward, several press investigations have found that multiple Michigan State coaches, trainers and officials had heard reports of sexual misconduct by Nassar in previous decades. But, Denhollander said, every time she talks about the number of women who reported Nassar's actions, the university issues a statement saying no one who heard the reports believed the doctor was committing abuse.
"You play word games saying you didn't know because no one believed," Denhollander said. "And the reason everyone who heard about Larry's abuse did not believe it is because they did not listen."
She also asked Michigan State president Lou Anna Simon and its Board of Trustees: Is this the right way to handle disclosures of abuse on campus?
Denhollander is far from the only speaker to question Michigan State leaders in her statement. As the women spoke over the last several days, calls for Simon's firing or resignation multiplied.
The university's student newspaper, local editorial boards at multiple papers, state lawmakers and petitioners became a chorus calling for Simon's ouster, even as national outlets speculated about her future. Students planned a protest for Friday, and faculty leaders weighed a no-confidence vote. Blistering comparisons were drawn between Michigan State's current situation and Penn State's infamous Jerry Sandusky scandal, and the NCAA is now investigating the way the university handled the Nassar case.
Nassar was sentenced Wednesday to 40 to 175 years in prison after earlier pleading guilty to seven sexual assault charges. He was already sentenced to 60 years for a federal child pornography case, and he has yet to be sentenced for additional sexual abuse charges in a nearby Michigan county.
The case of the doctor, which rose to prominence after women accused him of digitally penetrating them under the auspices of providing treatment for medical issues like back or hip problems, has already brought down the leadership of U.S.A. Gymnastics, the governing body for the sport in the United States. Several of the organization's board members resigned this week, and its former CEO stepped down in March.
Yet at Michigan State, Simon appeared firmly dug in, receiving the public support of the majority of the members of Michigan State's Board of Trustees. Cracks finally began to form in her position Wednesday evening, as reports surfaced saying trustees were working on a succession plan. Simon submitted her resignation to the board Wednesday night.
Some college presidents have been able to survive situations involving allegations of sexual abuse or misconduct at their institutions. Last year, Berklee College of Music president Roger Brown apologized for past wrongs and promised to root out abusive behavior after The Boston Globe reported the institution had terminated 11 faculty members in 13 years for sexual misconduct. His supporters now cast him as someone who wants to take the lead in changing a culture of harassment.
But there is also a long list of presidents forced out amid cases of sexual assault or sexual harassment at their institutions. Graham Spanier was ousted from Penn State's presidency in the wake of the Sandusky scandal in 2011 -- and eventually convicted of child endangerment. Ken Starr resigned as Baylor University president and chancellor in 2016 following allegations the university had mishandled reports of sexual assaults committed by students, football players among them.
In a more recent case that was arguably less extreme, University of Rochester president Joel Seligman announced his resignation this month in the aftermath of a controversial situation in which a professor was accused of harassment and inappropriate conduct. An independent investigation found the professor didn't break the law or university rules but acted unprofessionally and inappropriately. Nonetheless, Seligman resigned, saying the university would be best served with new leadership and a fresh perspective. While some saw the independent report as vindicating Seligman on the case's facts, his early statements comparing accusations at Rochester to the discredited University of Virginia Rolling Stone gang rape story left many on campus feeling he had lost credibility.
In these highly charged, complex and contentious situations, the question often becomes: What did the president know, and when did she know it? But another question is worth asking, too: When is not knowing the president's fault?
How directly should a president be held accountable for the acts committed by those who report to her -- even if she did not know about those acts?
'Play It Straight Up' at Michigan State
Michigan State's leadership has not weighed in directly on that question. A spokesman declined to comment earlier this week when asked how Simon would answer it, and the university did not make Simon available for an interview.
Asked if any single MSU administrator has been tasked with overseeing issues arising from the Nassar case, the spokesman, Jason Cody, first referred to "several external and internal reviews led or received by different individuals at the university." Asked again if there is any one administrator overseeing the situation, the spokesman replied that, "Yes, the president oversees the university."
Simon's public comments have not directly addressed the matter of presidential accountability. But they have provided some light on what she knew and when.
She was told in 2014 that a Title IX complaint and police report had been filed against a physician, according to The Detroit News. But she did not know the name of the physician.
"I was informed that a sports medicine doctor was under investigation," Simon said. "I told people to play it straight up, and I did not receive a copy of the report. That's the truth."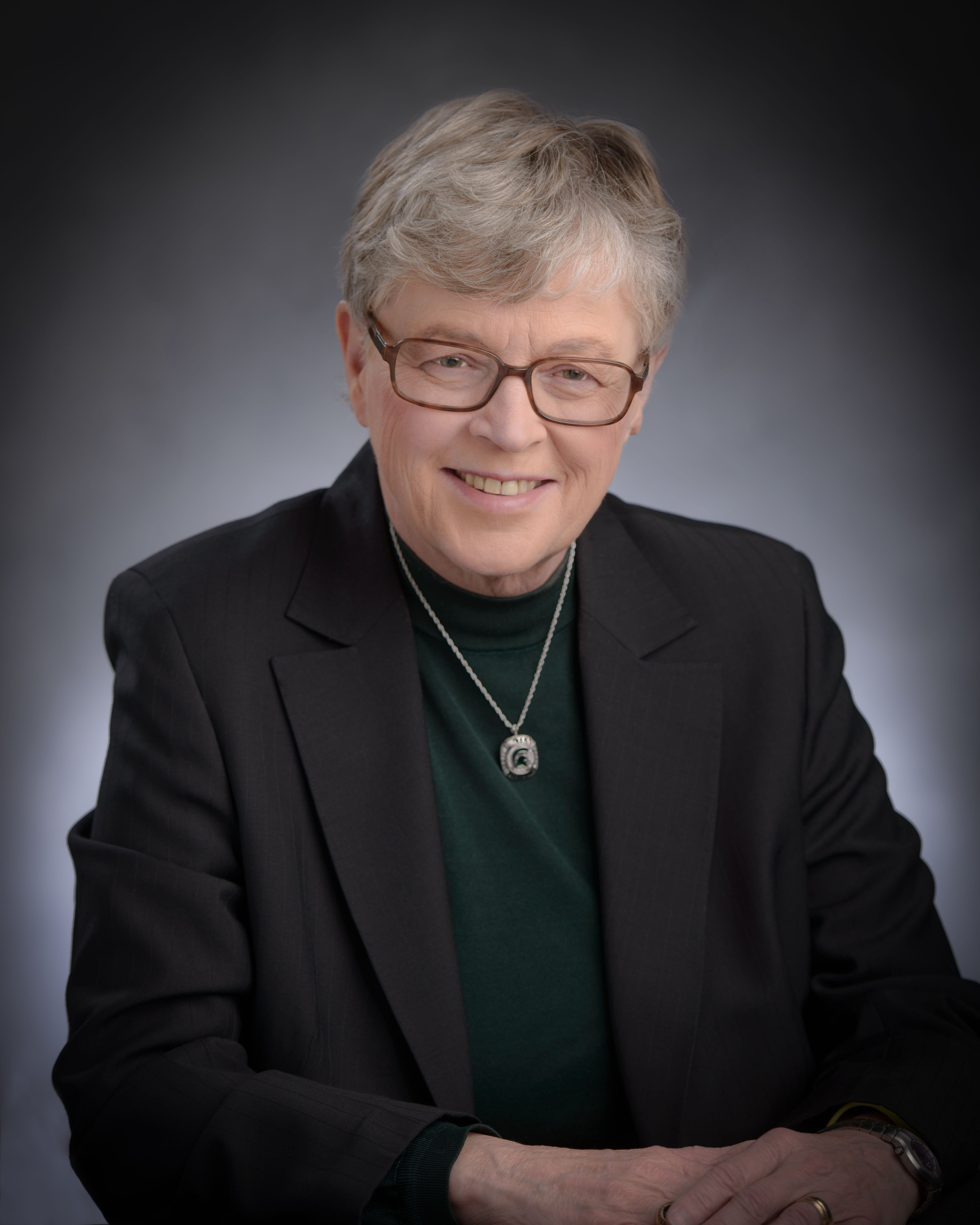 Simon made the comments last week after she sat in on part of Nassar's sentencing hearing -- one of the hearings in which victims gave their accounts. She also told reporters gathered around her that she did not want to be a disruption to the court proceedings.
"I came in today, and I didn't want to be a disruption, but you guys are, you guys are reinforcing my view that I am a disruption for a process that is for the victims and the survivors and not about us at Michigan State today," Simon said, according to an account from the Detroit Free Press. "There'll be a time for that to happen, and that's not today."
The Detroit News has reported that at least 14 Michigan State university representatives had heard reports of sexual misconduct by Nassar over the course of approximately 20 years before he was arrested. At least eight different women reported his actions, according to the newspaper. In addition to Simon learning of the Title IX complaint in 2014, athletic trainers, assistant coaches, a university police detective and an administrator who is now Michigan State's assistant general counsel were aware of reports of abuse, according to the newspaper.
Yet Nassar was not fired from Michigan State until after The Indianapolis Star ran a report in September 2016 about former gymnasts, one of whom was Denhollander, accusing him of sexual abuse. He was, however, relieved of clinical and patient duties in August 2016 after Denhollander filed a criminal complaint with Michigan State University police.
The university's Title IX investigation started before that, in the spring of 2014. But emails indicate Nassar was back on the job months later, at the end of July of that year.
The Title IX investigation included interviews with four experts to evaluate treatment Nassar administered. All four had ties to Nassar, ESPN has reported. One of those interviewed was considered to be a close friend of Nassar's and allegedly did not tell superiors that Nassar informed her in 2015 he was being investigated for suspected abuse by U.S.A. Gymnastics. She has since resigned.
Nassar saw patients for another 16 months while a police investigation remained active, ESPN reported. Prosecutors decided not to charge him in December 2015. At least a dozen girls and young women reported being assaulted after he was allowed to return to work, according to ESPN.
Other reports indicate concerns were raised about the doctor as early as 1997.
The Indianapolis Star published its report Sept. 12, 2016. Eight days later, Michigan State fired Nassar from his position as an associate professor in the College of Osteopathic Medicine. Michigan State has said none of its officials believed Nassar committed sexual abuse prior to newspaper reports in the summer of 2016.
On Jan. 19 of this year -- after four days of victims delivering impact statements in court -- the university's Board of Trustees asked the state attorney general to review the situation. The same day, Simon wrote a long public letter apologizing for the abuse Nassar's victims suffered and the pain it caused.
"The testimony of Nassar's victims this week made many of us, including me, listen to the survivors and the community in a different way," she wrote. "It is clear to the board and me that a review by the Attorney General's Office can provide the answers people need. I hope this review will help the survivors and the entire MSU community heal and move forward."
Simon also outlined a recently authorized $10 million fund to help survivors with counseling services. She described reviews of patient care, medical services provided to student athletes and the university's Title IX program. She pledged to continue to improve the university's systems.
But Michigan State still faces lawsuits from approximately 150 victims. Simon warned that Michigan State will mount "an appropriate defense" in the cases.
"There is nothing extraordinary about such legal efforts -- they are typical at this stage of civil litigation," Simon wrote. "Given Nassar's horrendous acts, these arguments can seem disrespectful to the victims. Please know that the defenses raised on MSU's behalf are in no way a reflection of our view of the survivors, for whom we have the utmost respect and sympathy, but rather represent, as the board has said, our desire 'to protect MSU's educational and research missions.'"
Trustees also read a statement calling Simon the right leader for Michigan State. But the next day, Trustee Mitch Lyons issued a statement calling for Simon to step down.
"I believe our best recourse is for President Simon to resign immediately in order to let the healing process begin, first and foremost for the survivors and secondarily for our university," Lyons said, according to the Lansing State Journal. Wednesday, a second trustee, Dianne Byrum, also called for Simon to resign.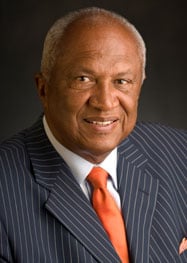 As of Wednesday evening, no other trustees had publicly joined them. The Board of Trustees' vice chairman, Joel Ferguson, said during a Tuesday radio appearance that Simon would not be departing. She would not be run out by something someone else did, Ferguson said, calling her the best president Michigan State has had in his three decades on the board.
"There's so many more things going on at the university than just this Nassar thing," he said. He went on to say that something will be happening in the favor of "the young ladies who have been wronged by" Nassar.
He also predicted people will move on and rejected comparisons to Penn State.
"I mean, when you go to the basketball game, you walk into the new Breslin [Student Events Center], and the person who hustled and got all those major donors to give money was Lou Anna Simon," Ferguson said. "There's just so many things that make up being president at a university that keeps everything moving and everything right with the deans, everything at a school where we have a waiting list of students who want to come."
He later issued an apology, with a statement saying he meant to refer to the situation as "the Nassar tragedy."
The board's chair, Brian Breslin, did not respond to a request for comment for this story.
Some faculty members had called for a vote of no confidence. While the idea had not made its way through parliamentary measures and to a vote when news of Simon's resignation broke, faculty members had expressed numerous reasons for supporting it.
"Some people are personally impacted," said Anna Pegler-Gordon, an associate professor of social relations and policy at Michigan State who was one of two faculty members to call for a vote of no confidence Tuesday. "Some people are very concerned about the university's ability to heal and function as an institution. Some people are very concerned about listening to and responding to the survivors who have called very forcefully for President Simon to resign."
Pegler-Gordon believes the university needs to conduct a fully independent investigation of the handling of the Nassar case. Given recent history, she worried the university could not have had a fully independent investigation conducted transparently without Simon stepping down.
But Pegler-Gordon is also trying to consider a president's accountability in a case like this. The university cannot know what happened without an independent investigation that would cover the 2014 Title IX investigation and its aftermath, she said.
"The way the investigation was handled, and the way Larry Nassar was allowed to continue as an MSU employee and continue to assault MSU students, I do think that the president is accountable there -- and many other people," she said. "But we don't really know what happened."
Usually, a vote of no confidence stems from faculty being troubled by a continuing pattern of presidential conduct considered dysfunctional, improper or abusive, according to Mae Kuykendall, a law professor at Michigan State who is currently writing a book about faculty votes of no confidence. It would probably be rare or even unheard-of for a single, highly visible failure to prompt a faculty vote unless a majority of professors were already deeply unhappy, she said via email.
"I don't believe the latter circumstance is the case at MSU," she said. "There are features of the culture that attract criticism, but my impression is not one of widespread unhappiness. It is only an impression. I could be wrong, since most of my contact is within the College of Law, not with the wider community."
Kuykendall made that evaluation before Wednesday's reports of Simon stepping down. The president's resignation would presumably render moot any discussion of a no-confidence vote.
It is always dangerous to attribute an institution's culture to any one single person. And some faculty members argued the president stepping down would not be the only change that should be considered at Michigan State.
"If she resigns, is fired, steps down, that's important," said Andaluna Borcila, an associate professor who is also calling for a vote of no confidence. "But she's not the whole structure of leadership at this university, and I think we really need to think hard about that."
Several faculty members who asked not to be named described Michigan State's leadership as insular, troubled by secrecy or hurt by a lack of transparency.
It should be noted that few college presidents have careers as closely intertwined with the institutions they lead as does Simon. She earned her Ph.D. from Michigan State in 1974 and has been at the university in an academic or administrative capacity ever since. She became provost in 1993 and was named interim president for a time in 2003.
She has been Michigan State's president on a permanent basis since January 2005.
How Much Can Be Expected of One Person?
Outside experts declined to comment on the situation that has developed at Michigan State, or specific situations elsewhere. But advocates for victims and those who represent administrators disagree about when college presidents should be held accountable for actions that take place on their watch.
"It's just not possible, and it's not fair in any sense of the word, to say the president has to be involved in every single allegation," said Raymond D. Cotton, a Washington-based lawyer who represents boards and presidents.
Presidents are often put in untenable positions, Cotton said. He argues against piling on presidents and calling for their jobs without a full accounting of facts and due process.
Yes, systems have to be in place to handle allegations, Cotton said. And presidents need to be able to send messages through the chain of command and hold their employees accountable for failures. But there is a difference between the failure of an employee or system and the failure of an employee or a system that is the president's fault.
Many presidents worry about student affairs and sexual assault cases generating a firestorm on campus before anyone can get a full handle on the facts. They worry they will be held accountable when people feel frustrated.
"I haven't done a scientific study, but I can tell you that virtually all of my presidents are concerned about those issues for a number of reasons," Cotton said. "One of the questions is, 'Am I going to be held responsible for something that happened on my campus?'"
Some advocates maintain that it is clear a college or university president is the captain of the ship, responsible for running the entire organization. That includes everything happening at organizational levels beneath them.
While some might say it isn't practical to hold a president to the standard of knowing everything happening on campus, advocates retort that clear expectations, good personnel and strong policy should allow presidents to know what cases are important and when they need to get involved. Those structures should also allow institutions to handle bad situations effectively without a president's involvement, they say.
"You may not be conscious about it or thinking about it, but unfortunately, when you're running an institution, you are creating a leadership structure," said Laura Dunn, founder and executive director of SurvJustice, which advocates for sexual assault victims. "If you are a college president and you don't realize sexual violence is a reality you could face, then you have no business being in that leadership position."
Mistakes, of course, happen. Constituencies are often willing to forgive if the president has proven attentive to a crisis and has built up a well of good will to draw upon.
The flip side of the coin is that forgiveness might not materialize if a president comes off as tone-deaf or fumbling the situation.
"I generally see communities willing to forgive," said Brett Sokolow, president and CEO of NCHERM Group, a risk-management firm. "When there are multiple mistakes or the problems are systematic, then the community is more likely to ask why the president wasn't aware of some of these issues."
A president saying they did not know about an event is not a good answer if they have failed to build a culture of reporting. People can sniff out lip service, Sokolow said.
Sweeping under the rug reports of sexual misconduct or assault is a failed strategy, said Kevin Kruger, president of NASPA, a group focused on student affairs. There is little gray area in how an institution is expected to respond, he said.
"Managing these at the moment, at the time in which they occur, and managing them with the appropriate systems is clearly the best way to go to protect the victim," he said. "Anything that would discourage someone from pursuing a complaint is just, in today's climate, really a poor decision."
Sometimes, stepping down might be a final act of necessary leadership if a campus truly needs a new president in order to move on from past events. Still, it should also be noted that a president's ouster is not a cure-all for issues -- structural or otherwise -- laid bare in cases involving sexual assault or harassment.
When Seligman announced that he will step down from the University of Rochester presidency in the wake of the investigation into harassment allegations against professor T. Florian Jaeger, it did not stop faculty members from wrestling with the case.
The University of Rochester's Faculty Senate is weighing censuring Jaeger. Faculty members are also trying to decide how to respond to the university counsel's office searching the email accounts of professors who were whistle-blowers and sharing those emails with the professors' department chair.