You have /5 articles left.
Sign up for a free account or log in.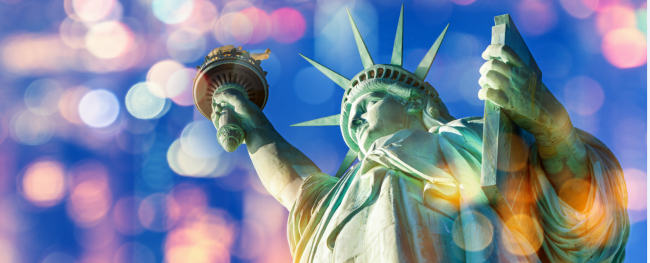 WASHINGTON -- From debates about immigration and the proposed border wall to concerns about stagnant wages and decreased social mobility, the American dream is getting a conceptual workout lately. Just where and how higher education fits into those conversations was also a hot topic last week at the annual meeting of the Association of American Colleges and Universities.
Much of that was by design: AAC&U's program theme explicitly asked attendees, "Can Higher Education Recapture the Elusive American Dream?" But it proved an especially timely question that was on panelists' minds anyway.
There was little consensus among presenters as to the precise definition of the American dream, or whether it's still valid -- if indeed it ever was. But there was widespread agreement that college does play an important role in one's likelihood of achieving such a dream.
Defining the Dream
"The American dream is rooted in a concept of, if you're willing to sacrifice now, you -- or at least your children -- will be able to have a better life," said Wes Moore, a Baltimore native and founder of BridgeEdU, a start-up that provides supports for first-year college students, during the conference's opening plenary. "But for many people, due to an utter lack of mobility, at some point, that sacrifice becomes not sacrifice -- it's just suffering … And I believe that that's where this room comes in."
Moore, who is also chief executive of the Robin Hood Foundation, said his own story wouldn't be the same without higher education and that he believed the American dream was "deeply rooted" in educational access and meaningful pathways for all students. He urged those present to focus not only on access, but also on student supports through completion. That includes policies considering the costs of attendance -- not just the cost of tuition -- and tailoring the student experience to the individual, he added.
Otherwise, he warned, a generation of students who have racked up debt to complete developmental coursework and earned few credits, let alone a degree, will make for a "backlash against higher education even more furious than the one we see now."
Tamara Draut, vice president for policy and research at Demos and author of Sleeping Giant: How America's New Working Class Will Transform America, said during the plenary that the current backlash against higher education has been directed at public institutions, in the form of decreased funding. Arguing that that has hurt people of color but also working-class white people, Draut said, "We all have to be champions of reinvesting in each other through the public sector."
Draut grew up in Middletown, Ohio, later made famous by J. D. Vance's Hillbilly Elegy. She said she definitely broke the mold in attending college and then graduate school, but that one didn't have to be "exceptional" to do so at the time. Now, given the cost of going to college, she said she doubted whether her story would be possible.
Debt has "poisoned" the entire college-value debate, Draut said. While debt originally helped institutions show a return on investment for a degree, higher education is now addicted and degree holders of all kinds are loaded with it.
As for the American dream, Draut said society has a dual mission to advance it: help more first-generation students attend college and graduate without debt, but also restore "dignity and decency" to the notion that you don't need necessarily need a degree.
"What a lot of working-class poor people hear us saying is you need to go to college, and the reason you're struggling is because you didn't go to college, you made bad choices," she said. "So that's an important distinction to make, that higher ed is great but it's not all we have to do to fix society's inequalities."
Linda Martín Alcoff, professor of philosophy at Hunter College and the Graduate Center of the City University of New York, said she gave up on the American dream when she was 12 years old, because her father -- an immigrant -- had a master's degree in history but could only find work in the U.S. delivering ice cream, and because other family members were some of hardest working but poorest people she knew. She dropped out of high school and then college on her first try.
At the time, though, state university tuition was about $175 per term, so she was eventually able to finish -- and go on to earn a graduate degree from an Ivy League Institution. Nowadays, Alcoff said, with the pursuit of rankings and their implications for admissions, as well as the rise in tuition, "I probably wouldn't have made it."
In any case, Alcoff said that when it comes to the American dream, "social mobility is the wrong goal in the U.S. today. The goal should be social justice for all so that even those who engage in manual labor, or any kind of labor, can have lives of dignity, can own a home, can send their kids to a good state university and can have financial security."
College and Intergenerational Mobility
But does sending one's kids to -- or attending -- a good state university get anyone anywhere anymore? John N. Friedman, associate professor of economics and international affairs and public policy at Brown University, had some good news during a keynote on new findings on big data on intergenerational mobility. Sharing data from the Equality of Opportunity Project, which he leads, Friedman said many colleges certainly deserve further study as potential engines of mobility.
Using data from a variety of sources, Friedman and his team have found that income segregation across colleges is comparable to segregation across census tracts in the average American city, with income especially concentrated at elite private institutions. Yet certain midtier public institutions, including CUNY and California State University campuses, have the highest bottom-to-top mobility rates when comparing family income and later earnings. That's even compared to highly selective institutions -- although those do channel more low-income students to the top 1 percent of earners later in life, in their 30s. (Friedman's massive sample includes students who started college but did not finish as well as graduates.)
Essentially, at any given institution, students from low- and high-income families have very similar earnings outcomes, according to Friedman's data. Colleges "level the playing field" across students with different socioeconomic backgrounds, and low-socioeconomic-status students at less selective colleges are unlikely to do better in terms of earnings than high-socioeconomic-status students who attend more selective colleges.
"This paints very positive picture of the potential of higher education -- if we can get those students in the door," Friedman said.
Unfortunately, as far as access goes, trends are unfavorable to mobility: access has fallen over time at midtier public institutions with the highest mobility rates. And access has risen relatively little at elite private colleges, despite increases in financial aid and access-driven recruitment efforts.
Data on Dreamers
Friedman's data suggest that colleges aren't taking a gamble on lower-income, first-generation students in terms of outcomes as defined by salary. Another panel explored how one particular group of first-generation students -- Dreamers, or undocumented immigrants who arrived as children -- perform as undergraduates.
"Are our Dreamers' educational experiences and attainment at [California State University, Fullerton] comparable to our non-Dreamers?" asked a panel of researchers and administrators from the Fullerton campus. Based on data from the 2014 and 2016 National Survey of Student Engagement and students' academic performance, the researchers found no significant statistical differences between the grade point averages of Dreamers and non-Dreamers (freshman and senior). That finding is significant, the researchers argued, because Dreamers typically have lower academic preparation for college. Beyond GPA, Dreamers rated more positively on measures of higher-order learning and civic engagement. Freshman Dreamers in particular were more likely to engage in service learning and to participate in research with faculty members.
Fullerton, where more than 1,000 Dreamers are enrolled, has established a Dreamers' resource center to support them. Panelists believe that the freshman findings may be related to the center's establishment, in 2014, and they'll continue to monitor progress. Their findings are also relevant to current debates over the future of Dreamers' legal status in the U.S., which proved a major factor in the federal government shutdown earlier this month.
Faculty of the Future
Thomas F. Nelson Laird, an associate professor of education at Indiana University and director of its Center for Postsecondary Research, focused his session on the American dream and professors -- particularly which segments of the faculty are using inclusive teaching practices, according to self reports and student feedback gleaned from the NSSE and its faculty counterpart, the Faculty Survey of Student Engagement.
Laird started with a simple, trend-based projection of what the faculty will look like in 2027: 66 percent female, 60 percent white and 50 percent full-time, compared to 55 percent female, 68 percent white and 58 percent full-time in 2016. Disciplinary classifications are unlikely to change much over time.
Next, Laird asked, "An inclusive dream runs through the faculty, but which faculty?" Professors who report using the most effective teaching strategies for engaging students of diverse backgrounds are 60 percent female. Faculty members at inclusive institutions -- as rated by students -- also are more likely to be female, at about 57 percent. Surprisingly to the researchers, and possibly attributable to institutional profiles, these faculty members are 77 percent white. Fifty-five percent are full-time.
As institutions aim to become more inclusive, they need to think about what's happening in their classrooms, Laird said. "I think about dynamic classrooms, inspired teaching, a faculty that has an amazing set of skills. They are promoting the learning of all the all students that sit in the room with them and maybe even engage in the learning with those folks."