You have /5 articles left.
Sign up for a free account or log in.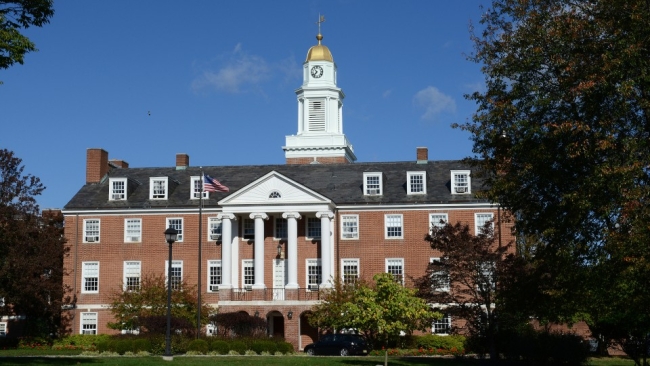 Critics of Rider University's plans to sell Westminster Choir College were not appeased last week when the university revealed the prospective buyer is a for-profit company based in China. If anything, they've grown even more opposed to the deal.
Faculty members and alumni are raising numerous concerns in the wake of Rider's announcement that Beijing Kaiwen Education Technology Co. signed a nonbinding term sheet calling for it to pay $40 million to purchase Westminster's $19 million endowment, facilities, programs and campus in Princeton, N.J. The buyer -- which until recently was called Jiangsu Zhongtai Bridge Steel Structure Co. -- has little experience in education, they say, and it is a for-profit company that is unlikely to operate Westminster with the commitment necessary for a top-tier music school.
At the same time, Rider faces a new lawsuit from a neighboring institution over its sale plans. Princeton Theological Seminary filed a lawsuit in New Jersey Superior Court seeking to block the sale, arguing the donor who originally gave Westminster its campus in Princeton wanted Princeton Theological Seminary to receive the land if Westminster ever stops training music ministers for evangelical churches. The seminary's lawsuit means Rider faces at least three legal cases related to the Westminster sale, as it was already in the midst of an arbitration case with faculty members and a separate lawsuit in federal court from students, parents and alumni.
Rider's leadership maintains that it is acting in Westminster's best interest. But the university was already attempting to blaze a new path in higher education by selling off one of its campuses. The latest resistance to the effort narrows that path considerably.
Faculty members had already worried Rider was going to sell Westminster to a for-profit company operating K-12 schools in Asia. Last week's news confirmed those fears, prompting faculty members at both Westminster and Rider's main campus in nearby Lawrenceville, N.J., to express heightened concerns.
"Knowing the buyer does not allay any fears whatsoever," said Elizabeth Scheiber, president of Rider's American Association of University Professors chapter. "In fact, I know among several of us, this has actually deepened our concern."
The Rider AAUP is already in a grievance process related to what it believes were unfair layoff notices sent to Westminster faculty last year to cover the chance the college closes if it is not sold. That process will continue despite last week's sale announcement. It is expected to go before an arbitrator in March.
Beyond the legal maneuverings, the proposed sale is a hit to morale at Rider, said Scheiber, who is a professor of French and Italian. It sends a message that faculty members are worth no more than monetary value, she said.
Rider's plans to sell Westminster date back to last year. Administrators had been exploring moving the choir college from Princeton to Rider's main campus in Lawrenceville as the university grappled with budget gaps. It was a reversal from two decades ago, when Westminster addressed its own budget woes by merging into a financially sound Rider. After the idea of moving the choir college generated an outcry, the administration changed tactics last year and said it would attempt to sell Westminster to a buyer that would keep it on its campus.
The outcry continues now that a buyer has been named. Joel Phillips, a professor of composition and music theory at Westminster, said he felt "sickened" by the news.
Westminster's prospective buyer only changed its name from Jiangsu Zhongtai Bridge Steel Structure Co. to Kaiwen at the end of December, Phillips pointed out.
"They made steel girders," he said. "And then they decide to go out and buy an education institution."
Market research services have described the company as creating bridge steel structures, crane steelworks, ship blocks and heavy steel for power plants. But they also have described an international education segment operating primarily in the domestic Chinese market.
The company changed its name because of a reorganization, according to Rider. The university's administrators say the company's core business is now education and education-related activities. Its leaders want Westminster to attract U.S. students and students from overseas, said Rider president Gregory G. Dell'Omo.
"We've always known that the future of music education -- you look at piano and vocal and choral -- it really is toward Asia," Dell'Omo said. "We've had a difficult time trying to tap into the Asian market. They understood the value."
Concerns about the buyer are understandable, Dell'Omo said. But although Kaiwen is a for-profit company, it will run Westminster as a nonprofit organization. Kaiwen's K-12 academies in China, which are focused on sports and performing arts, have proven the company invests in programs, personnel and pedagogy.
"They clearly understand the need for proper investment in running a top-quality educational institution," Dell'Omo said. "Now, again, that's not higher education in the U.S. I do know -- and the communications so far indicate -- they are willing to hire the consultants and staff who do know how to run higher education."
Kaiwen wants to make employment offers to Westminster faculty and staff, according to Rider's official announcement last week. But the terms have yet to be determined.
One day before Rider announced the deal, it was hit with the lawsuit from Princeton Theological Seminary. Westminster has its campus in Princeton because a donor, Sophia Strong Taylor, gave it 28 acres of land in 1935, the suit contends. The gift covenant required Westminster to train ministers of music for evangelical churches and teach the Bible to the whole school for at least one hour per week, according to the lawsuit. If the covenant is broken, the land is to become the seminary's property.
The seminary agreed to Westminster merging into Rider in 1992 after it had been assured the choir college would continue to serve the donor's original intent, according to the lawsuit. But the sale proposal does not comply with that intent, it says.
"Rider's intention to sell the campus and use the proceeds to fund Rider's operations that are unrelated to the continued operation of Westminster violates the Agreement and public policy," the lawsuit says. It goes on to charge Rider with obtaining a $15 million line of credit in 2017 by securing a mortgage against the campus, and with using $8 million from that line of credit "for purposes inconsistent with the agreement."
The suit asks for a permanent injunction preventing Rider from selling the campus to any buyer that will not operate and maintain it in compliance with the agreement and the donor's original intent. It also asks for damages, fees and reimbursement for other costs.
"We have repeatedly attempted to engage Rider on these issues as news of the proposed sale emerged, but we have been kept at arm's length," said Craig Barnes, president of the seminary, in a statement issued when the lawsuit was announced. "We don't take this legal action lightly, but we have had no choice but to ask the court to intervene. We are hopeful that this matter will come to resolution quickly and fairly, in a manner that honors our institutional agreements and preserves Mrs. Taylor's intent."
The seminary has nothing to add now that the identity of the buyer has been revealed, a spokeswoman said.
Rider responded with a statement saying it has discussed the issues with the seminary for about a year. The university is disappointed and believes the filing of the suit was premature.
"Rider's main focus has been to find an entity to continue running Westminster in Princeton, which we have now done," the statement said. "It has been our intention when we achieved that goal to return to discussions with the Seminary to address its demand for a share of the net proceeds, to the extent there are any. Rider has supported and sustained Westminster Choir College since 1991, when the Seminary declined to do so. Rider will not allow this lawsuit to derail its efforts to finalize its plan to find a new entity to run Westminster."
A lawyer representing alumni suing Rider in a separate lawsuit -- the one in federal court -- said the news about the buyer will not affect the legal process.
"At this point, Rider has still not released the terms of any proposed transaction," said the lawyer, Bruce Afran, in a statement. "Without knowing the actual terms of a proposal, it is impossible to confirm it will even remotely comply with New Jersey non-profit law and the 1991 merger agreement between Rider University and Westminster Choir College. Nothing that Rider has presented will affect in the slightest the pending lawsuits that will continue in full force."
One of the alumni who has been active in trying to secure Westminster's future on its campus echoed that sentiment. "There are so many questions that are not answered," said Constance Fee.
One of the plaintiffs in the federal lawsuit said the parties are seeking an injunction to stop the sale process. "I am not impressed by the company or the school," plaintiff Matt Koller said via email. "If you look at the timeline of the company, it's clear that they have not been in the education business for very long at all (2016). Their K-12 school is not even K-12 yet, and they have no experience operating a higher education institution."
Regardless of whether an injunction is ultimately granted, the lawsuits are another hurdle for Rider. The university has not yet signed a binding sale agreement, meaning the deal is far from set in stone.
Jeffrey Halpern is an associate professor of sociology at Rider and the contract administrator for the Rider AAUP. He remembers the original merger that brought Westminster into Rider and says the university made certain legal commitments to maintain the choir college and continue its existing function.
The current lawsuits are likely to impede the sale proposal, he said.
"I can't imagine that anybody would ever enter into the sale of a property when its title is unclear," Halpern said. "I certainly know I wouldn't buy a house with an unclear title, and when there is ongoing legal action, I can't imagine anybody would actually close a deal."
Halpern criticized the university's administration for treating Westminster like an unprofitable business line. Selling off such lines is proper for a for-profit business with shareholders, he said. But it's not the way nonprofit universities, which serve the public good, are supposed to think.
Even if the sale is delayed or stopped, the proposal has already been hurting Westminster, Halpern said. Recruiting students has been difficult, and donations are down. Faculty members, the core of any institution, are disheartened.
"Rider is acting in a way that is hollowing out Westminster," Halpern said. "It may reach a point where there's nothing left to save or buy."
The idea of the sale is bad for U.S. higher education more generally, argued Scheiber, the Rider AAUP president.
"These are nonprofit educational institutions who reinvest back into the local economy," Scheiber said. "To say we're going to open this door, to say, 'Hey, it's easy money,' I think it's a very bad precedent to start down this road."