You have /5 articles left.
Sign up for a free account or log in.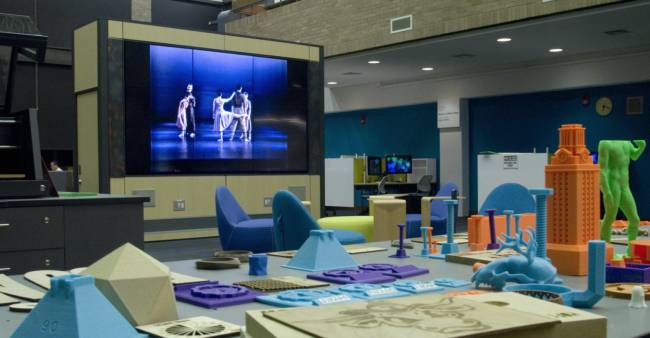 Real estate on the University of Texas at Austin campus is scarce -- so scarce that the College of Fine Arts and the University of Texas Libraries have already moved tens of thousands of books, journals, music scores, CDs and other works from Austin's Fine Arts Library off-site with little input from the faculty. That, along with a proposal to keep culling and moving the collection, has many professors up in arms.
"The declared aim is to move libraries into the 21st century, and nobody's opposing that here," said Thomas G. Palaima, Robert M. Armstrong Centennial Professor in Classics and director for Austin's program in Aegean scripts and prehistory. "But don't move it into the 21st century by destroying a resource that's been built up over decades and decades."
Last semester, Doug Dempster, dean of fine arts, confirmed in a memo to faculty members that he had worked with the library service to move fine arts collections concentrated on the fourth floor of the E. William Doty Fine Arts Building to the fifth floor, and moved what he called "many rarely circulating items" to other locations. That was after much of the collections already had been pushed to the fourth floor from the third to make way for a sleek new maker space called the Foundry. Some faculty members recall finding out about the initial move only by visiting the library and seeing their needed books and journals weren't there.
"Many rarely circulating items" turned out to be about 75,000 pieces, by the university's counting -- a major share of the collection. Most have been moved to a storage facility on the Pickle Research Campus or the Joint Library Facility at Texas A&M University, more than 100 miles away.
Interlibrary transfers are supposed to take up to 72 hours, but faculty members report that some requests have taken much longer. Moreover, they say, the experience of shopping the stacks -- discovering resources by thumbing through them -- is greatly diminished when one must request specific titles from other locations.
Thomas Hubbard, another professor of classics, said via email that the rationale behind the move "reveals just how little understanding library and university administrators have of how academic research actually works."
Palaima agreed, noting with some irony that a university news story highlighting how an undergraduate used the Foundry to make a six-string violin on a 3-D printer said he'd been inspired to do so only after finding a composition in the stacks, by chance.
Others have raised concerns about process, saying that professors involved with the collection day to day were never consulted about its future.
Jeffrey Chipps Smith, Kay Fortson Chair in European Art at Austin, wrote an open letter to the dean, saying that the fine arts library is among the best in his field in North America -- in part because he and his colleagues have helped curate it. Through annual requests to the Kimbell Art Foundation in Fort Worth and matching funds from the library service, he said, he's added some $400,000 in supplemental acquisition funds to the fine arts collection over the past 15 years.
"As I watch the dismantling of the Fine Arts Library," he wrote, "I am not sure that I can in good conscience" ask the foundation for future support. 
Nearly 100 students also attended a town hall on the collection matter in November, with many saying they opposed moving resources. Alumni have also voiced opposition to the changes.
What About the Rest of It?
The fate -- or at least the final destination -- of the remaining 200,000 fine arts items remains to be seen. While their current placement is a "great thing, no doubt," for those students and scholars close to campus, Dempster said in his memo, "few linger after retrieving material or browsing." In the fifth floor's 18,000 square feet, he said, "one is hard pressed at any random hour to find more than a handful of students studying or browsing the collection, some just taking advantage of the solitude of the space." Circulation numbers also have fallen dramatically, he said. (Critics have argued that heavy art books aren't generally checked out of the library, and that less-than-stellar wifi on the floors in question explain some of why they're not busy.)
Asking whether the space can be put to better use, Dempster said he planned to form two working groups, to include faculty members, to study various alternatives and what facilities the college's new programs need. He noted that for the first time in decades, thanks to new degree programs, enrollments in the college are growing rather than shrinking. On any given day, for example, he said, hundreds of students and professors are working on the newly redesigned fourth floor, which now houses classrooms, media spaces and offices for the new School of Design and Creative Technologies.
The crown jewel of the library redesign remains the Foundry, however, which houses a laser cutter, 3-D printers, virtual reality headsets, sewing machines, mills, cameras and other video and audio equipment. Dempster described the third floor as a "realization" of the "rejuvenation" he and the library service imagined.
Palaima said he understood the college's desire to modernize its facilities, as well as the inherent tension between fine and applied arts programs and more theory- and history-oriented ones. But to take the Fine Arts Library out of the fine arts building is gravely shortsighted, he said.
The library task force is due to report its findings by April, but Palaima said a lifetime in academe had imbued in him little faith in committees. They're formed either to stall, come up with good ideas that their creators can claim or create bad ideas that by comparison make the original ones sound good, he said.
Smith, the art historian, said Tuesday that he doesn't oppose the new design and creative technologies program, just that it and the movement of a floor full of books to accommodate it were presented to the faculty as a fait accompli. "I do oppose the decimation and potential future closure of one of the finest fine arts libraries in North America," he added. "It supports one of the largest and strongest graduate art history programs in the country."
Travis Willmann, a spokesperson for the university's library service, said Tuesday that the last new library was built on campus in 1979, when the campus had four million volumes. Today, he said, Austin has 10.8 million volumes and has been moving items to remote storage since the late 1990s.
Lorraine Haricombe, vice provost and director of libraries at Austin said through Willmann, via email, that a "core duty of professional librarians assigned to collections is to maintain a highly curated collection to support teaching and research. Collections are curated both in terms of what to add and what to move to storage. In general, our liaison librarians consult with faculty on an ongoing basis in order to inform both decisions, although the specific approach varies across disciplines."