You have /5 articles left.
Sign up for a free account or log in.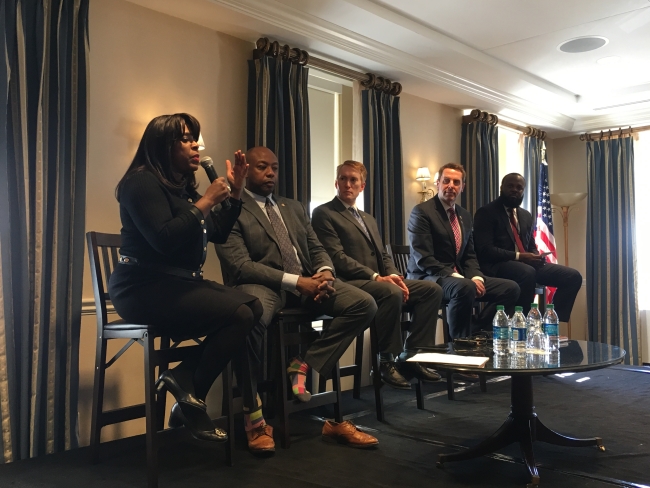 WASHINGTON -- Officials from the Trump administration have faced intense protests when visiting historically black colleges and universities, and leaders of those institutions themselves have taken heat from students and faculty for even meeting with administration officials.
But groups that represent historically black colleges have pursued a highly public, if controversial, strategy of courting influence with the White House and Republican lawmakers.
As presidents of HBCUs from across the country assembled at the Capitol this week for meetings with members of Congress, the architects of that strategy say they're getting results.
Skepticism persists among many of the sector's supporters, and black colleges haven't seen a big influx of new federal support. But the sector's lobby groups have claimed victories on financial aid policies, particularly the return of year-round Pell Grants. They also point to more symbolic steps involving federal support, such as the transfer of the White House HBCU Initiative from the U.S. Department of Education to the administration's executive offices. Most importantly, they say, concerns of HBCUs are registering with top officials in the administration.
Some of those wins won't look like much to critics of active engagement with the Trump administration. And bigger challenges still face historically black colleges, including limited capital improvement funds and a high proportion of low-income and first-generation students in need of academic support.
HBCU leaders this week got a chance to reacquaint members of Congress and administration officials with their priorities at the Hill event organized by Senator Tim Scott, a South Carolina Republican, and Representative Mark Walker, a North Carolina Republican.
It's the second year the Republicans have held the event. Last year's meeting was noted by the wider public mostly for an Oval Office detour featuring an awkward photo op with President Trump. Education Secretary Betsy DeVos in the same series of meetings provoked a fiery backlash when she called historically black institutions "pioneers of school choice."
But Republican lawmakers and HBCU leaders argue year-round Pell Grants wouldn't have been restored by Congress last year without those meetings. And Harry L. Williams, president and CEO of the Thurgood Marshall College Fund, cites the relationships historically black colleges are building in Washington as much as any concrete policy developments.
"This is a continuing dialogue," Williams said. "In this city, that's what you've got to do."
His predecessor at the fund, Johnny Taylor Jr., was the biggest public face of the sector's efforts to engage Republicans in Washington. But Williams, until recently president of Delaware State University, served on the fund's board and was involved in the strategy.
Trump on Tuesday named Taylor the chairman of the advisory board for the White House Initiative on Historically Black Colleges and Universities.
For the Trump administration, working with black colleges offers a chance to burnish what credentials it still has with minority communities. Its frequent discussions with HBCU leaders comprise what is likely the White House's most notable and sustained outreach to any minority group since Trump took office.
At the event, Walker cited personal reasons for caring about the success of black colleges -- his wife attended one. His district also includes North Carolina A&T University, the nation's largest HBCU. Scott said he began organizing the meetings last year to address untapped potential in minority communities. Working with Republicans in Congress is also less toxic for college presidents than working with this White House.
The payoffs of working with Republicans at the federal level already are apparent, Williams said. Chief among those is restoration of year-round Pell, the top priority pushed by college presidents at last year's event.
That was also a policy goal shared by a wide range of higher ed advocacy groups, particularly those that represent two-year colleges. But Williams said the change wouldn't have come about were it not for relationships cultivated with Republicans like Walker and Scott.
More recently, Congress in a budget deal forgave $330 million in Hurricane Katrina cleanup-related debt held by a handful of New Orleans-area HBCUs. "That is huge," said Williams, who credited the Congressional Black Caucus as well as Republican lawmakers with the expenditure, but said the White House also had to sign off on it.
Both budget proposals submitted by the Trump administration have spared dedicated funding for HBCUs even as they recommended steep cuts elsewhere in the Education Department. But since Congress doesn't adopt the president's budget or even use it as a template for its own budget process, that proposal amounted to little more than a goodwill gesture that required no political capital or real money commitment from the White House. Lawmakers last year basically maintained stable funding for programs dedicated to historically black colleges.
And in an executive order signed almost exactly a year ago, Trump moved the HBCU Initiative from the department to the executive offices -- a long-held priority for many representatives of historically black colleges. That executive order also dictated that federal agencies should have a plan of action to work with those institutions.
"The executive director of the White House Initiative on HBCUs and a representative from the White House Domestic Policy Council will meet with HBCU leaders this week to discuss the Trump administration's ongoing work to directly benefit HBCUs," Hogan Gidley, deputy White House press secretary, said in a written statement. "The president's commitment to the HBCU community remains strong, and hopes to continue our work with these important institutions of higher education."
Partnerships With Employers
Rather than funding or federal policy, much of the discussion with policy makers this week focused on how HBCUs could better work with local industries or partner with larger higher education institutions in their states. Alabama representative Terri Sewell, the lone Democrat on a panel Monday afternoon that featured Walker, Scott and Senator James Lankford, an Oklahoma Republican, said black colleges have a funding problem, not an educational problem.
But, she said, "we have to start thinking outside the box."
Scott said that last year's meeting led Northrop Grumman, a federal defense contractor, to conduct virtual job fairs at several historically black colleges that led to the hiring of around 40 HBCU graduates. That's the kind of relationship between colleges and private industry Republicans this week indicated they are interested in fostering.
Trump in September named Johnathan Holifield -- who had no significant experience at black colleges but a long track record in the private sector -- the executive director of the HBCU Initiative. That announcement followed a record wait. Holifield promised to further develop black colleges' connections with industry. What that means on a practical level for those institutions remains unclear.
Less publicized by black colleges among their wins at the federal level is the rollback of regulations under the Trump administration. When DeVos said last year that she would block two Obama administration rules, the department cited a letter from UNCF that took issue with several provisions of the so-called borrower-defense rule.
Black colleges had quietly been among the strongest opponents of the rule, which established a federal standard for borrowers to seek student loan forgiveness if they were defrauded or misled by their institution. Williams said a rewrite of the rule under DeVos allowed the department to account for the concerns of members from both organizations and was an example of how DeVos is listening to their sector.
Lodriguez Murray, vice president for public policy and government affairs at UNCF, said the group measures progress at the federal level by two barometers -- the willingness of the administration to listen and real funding commitments. He said the group already has found the administration willing to cooperate on issues like the extension of Title III funds to strengthen HBCUs.
On funding matters, the picture is less clear. Murray noted that the White House kept Title III funding steady in its budget proposals but also proposed the elimination of programs like TRIO, which assist low-income and first-generation students in getting to college.
Black colleges have found themselves playing defense on funding proposals in Congress as well. Murray said HBCUs would bear a disproportionate impact of House GOP leaders' proposed elimination of aid programs like the Supplemental Educational Opportunity Grant as Congress seeks to reauthorize the Higher Education Act. (The White House has avoided weighing in on specific provisions of the bill, while House Republican leaders have yet to find the support necessary to bring it to a vote on the floor.)
"While other reforms, like simplifying FAFSA, would be helpful, it makes no sense to eliminate federal funding targeted towards our students that need it the most," Murray said.
Skeptics of the tack taken by HBCUs under the Trump administration aren't bowled over by any federal accomplishments so far. Marybeth Gasman, director of the University of Pennsylvania's Center for Minority-Serving Institutions and a critic of efforts to engage the White House, said a year after Trump's executive order, little has been heard from the HBCU Initiative. And while successive White House budgets have protected HBCU funding, those institutions were already in desperate need of more federal support, Gasman and others said.
Gasman was more supportive of work to engage Republicans in Congress, although she's seen few gains from those meetings so far.
"It is beneficial for HBCU leaders to have strong relationships with members of Congress," she said. "I hope that these congresspeople will have the sense to understand the importance of HBCUs, the contributions, and to stand up to any efforts by Trump to take away resources."
Even among college presidents who have made it a point to take part in meetings with lawmakers and the administration, the jury is still out on whether Republicans in Washington will deliver. David Wilson, the president of Morgan State University, a public HBCU located in Baltimore, said lobby groups for the sector had done an admirable job educating officials in the White House and Congress. But new federal investments in black colleges have been limited, he said.
"Personally, I still am waiting to see significant results," Wilson said. "Certainly from last year to this year, we have not gotten any worse."
Crystal deGregory, director of the Atwood Institute for Race, Education and the Democratic Ideal at Kentucky State University, a historically black institution, said assessing whether the sector's strategy in Washington is paying off isn't so cut-and-dried, largely because so many factors are out of the colleges' control.
"Given the increasingly tenuous nature of race relations and seemingly expendable nature of black lives, as well as the current administration's complicity in these rising levels of toxicity, HBCU leaders are doing what they've always done -- the best they can to walk the fine line between honoring their constituents' demands to voice black discontent while not burning bridges necessary to secure the federal support so critical to what we do," she said via email. "The unexpected gift of this moment does, however, offer the culture and its leaders an opportunity to step up our campaigns to educate politicians and the wider public about our historic mission and contemporary vision."