You have /5 articles left.
Sign up for a free account or log in.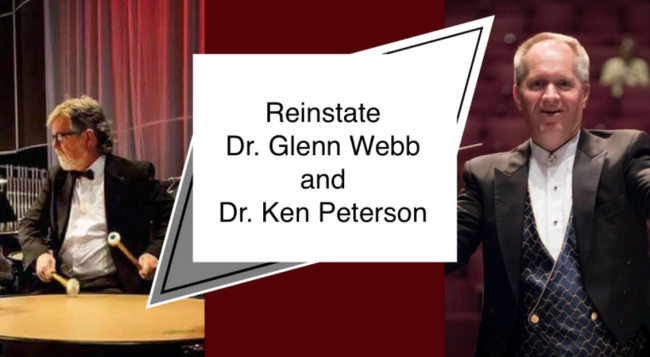 While institutions are beginning to take more action on faculty misconduct, tenured faculty terminations remain rare and typically follow reports of serious misconduct. So the mysterious firings of two longtime, tenured professors of music at Dixie State University in Utah last week are attracting attention -- including a petition to bring them back.
"Both are widely loved and known in their community and were fired for minor policy violations," reads the petition, organized by a group called Full Disclosure DSU. "We believe that termination should be saved for the most severe actions, and their punishment does not fit their 'crimes.'"
Even in scare quotes, "crimes" is probably too strong a word for the main claims against Glenn Webb, chair of music, and Ken Peterson, director of vocal activities: not liking a colleague and then discussing the vote on that colleague's tenure bid.
Peterson, who did not respond to a request for comment, posted on Facebook his notice of dismissal, dated Friday. It accuses him of "professional incompetence, serious misconduct or unethical behavior" and "serious violation" of university rules and regulations.
Specific charges include disclosing "confidential information" about the employment, including the tenure-review process, of Mark Houser, an assistant professor of theater and program chair, to "unauthorized third persons." At least one such "unauthorized conversation" took place at a campus cafe, the letter says.
Peterson is also accused of "improperly representing" the music program in telling an unnamed faculty member in the music and theater department that he wanted Houser "terminated." He's accused, too, of "slandering" Houser in commenting -- to someone -- that he was "destroying" the theater program, "a direct impact on Houser's professional reputation."
Without direct evidence, the letter says that Peterson's (presumably low) scoring of Houser's tenure rubric shows his "biases towards Houser."
The dismissal letter links Peterson's case to a third, also questionable faculty termination in 2014 -- that of Varlo Davenport. The former tenured professor of theater was fired after a student said she'd been physically hurt in a theater exercise. A faculty committee recommended against dismissal after Peterson and Webb spoke on Davenport's behalf during the appeals process. But Dixie State fired Davenport -- who was acquitted in a related criminal case and is now suing the university in civil court -- nonetheless.
Several years after the incident in the theater class, Dixie State has accused Peterson of "slandering" both Houser and President Richard "Biff" Williams in saying "loudly in a public place" that both were corrupt and had conspired against Davenport.
Peterson is charged with generally failing to demonstrate "professional standards of behavior, including collegiality and the open exchange of ideas through civil discourse."
Webb, meanwhile, declined to share his letter of dismissal. But a group of his colleagues past and present -- most of whom declined to be named, citing what they described as an atmosphere of fear and intimidation on campus -- say his main transgression was telling a family member overseas that he believed his department had rejected Houser's tenure bid. The family member had no affiliation to Dixie State and colleagues say Webb based his assessment on the tenor of the music and theater faculty's conversation before the vote.
Houser did not respond to a request for comment, and the university did not provide Houser's tenure status when asked.
A spokesperson for Dixie State said the university was limited as to what it could say, due to strict state privacy laws. He referred requests for comment to a statement issued this week. It says, in part, that Dixie State wants the "campus and community to understand that such decisions are deeply difficult, meticulously investigated and carefully weighed."
Dixie State "takes all personnel matters seriously," the statement says, and if a policy is found to be violated, the employee is subject to disciplinary action.
All parties have a right to appeal, it says, and for that reason the campus president is not involved in personnel decisions before that time.
Both Peterson and Webb have 30 days to appeal their terminations. In the meantime, their classes have been reassigned, their faculty profiles have been removed and their campus email accounts have been disabled.
Jim Haendiges, a professor of English and Faculty Senate president, did not immediately respond to a request for comment about the case.
'More to the Story'
Davenport in an interview reiterated that a faculty review panel recommended against dismissal. But even before that, he said, administrators on campus attempted to sway that vote -- including by repeatedly insinuating to members of the senate that there was "more to the story" in his case. He said that many tend to assume that the allegations against him involved sexual assault, but they did not. He was accused of pulling a student's hair as part of a physical resistance exercise sometimes used in acting classes to make students uncomfortable and thereby tap into new emotions to better identify with the characters they play.
Davenport has said that he pushed down on the student's shoulders for approximately 30 seconds to hold her in her chair and put some of her hair in her face, but did not pull her hair or hurt her. Student witnesses in the criminal trial all denied having seen Davenport pull the student's hair.
As for what might have motivated the university to target him for termination, Davenport said he believed it was typical "academic politics" -- he and Houser did not get along -- and a possible fear of litigation by the student involved in the incident. Dixie State was previously sued by student athletes who said their basketball coach discriminated against them on the basis of race, made them participate in religious activities and questioned their sexual orientation.
Davenport's pending lawsuit against Dixie State says that he warned all his students that they could ask him to stop an exercise at any time. It also accuses Houser of keeping private files on him in order to build a disciplinary case against him in cooperation with unnamed administrators, purposely working to elevate the student's complaint to have him fired and -- interestingly, given the language in Peterson's termination letter -- telling a faculty member that he intended to "take Davenport out." 
Beyond a personality conflict, the complaint says that Houser objected to some of Davenport's artistic choices on the basis of his religious beliefs, irrespective of Davenport's academic freedom. It cites a document allegedly written by Houser and obtained as part of the legal process saying, "We now have a standing reputation of doing nothing but Dark Shows [emphasis Houser's] with language and Varlo's name is [sic] attached to it because he is our leader/chair." 
All shows "need to be held to a standard which suits the maximum audience -- no nudity, no sex, minimal violence/blood/gore, very minimal language if any (absolutely no GD, F-word) -- and they should only be used so many times before it is deemed unfit for our audience," the document says.
Meanwhile, Davenport said, "my career is over."
Webb said he misses his colleagues and "working with students -- helping young people is my life's passion."
Dixie State faculty policy prohibits talking about tenure cases "indefinitely." Most campuses do put a premium, whether by culture or policy, on confidentiality in these matters. Yet no academic department is free from gossip. And even the most discreet colleagues would probably question whether telling a family member about a tenure vote is a meaningful breach of privacy -- let alone a terminable offense.
The American Association of University Professors doesn't define what is and is not a fireable offense and maintains that faculty peers should make such decisions. It opposes the use of collegiality in personnel decisions, on the grounds that it's a murky concept that can be used to punish professors for political reasons.
John T. Jones, an associate professor of psychology at Dixie State who said he has been following the dismissals as a matter of public concern, not as a representative of his program or the university, described the faculty as "angry and fearful" at the moment.
Students, meanwhile, "are speculating about which of their professors could suddenly disappear from campus and what that would mean for their educational experiences," he added via email. "Are these fears exaggerated? They frequently are. Are these concerns justified? I think so."
Saying that no one, in his experience, was out to "destroy" Houser, Jones said Peterson may have been "simply been exercising his rights in ways that others find discomforting."
Calling Davenport, Peterson and Webb "esteemed members of the faculty and the broader community," Jones said "there is nothing positive to be accomplished through these suspensions and terminations. There is no upside and it didn't have to be this way. I certainly believe that policy violations need to be addressed, but in ways that are equitable, progressive, measured and just."