You have /5 articles left.
Sign up for a free account or log in.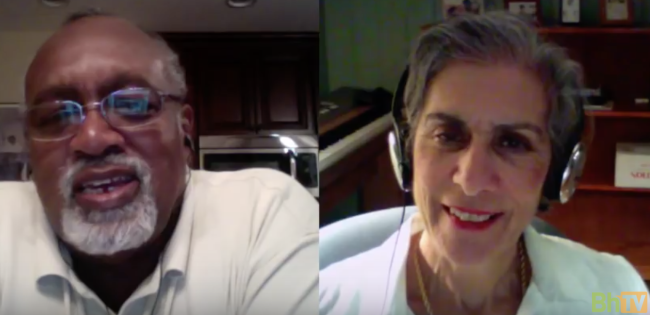 The University of Pennsylvania defended the academic freedom of Amy Wax, Robert Mundheim Professor of Law, last year when she co-wrote a controversial op-ed in the Philadelphia Inquirer arguing that "all cultures are not equal," despite the modern "obsession with race."
This week, however, the university responded to another round of racially charged comments by Wax by saying students no longer have to take her classes.
"I know that this decision will spur debate and difficult conversations in the days, weeks and months ahead, and I welcome them," Ted Ruger, dean and Bernard G. Segal Professor of Law at Penn, wrote in an email to students, faculty and staff members this week, sharing the news about Wax. "All faculty and students here will remain free to express their views. And all students and faculty are entitled to a law school that welcomes them equally as individuals."
The new controversy involves a video interview by Glenn Loury, professor of economics at Brown University, who has been critical of affirmative action. In the interview, Wax says, "I don't think I've ever seen a black student graduate in the top quarter of the class, and rarely, rarely in the top half."
Wax added, "I can think of one or two students who've graduated in the top half of my required first-year course," out of about 90 students per year. She also said that the University of Pennsylvania Law Review has a racial diversity mandate and suggested that some black students shouldn't go to college.
Recorded last fall as part of a conversation called the "Downside to Social Uplift" that appeared online on Loury's The Glenn Show, the video just recently came to light. But it's already attracted lots of attention at Penn and elsewhere, including a petition by alumni demanding that Ruger take action against Wax and "explicitly dispel the lies" about black law students' performance.
Ruger in his letter says that it's "imperative for me as dean to state that these claims are false: black students have graduated in the top of the class at Penn Law, and the Law Review does not have a diversity mandate. Rather, its editors are selected based on a competitive process."
Contrary to any suggestion otherwise, he continued, "black students at Penn Law are extremely successful, both inside and outside the classroom, in the job market and in their careers."
Ruger didn't specify exactly how wrong Wax is, and a university spokesperson did not share specific information on law school performance by racial group. Both Ruger and the spokesperson cited Penn Law's confidential grading policy, with Ruger asserting that Wax "is not free to transgress the policy that student grades are confidential, or to use her access to those Penn Law students who are required to be in her class to further her scholarly ends without students' permission."
Ruger added, "Penn Law does not permit the public disclosure of grades or class rankings, and we do not collect, sort or publicize grade performance by racial group. The existence of these policies and practices, while constraining this response, is not an invitation to statements made with conscious indifference to their truth content. Our first-year students are just that -- students -- not faceless data points or research subjects to be conscripted in the service of their professor's musings about race in society."
Ruger's letter makes numerous assurances of Wax's continued right to free expression and academic freedom. Yet based on her comments, he said, black students assigned to her class in their first week at Penn Law "may reasonably wonder whether their professor has already come to a conclusion about their presence, performance and potential for success in law school and thereafter. They may legitimately question whether the inaccurate and belittling statements she has made may adversely affect their learning environment and career prospects."
As dean, then, he said, "I have decided that Professor Wax will continue to teach elective courses in her areas of expertise, but that are outside of the mandatory first-year curriculum."
Such an arrangement puts Wax in a similar position to the majority of the tenured faculty, Ruger added, and entails "no sanction or diminution of Wax's status on the faculty, which remains secure."
Normally, he said, such a decision would be private. But because "Wax made these inaccurate public statements, and students and alumni raised their concerns publicly, sharing it with our community is important."
Wax did not immediately respond to a request for comment.
Jonathan Zimmerman, a professor of education history at Penn who has previously defended Wax, including in an opinion piece for Inside Higher Ed, said Wednesday that he disagrees with Wax on a number of political and other issues, but he still found the university's reaction to the recent controversy chilling.
Saying that Wax's comments, however inaccurate, touch on mismatch theory, Zimmerman said they deserve airing in an academic setting, not minimizing. (Mismatch theory is the idea that admissions boosts, including affirmative action, may not benefit those they're supposed to help, due to the potential for a poor institutional fit. The late U.S. Supreme Court Justice Antonin Scalia was widely criticized for alluding to it during oral arguments in the Fisher v. University of Texas case.)
"Is there any achievement gap among law students?" Zimmerman asked. "I'd like to know the degree to which there is or isn't, and the dean's statement is creatively ambiguous, what the lawyers among us might call nonresponsive."
Zimmerman said that if there is an achievement gap between white and black students, as is being alleged, those at Penn should know about it to try to close it. So, "my fear," he added, "is that a moment like this makes that less likely, not more so."
Marybeth Gasman, Judy & Howard Berkowitz Professor of Education at Penn and a scholar of minority-serving institutions, said Wax has the right, guaranteed by academic freedom and tenure, to pursue the research that interests her. But in order to comment on the performance of black students across the law school, "one must have data." And given Ruger's comments, Gasman said, it's apparent Wax "did not have data," and relied instead on "false" anecdotes to make her assessment. 
Saying she does not know Wax, Gasman said there is a difference between "conducting research with controversial findings and making false and disparaging comments about African-American students at our institution." Students "should not have to be required to learn in a hostile environment," she added. 
"Penn's decision is one that respects academic freedom, while also addressing students' concerns," Gasman said.
Gasman said she wondered why Wax was "compelled to make disparaging comments about African-Americans at all," since it is always her hope that faculty members are "familiar with stereotype threat, the ramifications of prejudice and racism and their impact on students and the need to empower students rather than disparage them."