You have /5 articles left.
Sign up for a free account or log in.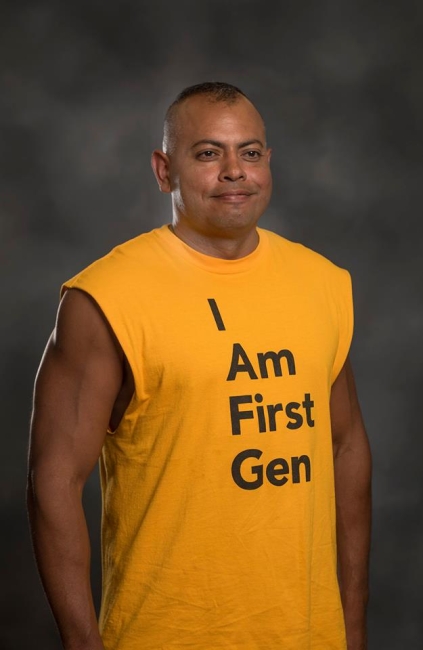 Many first-generation students don't see themselves as belonging in college.
At Arizona Western College, that doubt is one of the biggest barriers to getting students in and through the two-year institution. The college, which enrolls 8,000 students, has the highest proportion of first-generation students -- 66 percent -- in the state.
"They sometimes don't have a role model at home. They doubt they truly belong in a college environment. Financial aid is daunting. Registration is daunting," said Daniel Corr, Arizona Western's president.
Those challenges haven't stopped the college from thinking big.
"We wanted to very deliberately and proactively and quite audaciously say it would be the vision of this college to seek to eliminate poverty, and in order to do that, it's through education and attention on first-generation students," Corr said.
Roughly 40 percent of Arizona Western's faculty and staff members self-identify as being first-generation students.
So the college launched its I Am First Gen campaign last year. Corr, who was a first-generation student as well, said the college's administration and faculty members wanted to broadcast in a very public way how proud they were to be first-generation students by encouraging one another and students to wear "I Am First Gen" T-shirts and later creating a First-Generation College Student Day in November.
"We wanted to turn first-generation student status into a badge of honor," he said, adding that in May, hundreds of graduating students from the college will wear stoles that identify them as first generation. "We wanted to let our students know when you're in that class of 21 [students], 14 of them, on average, [are] first-generation. You're not alone."
Another reason the college wanted to push for students -- and the larger Yuma County community -- to feel accepted on campus is because of the administration's mission to eliminate poverty and the belief that can happen through education.
According to data the college received from the Community College Benchmark Project, 22 percent of Arizona Western's students had annual family incomes of less $20,000, with a median family income of $34,200.
"It became clear that we had students impacted in a profound way around poverty," Corr said.
But the same report showed that Arizona Western was among national leaders in facilitating social mobility, he said, ranking 17th among all community colleges in social mobility.
"Thirty-one percent of our students who earn a credential, degree or certificate move up two quintiles on income," Corr said. "If they were on the very bottom 20 percent, they moved into the middle 20 percent. The point is that earning that credential will go a long way toward eliminating poverty, and it is that stepping-stone to creating thriving communities."
Arizona Western didn't just have numbers to back up how it helps people move up in social and economic mobility. Its first-generation students can look at their own faculty members, alumni or even the governing board for inspiration.
"We all went through Arizona Western College," said Olivia Zepeda, a trustee who is a first-generation graduate from the college.
Zepeda arrived in the United States as a child from Mexico. She worked in agriculture and later became the first in her family to graduate from college. Zepeda came back to the Yuma area as a community leader, a teacher and an associate superintendent of an elementary school district. Now, she sits on the governing board of her alma mater.
Her story is familiar to many students and faculty members at Arizona Western.
Aryca Arizaga Marron was also the first in her family to go to college. She earned a degree at Arizona Western and is now a professor of family studies and psychology -- a career she decided on because of her colleagues, who were once her professors.
"If they're first generation out of high school or first-generation adult learners, they have a place here," Marron said. "I see students wearing the 'I Am First-Gen' shirts, and I think that's cool. They're proud. I'm proud to be here."
Marron said just as her instructors made her feel comfortable as an undergraduate and helped her on the path to becoming an instructor, she hopes to do the same for her students. For example, she's been working with one student on a transfer application to an Ivy League institution.
"In-state schools are amazing, but she wants to go Ivy League," Marron said. "So I said, 'Let's do it.' She's first generation, too. She's a success story."
More from Community Colleges