You have /5 articles left.
Sign up for a free account or log in.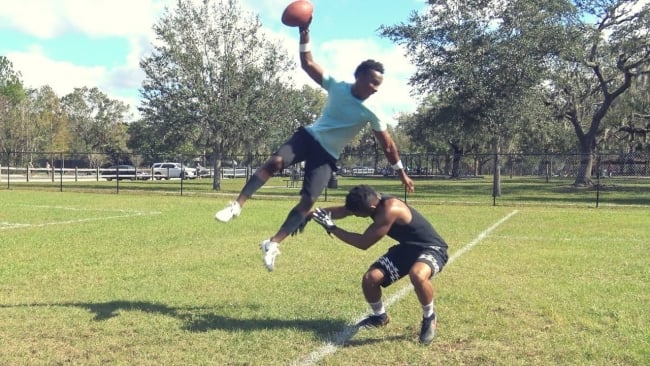 Donald De La Haye started making YouTube videos long before he joined the University of Central Florida's football team. His online antics, like poking fun at Colin Kaepernick and chucking a football on a makeshift Slip-n-Slide, eventually earned him more than a half a million followers -- but they also cost him a full athletic scholarship.
The university told De La Haye he had violated the National Collegiate Athletic Association's rules on players not making money from their likeness and reputation and deemed him ineligible.
Now, he's suing Central Florida, accusing the administration of violating his constitutional rights, and continuing a national debate on athlete compensation and the NCAA's policy.
"The reality is that any other college student except an athlete can make outside money off his or her reputation in a particular field," said Jon Solomon, editorial director of the Aspen Institute's Sports and Society Program. "For instance, a UCF musician could create YouTube videos of his or her music and be permitted by UCF to make money off those videos. No one would think twice. The musician would be congratulated for finding value in his or her work as a student."
Solomon describes a scenario that seems relatively reasonable -- that De La Haye could benefit from his digital presence, an entirely separate endeavor from his collegiate football career. But in interviews, experts in sports law said the NCAA rules are particularly clear in this area and De La Haye has significant legal hurdles to overcome.
De La Haye filed his lawsuit alleging Central Florida caused "irreparable harm" to his rights under the First and Fourteenth Amendments, suppressing his free speech and depriving him of due process.
He started posting to YouTube as early as 2011, before he attended the university, the lawsuit states. After a while, De La Haye became so popular he started to receive "modest compensation" from the website. Before the university rescinded his scholarship, De La Haye allegedly offered to discontinue this deal on videos that referenced his status as a football player or showed off his athletic prowess. Central Florida told him he couldn't post anything football related, though, if other videos earned him money, and eventually took the scholarship away.
De La Haye's argument is twofold: that he has a First Amendment right to engage in free speech on social media platforms and that the scholarship removal was "arbitrary and unreasonable" because it wasn't related to his academic or disciplinary standing, or his athletic performance.
Central Florida declined to comment.
The complaint from De La Haye seems to be more directed at the NCAA and its rules, but the courts have deemed the association a private entity, not a state actor, and thus De La Haye couldn't allege a constitutional violation against it, said Matthew Mitten, professor of law and executive director of the National Sports Law Institute at Marquette University.
This was determined in a U.S. Supreme Court case decided in 1988, to which Mitten compared De La Haye's lawsuit. Jerry Tarkanian, the towel-chewing longtime men's basketball coach at the University of Nevada at Las Vegas, had been suspended by the university for recruiting violations. While the institution's own investigation had cleared Tarkanian of wrongdoing, the NCAA found him responsible and threatened penalties against the university if it didn't suspend him in line with its obligations as an association member.
Tarkanian sued the NCAA, alleging due process violations, but the justices in a 5-to-4 decision ruled that the NCAA is a private organization not bound by constitutional requirements.
"The solution that came out of this was this: the NCAA required its member universities to have a clause for coaches -- if you violate NCAA rules, you're subject to discipline and can be terminated," Mitten said. "The scholarship agreement that the athlete had with a university would be subject to NCAA rules."
Colleges and universities, then, are allowed to limit when students can participate in sports and have greater latitude in regulating those students, said Mitten, who gave the example of athletes being subject to random drug tests.
The courts have sided with the NCAA on this issue before. In 2004, Olympian Jeremy Bloom was denied eligibility to play football at the University of Colorado at Boulder. Bloom was earning endorsement money from his professional skiing career, and even though the sports were different, the NCAA held firm on its policies and Bloom lost his lawsuit against the association.
Solomon, of the Aspen Institute, said the NCAA fears that funneling money to players would result in bidding wars.
"It's interesting that bidding wars are only classified as a problem if money goes to the players based on their value," he said. "When the administrators and coaches are paid, it's called a free market."
While this particular case might have some visibility because of De La Haye's YouTube fame, these types of disputes with the NCAA are fairly common, said Peter Lake, director of the Center for Excellence in Higher Education Law and Policy at Stetson University.
"The incentives to create your brand is particularly strong for young people," Lake said. "They know they can be stars."
This lawsuit may not be the one to change the NCAA's rules, but Lake said with continued public pressure around certain issues, the NCAA has been known to change its practices.
The NCAA right now remains embroiled in a men's basketball scandal that could result in major changes. It has formed an independent commission chaired by former U.S. secretary of state and Stanford University provost Condoleezza Rice to reform the sport, and NCAA leadership said it intends to act on recommendations by the panel before the start of next season.