You have /5 articles left.
Sign up for a free account or log in.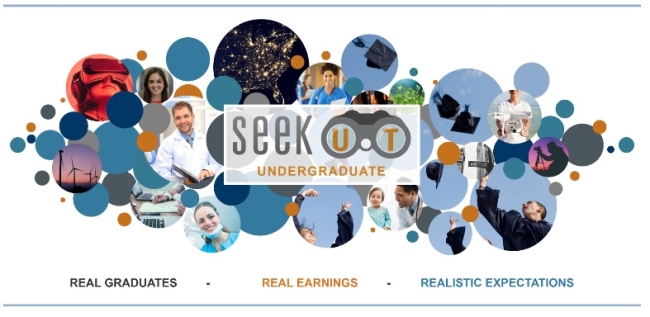 The University of Texas System on Monday released a database of its graduates' earnings, a first-of-its-kind tool using Census Bureau data that its officials say is designed both to help students and to show the benefits of investing in higher education.
System representatives described the project as a powerful but "imperfect" workaround to the current ban on a federal database that would link student-level educational data to national employment data, which was forbidden by the 2008 Higher Education Act.
As politicians and the public have increasingly questioned the value of a college degree, many policy makers and some higher education associations have pushed for collection and publication of more data about college graduates' salaries and other student outcomes. The 2008 ban was supported by key Republican lawmakers and many private college leaders, who cited concerns about student privacy and federal overreach. The Obama administration instead settled for the College Scorecard, but the scorecard is limited by inclusion only of students who receive financial aid, among other constraints. At UT campuses, the percentage of students on financial aid runs between 32 to 62 percent.
Some states, including Texas, had already created tools that link educational records with statewide employment data, but those are limited to people within the state borders.
The new Texas database, accessible here, provides information on students' median income for every program offered on the 14 UT campuses one, five and 10 years after graduating. It also provides salaries at the 25th and 75th percentiles. For example, the median salary of a psychology major from the University of Texas at Austin one year after graduation would be a little more than $31,500 a year, and the salary of a student earning in the 75th percentile would be almost $46,200.
The database also shows what percentage of students in each program went on to continue their educations, maps out the median loan debt for different programs, breaks down how much the median monthly loan payment would be and shows outcomes for graduate, medical and dental students separately.
Officials were particularly excited both by the catalog to assist students in career decisions and the wealth of new data around student outcomes. They discovered, for instance, that two-thirds of graduates from non-STEM-related programs earned much higher than the national median salary for liberal arts graduates, which is roughly $35,400. Music majors from UT campuses earned a median salary of $50,856, and rhetoric and composition graduates' median income was about $46,800.
"We can now provide comprehensive national information to help our students and their families make decisions to support their career interests and to better understand how those decisions may impact them financially," UT chancellor William H. McRaven said in a statement. "And this also will provide university leadership important insights on the performance of their graduates in the workforce."
Representatives from the system met with students to pitch and market the tool, with the hope that it could be plugged by students' academic advisers, said David R. Troutman, associate vice chancellor of institutional research and decision support.
Initially, Troutman had envisioned a website where students could immediately identify the outcomes for people by race or whether they were first-generation college students, but they rejected that idea, he said. Troutman said one black male student told him he didn't want to know what he would earn -- he wanted to know what his white peer would make. So the idea was scrapped.
A 'Proof of Concept'
Stephanie A. Bond Huie, vice chancellor for strategic initiatives at the UT System, said she hoped that the new database would serve as a "proof of concept" that would "make it easier for our colleagues" in Texas and elsewhere to develop similar systems for tracking their graduates.
"If [the Census Bureau] could get a mass of institutions that wanted to do this, that'd be great," she said.
It is trying. The Census Bureau is also working with the state of Colorado to help produce a system similar to Texas's database for its 31 public institutions, said Erika McEntarfer, the lead economist in the Longitudinal Employer-Household Dynamics (LEHD) Research Group in the Census' Center for Economic Studies.
Colleges and universities with the Institute for Research on Innovation and Science -- a consortium of high-profile institutions, such as Emory University, Northwestern University, Pennsylvania State University and the University of Virginia -- have also expressed interest, McEntarfer said.
McEntarfer said other institutions have contacted the bureau about this type of work. Judging by the calls it's receiving, she said, she believes the UT System tool will lead other institutions to pursue something similar.
"Hopefully we'll be able to expand this," McEntarfer said.
The tool is as much a lobbying mechanism as it is a student resource. With state officials often reducing funding for higher education systems across the country, college and university leaders have scrambled to try to preserve their money and find new ways to pitch lawmakers.
In a presentation to Inside Higher Ed, UT representatives said they learned that one year after graduation, alumni from the system earned $17,000 more on average compared to students who had only a high school diploma. A decade later, on average they were earning $30,000 more.
But aside from a push at the state level, federal legislators seem disinclined to repeal the ban on a federal system. The PROSPER Act, the House of Representatives bill that would reauthorize the Higher Education Act, doesn't overturn the ban.
North Carolina Republican Virginia Foxx, chairwoman of the House Committee on Education and the Workforce, remains adamantly against a student-level record system, often citing concerns over privacy, a common argument for critics of a federal system.
UT System officials plan to meet with Foxx's staffers, they said. Student information was heavily guarded, they stressed in interviews.
Enrollment data, including whether a student graduated, and what program they graduated from, were transmitted to the Census Bureau, McEntarfer said.
The data were then stored on a computer that is protected and used for information with Social Security numbers tied to it. The bureau strips out all identifying information -- students' names and socials, for instance -- and then assigns a new, alternative identification number that is used when working with the data, McEntarfer said.
UT officials need to receive security clearance and be fingerprinted for their dealings with the bureau, and they were under a strict embargo to only discuss the data they provided while on-site with the bureau, Huie said. The database took six years to build in part because of its stringent privacy measures.
Huie said that even while this works well for UT, and could for other colleges and systems, higher education needs a federal-level database.
"As higher education institutions, we want to be accountable for the outcomes of our students, and sometimes I feel like we need the data to be able to show the programs that are being successful," Huie said.
She added, "This is not a good enough workaround."
More from Learning & Assessment