Too Soon to Turn the Page?
College of New Rochelle wants to move forward with new president, but questions about past financial troubles remain -- and an outcry over old layoffs lingers.
College of New Rochelle administrators sounded eager to turn the page on a dark chapter of the institution's history after naming William W. Latimer the college's incoming president last month.
But with still-fresh memories of a recent financial crisis that unfolded after the discovery of fabricated budgets and a lawsuit over layoffs of tenured faculty and longtime instructional staff lurching through court, Latimer has his work cut out for him even before he officially takes over April 15.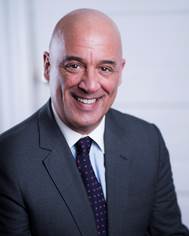 "I don't want to sugarcoat anything," he said. "The main experience I have is there is a great hope of rebuilding the future."
All college presidencies are an exercise in balancing the baggage of institutional history and leading into the future. Presidents bring their own vision to the job but are constrained by choices made by their predecessors that shaped programs, finances and enrollment. The balance will be particularly important for Latimer, however, because recent history at the College of New Rochelle has been uncommonly tumultuous and the aftereffects still linger tangibly.
Latimer's hiring was announced March 21, to much fanfare. He was described as the college's first president selected through a search process with the assistance of an outside firm. It was an important distinction after the financial problems that had grown under administrators long affiliated with the institution were discovered.
The College of New Rochelle billed Latimer, an epidemiologist, as an experienced academic with the skills needed to lead a transformation. He is the founding dean of the School of Health Sciences, Human Services and Nursing at the City University of New York's Lehman College in the Bronx.
His background in health fields and ties to the region would seem to be a good fit for the 20-acre main campus in Westchester County, just outside New York City. The college, which also has several campuses in the city, enrolls more than 1,000 students each in its School of Nursing and Healthcare Professions and adult-focused School of New Resources, while enrolling about 500 in its Graduate School and about 300 in its School of Arts and Sciences.
Latimer's arrival is the latest change for the college after years of turmoil, which escalated when massive budgetary discrepancies and shortfalls were discovered in 2016. After the college's longtime controller retired, his replacement found an office in financial chaos, with vendors calling to say they had not been paid. The new controller had to sort through records understating liabilities and overstating assets and fight for information in a system that lacked basic business controls.
Judith Huntington, who had been the college's president since 2011 and its vice president for financial affairs from 2001 to 2011, resigned shortly after the financial problems were discovered in the fall of 2016. The college also severed ties with longtime auditor KPMG, where Huntington had worked before being hired by the college.
An investigation soon determined the college hadn't paid payroll taxes over two years, accumulating a $20 million shortage. It owed over $11 million more in other debt and liabilities.
The college nearly closed. As recently as November, leaders thought it couldn't be saved. But a last-minute anonymous donation of $5 million -- dubbed a "Thanksgiving miracle" -- bought New Rochelle the time needed to restructure, according to an account in Westchester Magazine.
The restructuring was significant. The college's Board of Trustees shrank from 27 members in June 2016 to just 18 today. About 70 people, including 10 tenured faculty members, were laid off between November 2016 and October 2017 without any compensation packages.
Faculty leaders and laid-off professors filed a lawsuit in October. The suit, amended in March, argues the college did not follow its own policies and breached contracts by laying off tenured faculty and others who were awarded continuous appointments. The complaint contends the affected faculty were terminated without a formal declaration of financial exigency, and that the college circumvented shared governance procedures.
The suit asks for an order vacating and nullifying the terminations and requiring the college to adhere to official personnel policies outlined in faculty and instructional staff handbooks. It also asks for damages from lost wages, benefits and harm to the terminated employees' reputations.
Separately, the college hired an outside law firm to look into the financial mismanagement. It has referred the situation to federal prosecutors.
College administrators had little to add about the lawsuit or criminal investigation when interviewed last week.
"Those agencies are investigating," said Gwen Adolph, who chairs the Board of Trustees. "We, quite frankly, are looking forward. I don't think it's going to serve us well to look back."
They may not have a choice. The faculty lawsuit focuses on the way the college carried out the layoffs. On Oct. 27, 2016, shortly after Huntington's resignation and the revelation of the college's true financial situation, faculty leaders asked for financial documents they expected to receive as part of the exigency process. But Adolph sent an email days later saying the college would be unable to provide expected documentation.
"Given the circumstances, it would be fruitless for us to meet pursuant to the exigency process," she wrote. "I will share your counsel's contact information with the College's counsel. In the meantime, I hope we will continue to communicate. I welcome the exchange of ideas during this difficult time for all of us."
Faculty received layoff notices in June. Some recounted being called into the dean's office, receiving the news of their layoff and having their access to email cut off minutes later.
"I think there's a real injury there," said Jessica Kindred, a psychology professor who taught at the college's Brooklyn campus before being laid off in June. She is one of the faculty members suing the college.
The college has said it's not contemplating further layoffs at the moment. But leaders were unable to rule out future job cuts.
Former professors who have watched the situation unfold say the college's past and present leadership has not admitted that more could have been done to fix the financial problems before they became a crisis. At various times, the board, former president and former controller have all publicly stated the situation was not their fault. A statement from the college said financial information it received was incorrect. Huntington said she relied on the controller and vice president for finance and administration for accurate information. The former controller called claims that budgets were fabricated "puzzling."
Some former employees say they knew of financial problems, however. Kindred said some adjunct paychecks even bounced. (This sentence has been corrected to state that Kindred said adjunct paychecks had bounced.)
"Their inability to take responsibility for what did happen, their claiming they didn't know anything was happening, was outrageous," Kindred said. "We all knew something was happening."
Latimer will have no choice but to navigate those still-simmering issues with remaining faculty members, students and donors.
"I don't think it's that big of a leap to say clearly the College of New Rochelle has gone through a lot in the last 18 months," he said. "Is there a certain degree of necessity to get out there and let people know that the College of New Rochelle is here to stay and our doors are wide-open? Yeah, of course."
Latimer said he has already been meeting with students and faculty members. He met with faculty governance leaders last week.
"There were five of us in the room," he said. "We had a very open, very -- well, I'll just say a very open discussion and conversation."
He's planning monthly open meetings with faculty leaders to talk about everything from budgeting and outreach to branding and shared governance. When his hiring was announced, Latimer said his first goal was to fully restore financial stability while focusing on shared governance and transparency in decision making.
Trust is critical for a college dealing with personnel and fiscal issues such as New Rochelle's, according to leadership experts who say Latimer will need to reach out to all of the college's constituents.
"He has to build trust while he builds a future vision that captivates people on campus and donors off campus," said Robert Andringa, a nonprofit CEO and board coach who is a former president of the Council for Christian Colleges and Universities and former CEO of the Education Commission of the States.
Building trust with faculty requires listening, Andringa said. It also requires honoring faculty members' insights and being viewed as authentic or honest.
"You really rebuild trust as an institution by saying what you're going to do, doing it, saying the next thing you're going to do and doing it," said Christine LaSala, who led the college's search committee. "Eventually the reticence breaks down. That takes time."
Latimer's biography seems to provide reason to hope the new president will exhibit the skills needed to navigate a college trying to recover from a crisis, Andringa said.
"Rather than go out and get some corporate guy that they think is a turnaround expert in a corporate world, they got someone who understands higher ed, understands New York City and all the dynamics of multiple institutions," he said. "I thought that was a smart thing to do."
Latimer has at least one advantage, according to LaSala. The college's financial management has been revamped in the last 18 months. Debt was restructured and paid down to make it manageable over time. Organizational controls have been put in place. The college has cut its outstanding debt from $81.6 million as of June 2016 to $75.8 million as of December 2017. Its assets have declined as well, from $87.7 million to $86.2 million.
College administrators have said fund-raising from grants, donations or lines of credit will be crucial to the institution's long-term survival.
Possible programmatic changes by Latimer will be a challenge as the college tries to navigate enrollment and financial pressures on liberal arts institutions. Demographic trends in the Northeast point to a decline in the number of traditional college-age students in coming decades. It is a challenge all new presidents face, said Charles R. Middleton, president emeritus of Roosevelt University.
"Academic institutions are organic creatures," Middleton said. "They are constantly evolving as organic creatures do, changing and adapting to changing circumstances. When you're a new president coming in, you are part of a long-standing tradition of changes that were made."
Latimer's background in health care and the liberal arts could be an advantage. The College of New Rochelle is clearly banking on health care as a growth area as it tries to chart a path forward. Leaders describe the college as being close to developing new programs in the health professions and expanding its nursing programs.
Less certain is whether the college's institutional identity will prove to be a net positive or negative. Founded as a Catholic women's college in 1904, New Rochelle only went completely coeducational when its School of Arts and Sciences started accepting men for fall 2016. So it was already navigating significant institutional change when the financial issues came to a head.
It also serves a large number of students older than traditional college age and first-generation college students. Those are populations many institutions in the Northeast will have to attract in the future if they are to remain viable. On the other hand, the college's School of New Resources, designed for adults, has lost a substantial number of students since the financial problems became apparent. In the fall of 2016, the school enrolled 1,767 students. It enrolled 1,216 in the fall of 2017 and just 1,080 this spring.
The college's other schools have maintained somewhat steadier enrollment during the same period -- total enrollment was 3,630 in the fall of 2016 and 2,904 this spring.
A large number of African-American and older students are enrolled at the college's Brooklyn campus. That campus was hit heavily by layoffs, said Kindred, the psychology professor who formerly taught there.
"Every once in a while, I drive by that campus, and the lights are off at six o'clock when classes are supposed to be starting," she said. "One or two lights are on."
Competition from online programs has hurt adult enrollment, college leaders say.
In fact, New Rochelle's identity as a college serving nontraditional students is a big part of what attracted Latimer.
"It really unequivocally goes to mission, legacy and the student populations they serve," he said. "When you look at the students served by the College of New Rochelle in terms of first-generation college students, students of color, military veterans, there is no match."