You have /5 articles left.
Sign up for a free account or log in.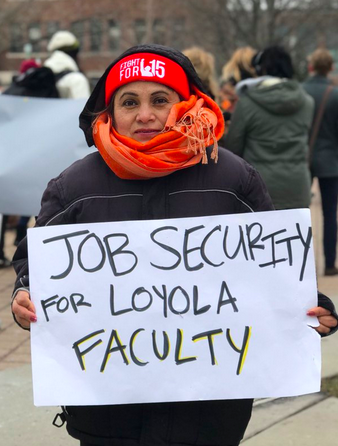 The union representing non-tenure-track faculty members in the arts and sciences and English instruction divisions of Loyola University Chicago held a one-day strike Wednesday, signaling growing frustrations with their working conditions and their inability to get what they consider fair offers for a first contract from the university.
In early 2016, the non-tenure-track faculty members first voted to be represented by the Service Employees International Union, and negotiations have been going on ever since.
The SEIU has become a major force in organizing non-tenure-track faculty members in recent years. In some cases, the SEIU has negotiated substantial gains in pay and job security for those it represents. In what many consider a landmark contract, SEIU won a commitment from Tufts University in 2014 to bring the pay for part-time faculty members up to at least $7,300 per course by 2016. To non-tenure-track faculty members in much of higher education, such levels are two or even three times what they earn per course.
But even as SEIU has won notable gains for its members, negotiations for first contracts have been protracted at places like Loyola Chicago. Union officials say there has been progress in negotiations over issues of pay per course, typically around $4,500 for those with terminal degrees, but with a limit of four courses per year for part-timers.
According to Sarita Heer, an art history instructor at Loyola for eight years, those pay scales don't go very far in Chicago, forcing non-tenure-track faculty members to hold jobs at several colleges.
She said a real sticking point in negotiations has been job security. SEIU contracts at Tufts and elsewhere have included provisions that, while short of tenure, have given some job security to adjuncts. Heer said the union wants Loyola Chicago to provide renewable contracts for up to three years for those who have taught successfully for several years.
She noted that many union members teach courses year after year (some for a decade or more), but never have any job security. The university should provide real job security to such adjuncts, she said.
A Loyola spokeswoman said via email that the university had proposed significant improvements on wages for non-tenure-track faculty members, and also two-year contracts for those who do well teaching part-time. "Loyola University Chicago did not want a strike and is eager to continue negotiations to reach a fair and reasonable contract," a university statement said. "Our goal from the start has been to reach an agreement that is consistent with our commitment to social justice and our Jesuit values and our proposals reflect this commitment. Through these negotiations, Loyola has made proposals that offer very competitive pay; enhanced job security; and greater clarity, consistency, and predictability for appointments – which directly meet many of the union's requests."
Growing Period of Labor Activism?
Heer said that Wednesday's strike was a warning that part-time faculty members are prepared to strike longer if need be. This represents a shift for many non-tenure-track faculty members, for whom strikes pose real risks of losing already minimal income and of angering employers on whom they rely for rehiring from semester to semester.
The threat of strikes for those without tenure protections may be growing. On Wednesday, the American Federation of Teachers, which represents lecturers at all three University of Michigan campuses, said it would strike for two days next week if a new contract is not negotiated.
Discussion of strikes is extending beyond states with collective bargaining in higher education. Many faculty members in Kentucky are angry over a provision in the state's budget bill, expected to soon become law, that would roll back tenure protections in cases where colleges are changing or eliminating programs.
Some professors have suggested that faculty members strike over the issue. That's a long, long way from happening, but even the discussion of something like that is new in a state like Kentucky.
While striking faculty members in Kentucky may be unlikely, most would have said a year ago that mass strikes by elementary and secondary school teachers were highly unlikely to take place -- or to win concessions -- in conservative states. Yet such strikes are taking place at mass levels and are winning concessions.
William Herbert, executive director of the National Center for the Study of Collective Bargaining in Higher Education and the Professions, housed at Hunter College of the City University of New York, said he viewed the Loyola strike, the growing anger of graduate students who have been blocked from unionizing at many private universities, and the striking schoolteachers as potentially part of the same movement.
"What we might be witnessing is the re-emergence of the strike as a tool to improve working conditions and to gain union recognition," Herbert said, "following a general decline of such activity in the United States over the past few decades."